If you landed here then you're on the right path in that you want a Onewheel. While some people may categorize these as hoverboards or electric skateboards, it's actually a board sport that is more closely related to snowboarding or skateboarding. The float-effect is such an experience that its making Onewheels one of the fastest-growing board sports today.
With several Onewheel models available in the market, you want to spend your money wisely and its important to know which one to get. Within our Onewheel pricing guide, I outline what you get for your money. This post specifically focuses on Future Motion's top two Onewheels on the market, the GT and the PX (Pint X).
Onewheel Pint X – Pint Sized Yet Peppy

The Onewheel Pint X can travel up to 18 miles per charge, with a maximum speed of 18 miles per hour. It has great features like a mag handle and a light bar that tells you how much charge you have left during your ride. Lets be clear though, Future Motion had revamped their board design with the original Pint. Since the Pint, the Pint X and GT are different builds than their predecessors (XR, Plus and V1).
These are more premium and look more refined that the prior models. That being said, every feature that you find on the Pint X, you will also find on the Onewheel GT. The Pint X is perfect for cruising around your apartment complex or for ripping through trails. The Pint X's nimbleness and playful nature make it an excellent choice for those looking for a more flexible and fun experience. Its lighter and just more affordable.
Onewheel GT – Larger Board, Battery and More Power
The Onewheel GT is the latest flagship model that offers next-level power and torque. The board's larger tire options, either slick or treaded, provide a great riding experience. With a 32-mile range, the GT offers an impressive distance that can exhaust some riders.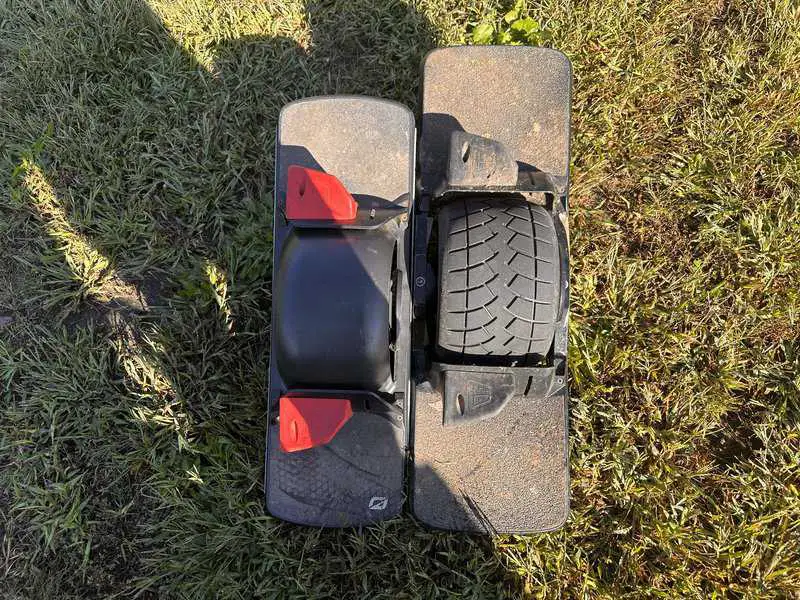 The GT offers a more substantial riding experience and is ideal for those who want to travel longer distances. It's also an excellent choice for those who want to switch between cruising on-road and off-road with ease. Both boards can ride trails however this one is going to be able to support a heavier rider (275 lbs vs 250lbs) and also just have that incredible range without having to hit the charger.
Differences between Onewheel GT and Pint X
| Spec | Onewheel GT | Onewheel Pint X (PX) |
| --- | --- | --- |
| Range | Up to 32 miles per charge | Up to 18 miles per charge |
| Top Speed | Up to 20 mph (32 kph) ** | Up to 18 mph (29kph) ** |
| Motor Power | 750W | 750W |
| Tire Size | 11.5″ x 6.5″ – 6.5″ Treaded or Slick | 10.5″ x 4.5″ – 6″ Slick |
| Maghandle | Yes | Yes |
| Foot Pds | Concave | Flat |
| Lightbar | Yes | Yes |
| Dimensions | 9.5″ × 11.5″ × 29″ / 24cm x 29.21cm x 74cm | 8.5″ × 10.5″ × 27″ / 22cm x 27cm x 69cm |
| Weight | 35 lbs / 16 kg | 27 lbs / 12.2 kg |
| Price | $2,200 | $1,400 |
| Recommended Use | Experienced riders, long commutes, and off-road terrain | Beginner to intermediate riders, city commuting |
Also, keep in mind that these are just the main differences between the two Onewheels. How you feel on the board is going to make all the difference in the world in determining which is right for you. Out of the box, the GT has a more comfortable feel as the foot pads are concave and a little bit wider. If you have larger feet, this board will feel naturally better.
The Pint X is still a relatively new board and aftermarket parts are constantly being developed for it. While the GT out of the box is more comfortable. It is a $800 price difference. You can buy a lot of customization for a Pint X including rails, foot pads and fenders. You wont have the same power however, because the tire diameter is smaller on the Pint X, it feels punchy on the streets.
Top Speed Varies Only 2 MPH
While the advertised speeds are only varied by 2 miles per hour, there are many riders that constantly push beyond these speeds on each board. I will say that I personally can exceed 20 mph on the GT however on the Pint X, I am too fearful to do so. While its feasible, because the tire is only 4.5″ in width, its just more squirrelly and it takes more time getting used to it.

Speed-wise, if you want to go as fast as feasibly possibly on one wheel, you should consider an EUC or a VESC but if you just want the most from a branded Onewheel, then you will not be able to beat a GT. It has 3 horsepower of mad fun! Future Motion implements pushback within a safe range to ensure that the Onewheel will not be over powered as easily when operating within its reported speeds.
Conclusion – Range and Feel Does it For Me
I own both a GT and a PX and I can say that because I ride trails 95% of the time, I am constantly grabbing my GT for the trails. The Pint X for me is a backup board or a board I let my daughter or friends use when we ride. I learned to Onewheel on an original Pint and that platform really was the best (or so I thought). But after I got on an XR, it just had that range that you couldn't beat unless you started modifying the battery with a VNR or extended battery.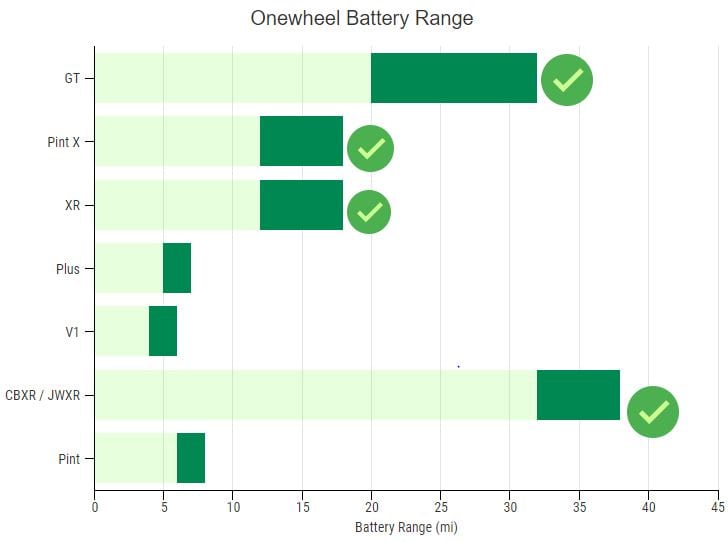 Even that wasn't enough for me so I had to get an XR and I modified that with an aftermarket battery to get CBXR range up to 38 miles. This works for me. I still love my modified XR however the GT has more power. The firmware update made this board ride just as good as my XR. The main drawback for me is the GT tire. It has a smaller sidewall. You definitely notice it if you are coming from an XR however on a Pint X, the ride is pretty similar, yes it has a higher sidewall but it rides not as smooth on trails.
I hope this guide helps you choose the right board. If you have the dough, spring for a GT. You can always consider purchasing a used Onewheel. Its a big investment so just be mindful of scams and consider installing an AirTag on your Onewheel immediately after purchase. Get thinking on what you want and start floating today!