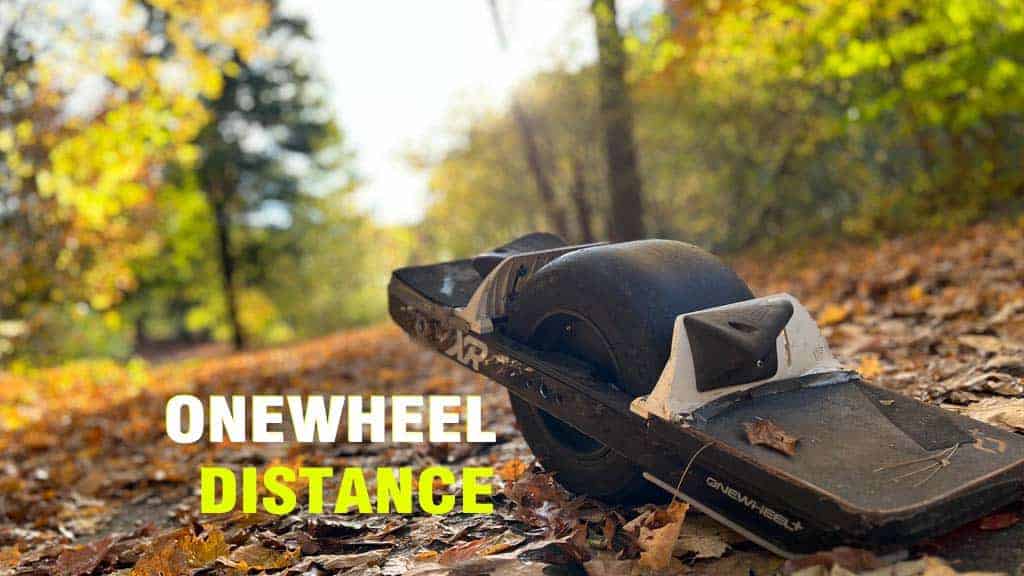 A Onewheel's range is impacted by 5 main factors: battery size, payload, terrain, condition of the bearings and tire PSI. Mostly, tire PSI and bearings on the Onewheel should be less impactful if the Onewheel is maintained. Lets discuss the top 3 factors impacting the range.
On a single charge a Onewheel can reach up to 40 miles in range with a modified XR Onewheel (CBXR or JWXR). The standard GT Onewheel has a reported range of up to 32 miles. Both are based on a 200lb rider on ideal terrain conditions.
Battery Range and Trails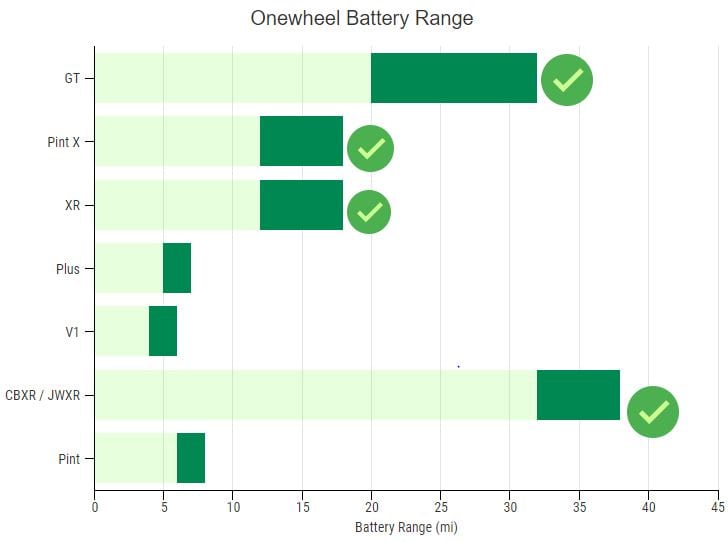 All Onewheels can go off-road however the green checkmark in the graph above indicates that the Onewheel model is preferred for trail riding. Now the advertised ranges are based on ideal conditions and terrain (good weather and hard surface terrain such as concrete or asphalt).
| Model Onewheel | Max Range (mi / km) | Top Speed |
| --- | --- | --- |
| V1 | 4 to 6 miles / 6.4 to 9.7 km | 12mph / 19km/h |
| Plus | 5 to 7 miles / 8 to 11.2 km | 19mph / 30km/h |
| Pint | 6 to 8 miles / 9.6 to 12.9 km | 16mph / 25km/h |
| Pint X | 12 to 18 miles / 19.3 to 29 km | 18mph / 29km/h |
| XR | 12 to 18 miles / 19.3 to 29 km | 19mph / 30km/h |
| GT | 20 to 32 miles / 32 to 51.5 km | 20mph / 32km/h |
| JWXR / CBXR | 32 to 38 miles / 61.1 km | 19mph / 30km/h |
In reality, these advertised ranges are not what you will see on a trail ride. I have ridden hundreds of miles on trails and I consistently get the lower end of the reported ranges. I am a 190 lb rider and on an XR trail ride, I can expect 10-12 miles. With a JWXR and GT, I am anywhere from 20-25 miles of consistent trail riding.
So in short, a Pint can cruise up to 8 miles. A Pint X can reach up to 18 miles whereas the GT can get up to 32 miles. If you want additional range, it is feasible however you will need an XR or a Pint that is modifiable. VNR Kits, JWXR and CBXR modifications can outperform the GT's maximum distance. The larger the battery, the more mileage you get.
Recharge Time
With a small backpack, I recommend carrying the Onewheel charger and a J1772 to PEV adapter so that you can charge your Onewheel at a car charger location (in the event you cannot find a standard plug outlet anywhere).
XR batteries typically charge within 90 minutes (1.5 hours), 200 minutes for a GT (3 hours, 20 minutes) and 212 minutes for a Pint X (3 hours, 32 minutes). These are reported charge times for a standard charger, the hypercharger can generally reduce the time in half. Remember, this is to completely charge the battery from 0%. If you went to the mall or to a coffee shop, you may only need another 20%. Being able to charge and go is very liberating on a Onewheel.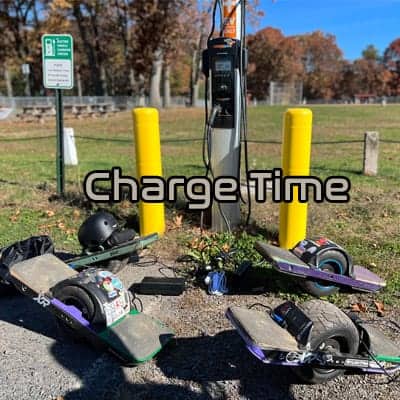 Summary
Its always ideal to ride with at least 10% of your body weight in tire PSI. Check our post on battery lifetime and care. Riding with ideal weight and conditions will get you the advertised ranges, on terrains with hard-pack surface, expect 70 to 80% range. Loose terrain surfaces such as muddy fields, sand, soft fields or even snow, you can expect a decrease to 50%-70% or so.
If you're looking for the Onewheel with the most range, I would recommend either a Pint X or GT. Here is a comparison between the two if you are on the fence as to which to get.