If any electric skateboards or devices are in your area, you may find that the one wheel is less prevalent than traditional electric skateboards. This is because Onewheels are in a class of their own. Technically they are not electric skateboards but self-balancing electric boards. The cost is typically higher than standard electric skateboards but fall in line with higher end e-skateboards such as an evolve board.
As of 2023, Future Motion stopped producing their flagship XR Onewheel which cost $1,800. Currently available is only the Pint ($1,050), Pint X ($1,400) and the GT ($2,200) which includes only the board and charger. Recommended add on and accessories will run an additional $50 to $700 depending on how customized you build the One wheel.
Onewheel MSRP's:
Onewheel GT – $2,200
Onewheel GT with treaded tire $2,250
Pint X – $1,400
Pint – $1,050
Bundles range from (+$50 to +$375). Lower bundles are fenders only whereas the higher end typically includes a hyper-charger, rail covers and a stand.
Pint and Pint X Price – Skip the Pint and go for a PX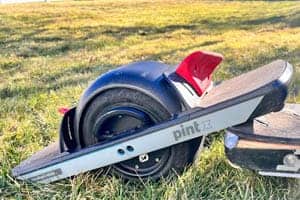 While the Pint offers a price point of $1,050, if you are new to the one wheel hoverboard, I would skip this model and spring for a Pint X (PX). The reason being is that you are paying for the larger battery. This is the same battery they used in the XR models. The larger battery will allow for a far better trail riding experience as well as a lowered range anxiety feeling. No one wheeler wants to be stuck on a trail with no battery power!
The Pint is a good single wheel hoverboard, but if your intention is to buy it because its more affordable, I recommend buying a higher-end board used. You can typically find used XR Onewheels on the market or even a Pint X. See our used onewheel buyer's guide.
Onewheel XR Price – used is the only option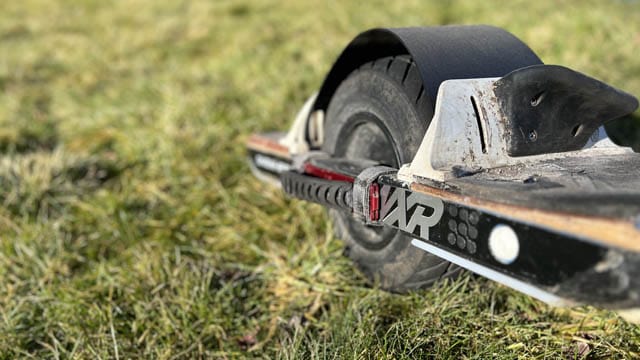 The one-wheel XR in my opinion is still the more stylish board. It remains the more common board and performs pretty good. Unfortunately you cannot buy them new anymore and you would have to spring for a GT (which is an additional $400 price difference). If you are looking to go new I would recommend opting for the GT. Used XR One wheels have a large value range and can cost anywhere from $700 to $2,000 depending on condition and modifications. See our used Onewheel buyers guide for tips in scoring an affordable XR. This is a one wheel motorized skateboard that still is trail worthy!
To date, in 2023 if you are looking to start One wheel riding but are on a budget, finding a used XR is going to be the most affordable way to get performance on the One wheel. There is a very large aftermarket community allowing for even a worn XR to be refreshed into a new looking one wheel. You need to however be aware of your cost. If you are going to exceed the cost of a new GT with the purchase of a used XR and aftermarket products, then you need to research and understand what the GT offers for that added cost (totaling $2,200).
Onewheel GT Price – Is it Worth it?

Ok so a simple google search for prices will tell you that a GT is currently $2,200. This is the standard price with no accessories. There is no varied trim or versions however we need to break down the cost and see if the added cost in comparison to their older flagship board (XR) is merited and is it worth spending your money on.
The GT is a completely new single wheel platform. While it is similar to the size of the XR it has a little more footpad real estate and comes with some newer footpad options (concave and flat kick). It is also a heavier board due to why Future Motion increased their price on their flagship Onewheel.
Why is the GT more money than the XR?
Believe it or not, the GT has the exact same motor as the one wheel XR so why is the GT more costly? The main reason comes down to the battery. The XR platform has a common modification done to the board in which they convert their XR into a CBXR or JWXR.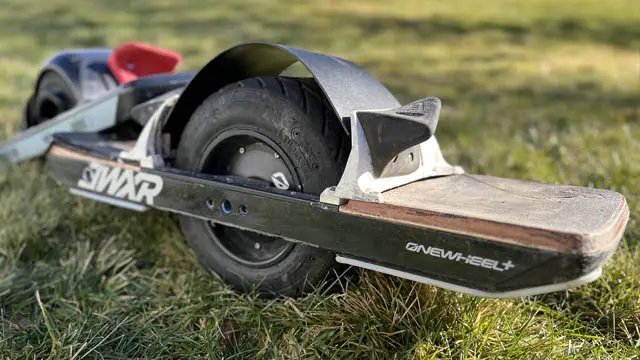 These JWXR and CBXR onewheel models are essentially massive 567 watt hour batteries stuffed into the XR battery box. This is a huge improvement over the XR battery or even the GT battery. The GT currently runs a 525 watt hour battery whereas an original XR has 324 wH. You can see why riders still want old XR platform Onewheels. Finding one on the cheap can allow you to convert the board to have the same range as a GT.
A GT can travel up to 32 miles where a CBXR is around 36 miles. Is the added $400 upcharge that Future Motion is charging worth it? Yup! Future motion is stuffing a huge battery into the GT. To put this into perspective, a battery modification done to an XR will cost around $700 for the battery, $50-$100 for a chip (FFM chip may be needed on some models depending on firmware versions) and the potential cost for someone to install the battery. So yes, Future Motion does have justification for charging an added $400.
Is a One wheel GT a better buy than a CBXR or JWXR?
Check out our used buyer's guide for One wheels as the only way to acquire a CBXR or JWXR Onewheel is to find a used one or find an affordable XR and convert it. One wheel cheapest price will always be used. The most coveted XR Onewheels are ones with firmware pre-4210 as they can take a battery modification without soldering. Why this matters is because the soldering is slightly involved. If you attempt it yourself, you could damage the battery or risk having a solder joint break as you ride (which would end in a nosedive).
The cost of a fresh CB or JW battery is about $600-$700. If you have a 4210 firmware or later XR, you would need to purchase an FFM or OWIE chip to solder to the battery (about $100). Install could range from $100 to to $200. So depending on the board (pre-4210 or post), a fresh CBXR would run anywhere from $700 to $1,000 depending on the firmware and who installs the board. So is this added to a used Onewheel cost a better buy than a Onewheel GT?
The answer is typically no. If you already have an XR then its a better bargain to improve your Onewheel to keep up with a GT however if you are new to the Onewheel space then springing for a new GT makes more financial sense (if there is any financial sense in spending money on hobbies!) You could likely find a low mileage XR for under $1300. If you did the install yourself, you could be up to around $2,000 saving you a couple hundred on a board however that couple hundred isn't worth it in my opinion.
A new board is brand new! Zero miles to start. They come with a 1 year warranty and the GT will be around for many years to come. Unfortunately, unless you are a Onewheel collector or enthusiast, the GT is a better buy.
But is the GT worth it compared to other electric skateboards.
There's few comparison points when comparing a One wheel hoverboards to any other E-skateboard. The reason there are only a few is because One wheels are technically not electric skateboards (or even hoverboards). Yes they are electric and look like skateboards, but they are really self-balancing boards. The distinction carries over into the ride quality. On a One wheeled skateboard, the feel of the ride is often compared to 'floating'. 'To float or not to float? That is the question. Here is what a Onewheel GT brings to the table:
20 to 32 miles in range (525Wh battery)
up to 20 mph
large pneumatic tire
750 watt motor
Integrated maghandle
Ability to ride all-terrain
Can you find electric skateboards for less? Absolutely. A backfire board can run you about $600 and you would have a faster top speed and almost a similar range. The Onewheel GT is the superior 'electric skateboard' due to its unique design and features. Because it has a large go-kart tire, because it feels like your floating, because you can go off-road is why Future Motion charges what they charge.
All Onewheels can go off-road and have exceptional maneuverability and regenerative braking but the GT is all about battery (and a little more torque).
The Evolve skateboards Hadean series is an off-road board that can run at a similar price point ($1900 to $2500) and is one of the top electric skateboards the brands put out. They have dual 3000 watt motors, 40 miles range and top speed of 31 mph! On every major point, they do outperform the Onewheel GT. The only difference is the ride quality and terrain ruggedness.
A traditional electric-skateboard can go off-road – to a point. Even with the best suspension, it will not be able to ride the same terrain as a board with one large go-kart sized tire. Branches, roots, sticks are typically no problem with a Onewheel. If you see yourself wanting to experience trails, off-road terrain and get the float feeling then Onewheels are really the only reason to spend extra. Otherwise a more affordable e-skateboard is the way to go.
I want a Onewheel but the GT is too expensive
The GT is the company's flagship board however Pint X has some major improvements over the original Pint. This board was issued in late 2021 with an upgraded battery and higher top speed over the original Pint.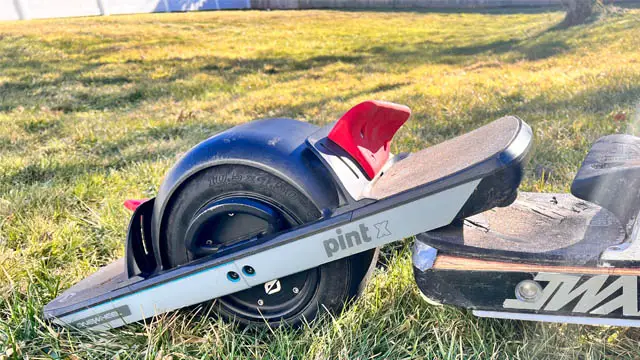 The Pint X has a similar top speed to that of the GT (18 mph / 29 km/h) so you're not missing much there. The main difference is the range which is 12-18 miles (9-29 km) on the Pint X. So for a slightly less top speed and still a great range, you can save some money and pick up a Pint X.
The ride does feel slightly 'more squirrelly' on a Pint platform board as the wheel is slightly smaller. It does have great torque however because of this smaller tire.
Unfortunately, Future Motion stopped producing the XR. The Onewheel XR has the same battery size as a Pint X with a slightly higher top speed (nominal difference of 1mph) however it was built with a full size platform. The Pint size is half an inch narrower and 3 inches shorter overall compared to an XR. While that doesn't feel like much, you can feel the differences as you ride. The larger tire of the XR also makes a smoother ride so if you really do not enjoy the smaller size then a used XR is the way to go.
Conclusion
Getting a new Onewheel GT is going to run you upwards of $2,200. Staying within the new category, a slightly inferior Onewheel (Onewheel Pint X) whill run $1,400. A savings of about $600 for a slightly smaller board and slightly lower top speed and range but you get similar technologies in the board. If you intend to stay on a full sized Onewheel than the alternative to get more savings is to buy a used Onewheel. A used full-sized XR can be scored for about $1,000 to $1,800. Used will always be the cheapest One wheel.
The benefit of purchasing a used XR is that there is so many aftermarket products for the board. You can always refresh the board and have it feeling new for little added money. If you fall in love with the sport you also have the ability to convert it to a CBXR or JWXR one wheel which will keep up with those GT models. Go hunt for that Onewheel and consider the float life or check our post on what to look for in off-road PEV's if you want to see what else is available. Basic safe riding principles are required for any model. Learning is easy and it can be done within an hour.
P.S. There is a new self balancing board that competes with the GT. It is just not made by Future Motion.
F.A.Q.'s
Does anything compare to Onewheel?
Off brands like the Magwheel trotter are available however the ride quality is inferior. Magwheel is improving their 'one wheel' however it is still considered to be an inferior product to Future Motion's builds. EUC's (electric unicycles) offer a very similar feeling of floating but in a forward (skiing-like) stance.
Are One wheels worth the money?
Onewheel's have a decent resale value within their groups and within marketplaces. You can expect to retain anywhere from 50 to 80% of the purchase price depending on how much mileage and wear the board has. Regarding their fun-factor, onewheels are worth their money.
Why do Onewheels cost so much?
These are definitely not toy hoverboards so their prices are not comparable however when seeing the differences between them, Onewheels seem incredibly overpriced. Onewheels can function as an alternative means of transportation. They are very rugged and provide for all-terrain use. The combination of their massive batteries, all-terrain use and ruggedness is largely what constitutes their price point. There are several groups and marketplaces online that sell used Onewheels.