As of 2022, the Onewheel XR was the most popular board. This Onewheel preceded the the GT as Future Motion's flagship product. The Onewheel XR had the longest production run spanning from January 8th 2018 to early 2022.
With over four years in production, the Onewheel XR maintained the same platform as the Onewheel + however it received a major update to the battery while also offering custom shaping. Several firmware's were issued along its production which limited the modification capability of this Onewheel.
Onewheel XR Spec List
| | |
| --- | --- |
| Hub Motor | 750 watt Hypercore Motor |
| Tire Dimensions | 11.5″ x 6.5″ – 6″ Vega Slick |
| Board Dimensions | 9″ × 11.5″ × 30″ / 23cm x 29.21cm x 72.6cm |
| Weight | 27 lbs / 12.5 kg |
| Battery | 324Wh LiNiMnCoO2 (lithium nickel manganese cobalt oxide), NMC 54 Volts (nominal) – 63V Max |
| Top Speed (mph / km/h) | 19 mph / 30 km/h |
| Sensors | Solid State MEMS 6-DOF |
| Range (mi / km) | 12-18 miles / 19-29km |
| Recharge Time (mins) | 100 Mins *standard charger |
| Max Lean Angle | > 30° of Tilt |
| Digital Shaping Modes | Sequoia, Cruz, Mission, Elevated, Delirium & Custom Shaping |
Onewheel XR Specs – Firmware and Hardware
Up until the Onewheel XR, firmware was not updated within the smartphone app. This was the beginning of the 'Right to Repair' movement in the Onewheel space. Up until the XR, modifications were never limited by the hardware.
The Onewheel XR went through several renditions of Hardware versions along with Firmware versions of Gemini. With the first issue of XR firmware (4206) up to 4209. These version XR Onewheels are more valuable on the second hand market because they allow the rider to access the battery information with OWCE app. Along with better diagnostic information, these Onewheels allowed for easy battery modification that did not require chipping.
XR Hardware 4210 is when Future Motion stopped the ability to accessing individual battery cell information. Modifications could be complete however you would not be able to load the app without an Error 23. During these models, the controller and BMS were paired which did not allow for one individual to be replaced. 4211 and 4212 share the same issues however no modifications to the battery were available even if the application is closed. These Onewheels require the FFM chip to bypass the locks.
Known XR Hardware models are 4206, 4208, 4209, 4210, 4211, 4212 and 4213. Firmware versions are 4107, 4117, 4134, 4142, 4144, 4150, 4152, 4155, 4161 and 4162.
Onewheel Digital Shaping 2.0
First introducted on the Onewheel Plus (+) model, Future Motion continued Digital Shaping 2.0 on the Onewheel XR but also adding Custom Digital shaping. Custom Digital Shaping was well received by riders as it was another step in personalizing and customizing the Onewheel riding experience.
Custom
Custom digital shaping allowed for the rider to modify three parameters on their Onewheel XR, "Carve ability", "Stance Profile" and "Aggressiveness". Carve Ability ranges from -5 to +5. In this setting, the board will react differently to heel and toe rolls. Future Motion explains this parameter as ride comfort. A loose carve ability feels like a Cadillac whereas a high Carve ability feels more like a sportscar.
Stance Profile allows for modifying the ride angle of the Onewheel. Riding with a positive setting has a similar feel to "Elevated" as the nose is higher than level whereas the negative setting brings the nose downward. There may be limited benefits of riding with a downward nose angle such as riding downhill however this setting is very limiting in range (+/-3). It does not provide a huge range but the feel is noticeable.
Aggressiveness speaks to the controller setting. The Onewheel XR's controller makes 14,000 calculations per second to keeping the rider balanced. With 'Aggresiveness' setting, this allows how strongly the board reacts to these calculations. A low aggressiveness has a more mellow and easy feel whereas the higher setting is very tight.
Sequoia
Sequoia digital shaping is the most mild setting for the Plus model. It is intended for learning to ride or for practicing tricks as the max speed is dialed down on this setting to 12 mph (19kph). Tightness and sensitivity is dialed down and its important to note that pushback begins sooner than the remaining digital shaping profiles.
If you are experiencing pushback at around 10mph (16kph), this is likely due to the Onewheel being set to Sequoia. This similarly can be caused on Cruz which also has a lower max speed.
Cruz
Cruz digital shaping attempts to find a space between Sequoia and the most popular setting, Mission. While Cruz does allow you to keep a mellow ride and cruise around town, the max speed on this digital shaping profile is also dialed down to 15mph. Riders will often begin to feel pushback around 12 mph on this setting.
Because Sequoia and Cruz do not give the full potential max speed of the Onewheel, it is extremely important to be aware of the setting prior to riding. Pushback concerns within Cruz (more-so) than Sequoia are greater as riders may believe they can achieve the top speed of the Plus of 19mph (30kph).
Mission
Mission is the beloved digital shaping profile that gives the full potential of the Onewheel Plus while keeping the controller at a playful setting that is not too tight allowing for an extremely enjoyable ride. Mission is recommended by most Plus and XR riders as their preferred setting due to its "buttery" and float-like feel.
While Cruz and even Sequoia settings are often utilized for practicing new tricks, when mastered, the recommended digital shaping setting for trick riding is Mission because there is still enough play in the nose. In Delirium setting, the controller is very tight and often is too responsive when attempting tricks such as a nose slide.
Elevated
Elevated on the Onewheel Plus does not change from the V1 other than provide a higher top speed of 19mph (30kph) in comparison to the V1's 15mph (24kph). Elevated digital shaping finds its way into all Onewheel models and is known as the nose lifting setting. Fear of nosediving for many novice riders may choose this as there is a little more clearance giving some (false) sense of security however the main purpose is for hill climbing or riding some chunky terrain.
Riding Elevated is similar to Pushback as the nose is up. The pushback feeling while in Elevated mode feels like the pushback experienced with a dead battery where the tail almost begins to drag. Elevated is a middle setting in regards to aggressiveness and is made for any type of terrain.
Delirium
Delirium is the second most popular digital shaping on the Onewheel Plus. Aggressiveness of the controller setting is set to high giving a hyper-responsive nose. The maximum speed of the Onewheel Plus is opened on this setting (19 mph / 30 km/h). When riding loose terrain or trail riding, tire slip notifications are more prevalent on this setting due to the controller's high setting. If this notice concerns you, dialing down to mission generally remediates the notifications.
When Delirium mode is enabled, the Onewheel Plus has its max acceleration available as well as its maximum lean angle (the maximum angle the board can be tilted before it loses traction and begins to slide). Delirium mode is intended for experienced riders who are comfortable riding at high speeds and who have mastered the basic controls and handling of their Onewheel.
Onewheel XR Platform
The iconic CNC machined 6061 billet aluminum rails remained on this Onewheel. Little of the Onewheel XR's anatomy changed. Revised battery management and controller hardware was completed however the 750 watt Hypercore motor, rails, battery and controller enclosures, bumpers and footpads remained the same.
The signature directional headlight and taillight system continued on this Onewheel. It proved to be one notable element that identifies a Onewheel out in the wild. Future Motion made a cost savvy move by continuing the Hypercore motor within this Onewheel release. With no added horsepower, this did not hurt sales as it was one of the most popular Onewheel alongside its little spawn the Pint.
Accessories for the Onewheel XR
This is a list of Onewheel XR accessories. Necessary accessories are charging port covers and power button covers. The remaining are optional to improve the ride and to maintain the board.
| Accessory | Manufacturer(s) | Purpose | Recommended Accessory |
| --- | --- | --- | --- |
| Fender | OEM, Craft & Ride, The Float Life, Land Surf, Flight Fins | Protection from debris | Flight Fins system with removable fender |
| Rail Guards | OEM, Craft & Ride, The Float Life, Flight Fins | Side covers for rails | Any guard that makes the board for you |
| Float Plates | Craft & Ride, The Float Life, Flight Fins | Underside bumper protection | Any if you are not already using custom bumpers |
| Bumpers | OEM, Craft & Ride, The Float Life, Flight Fins, Badger Wheel | Protection to the controller and battery box | B.A.N.G.S. bumpers by Float Life |
| Flight Fins | Flight Fins | Allows for the ability to lift the board (ollie) without bonking | Yes, Full Flight system is ideal for trail riding |
| Wedges | Flight Fins, Several | Subdued version of a full Flight System for similar purpose | Yes if a full Flight System is too much for you as a rider |
| Footpads | OEM, Craft & Ride, The Float Life, Flight Fins, Land Surf | Allowing for a more comfortable ride | Land Surf Platysense (includes front sensor) |
| Anti Nosedive | Land Surf, Sonny Wheels | Accessory to help recover from a nosedive | Fangs by Land Surf |
| Rails | Tech Rails, Flight Fins, Float Life, Badger Wheel | Shorten and/or angled rails for improved riding | Skeleton Rails by Tech Rails |
| Height Adjustments | Tech Rails, Float Life, Land Surf | Lifting and lowing kits for ride improvement | Crazy Hubs by Tech Rails |
| Battery Mods | JW Batteries, Chi Battery Systems, Carve Power | Extended Battery Modifications | JW Batteries or Chi |
| Tires | OEM, Flight Fins, Float Life, Craft and Ride | Treaded, Custom sizing and varied rubber | Float Life Enduro Tire |
| Waterproofing | Badger Wheel | Kit to seal battery and controller box | Badger Kit by Badger Wheel |
| Hub Protection | Float Life | Cover enclosing Hub's edge from damage | Float Savers by The Float Life |
| Handles | OEM, Craft and Ride | Optional side handles | OEM are fine |
The Onewheel XR is the most modified board. Many of the older XR's allow for swapping components whereas the later versions (hardware 4211, 4212 and 4213) are still being modified with FFW chips or being utilized as a VESC conversion board. The XR platform is compatible with virtually all VESC parts including the controller and battery management system.
Revolutionary Electric Riding Platform
So the XR isn't the first Onewheel however it was the one that revolutionized the Onewheel sport. It took it from a simple leisurely riding board to a board that can tackle all-terrain and do crazy stunts. Lean forward and send it down a wild wooded trail and explore. Trails began to be explored when the XR was issued due to the battery size being large enough to get into the woods and be able to ride back.
While there's a good deal of riders that use the Onewheel for commuting or to just take a leisurely ride, the growth of stunt and trail riders exploded with the XR. GT is building off this buy adding larger batteries to the boards however it was the XR that tapped into the trails.
Known Manufactured Defects of the XR
Because the XR has had several years of hardware improvements which included years of the Onewheel + models, there are few fail points to the Onewheel XR. One common issue reported by several riders is the back of the BMS wears out causing an error.
The Onewheel XR's BMS rest directly on the battery box. Over time (500+ miles), the supports of the battery box wear into the BMS chip causing it to fail. The wearing is known to occur around the 500 mile mark or so however BMS failure is further down the road (1000+ miles).
Future Motion designed the BMS without any standoffs. Having standoffs would allow for space so that the plastic would not rub and wear into the battery management system. Please note that BMS failure is not inevitable. This is more commonly an issue on heavy trail ridden XR Onewheels.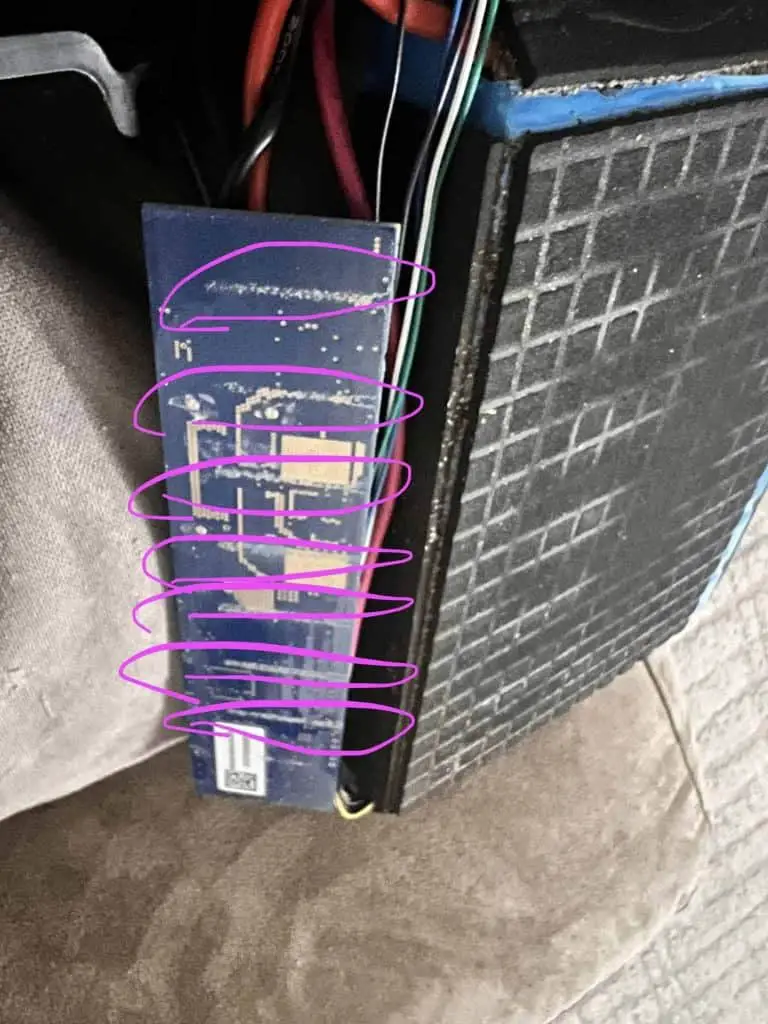 Saying Goodbye to the XR Era?
As the GT takes the flagship helm and the one wheel XR is no longer sold is this goodbye for XR? Not yet. The XR still has a vibrant second hand market as well as a vast amount of aftermarket products still available. The XR platform is one that is sought after when converting or building a VESC wheel. The GT has some impressive specs but just know that the motor and battery technology are the same (GT just has more batteries). Non-Future Motion boards such as the Floatwheel ADV are also coming to the scene.
The Onewheel XR dimensions are what riders know and have come to love this size for tricks. The GT is a slightly heavier board with thicker dimensions all around. You won't see GT take over the stunt space any time soon. XR's can be resuscitated with some fresh parts and can keep up with the best of them. Finding where to buy a used XR may be one of the most affordable ways to get into the sport and have a really solid ride.
That all being said, the GT space is continuing to evolve. More and more rails are being made to work with GT. Now that WTF's are available for the GT, it will be more and more challenging to stick with an XR.
F.A.Q.'s
Are sensor warnings dangerous? Are they supposed to happen on my XR?
Try new shoes or follow these tips for better contact on the sensor. Sensor warning just mean you are riding with only one zone engaged.