Depending on the model of Onewheel, each are equipped with a Lithium-Ion NMC (Nickel Manganese Cobalt Oxide) battery. Voltage and watt hours will differ for the XR, Pint, Pint X and GT. Proper charging and storage techniques are required to ensure a long lifespan of the battery.
Lithium nickel manganese cobalt oxide (NMC) batteries that are in a Onewheel can generally last 800-2000 charge cycles within its lifetime. This equates to up to five years of life if charged every day. Onewheel batteries can last longer if properly stored and charged properly and less frequently.
Onewheel Battery Spec Chart by Model
| Model | Battery | Watt Hours (Wh) | Amp Hours (Ah) | Volts (V) | Charge time (mins) | Range (miles) |
| --- | --- | --- | --- | --- | --- | --- |
| Pint | LiNiMnCoO2, NMC | 148 | 2.4 | 61.5 | 200* | 6-8* |
| XR | LiNiMnCoO2, NMC | 324 | 6.0 | 54 | 110* | 12-18* |
| Pint X | LiNiMnCoO2, NMC | 324 | 6.0 | 54 | 225* | 12-18* |
| GT | LiNiMnCoO2, NMC | 525 | 8.3 | 63 | 120* | 20-32* |
| CBXR/JWXR | LiNiMnCoO2, NMC | 567 | 10.5 | 54 | 180* | 32-40* |
*based on stock charger and optimal weight and riding conditions
Proper Battery Care for the Onewheel
It doesn't matter which model you have, proper battery care will notably lengthen the lifetime of your Onewheel battery. Here are the main tips to ensure battery longevity for your Onewheel:
Avoid leaving the battery stored with a high or low state of charge for any duration of time
(keep away from >90% or <10% other than immediately starting or ending a ride.
Always attempt to store the battery at approximately 50% of charge level.
Store in a climate controlled room. Temperature extremes are taxing on the battery.
Store your Onewheel around 70°F (20°C)
Avoid using high rates of charging (from the Hypercharger or aftermarket charger) as this will degrade batteries overtime. Only use a Hypercharger sparingly and do NOT use regularly.
To balance the batteries on a Onewheel, you can leave the standard charger plugged in overnight however this is not necessary to do that often. You may only need to do this once every other month or so (depending on how frequently you ride). The OWCE app (One Wheel Community Edition) can allow for you to see the individual battery levels. Utilizing the app will confirm how often balancing will be needed.
Battery Swapping Voids Onewheel Warranty
Unless its completed by Future Motion within their warranty coverage, replacing a Onewheel battery will void the warranty (it is rare for a battery to fail within the warranty coverage timeframe). So even if you plan on sending it to a shop (such as Stoke Life Services), the replacement will result in a voided warranty.
Generally however because battery swaps are completed outside of the warranty coverage timeframe, this is not that big of an issue. Especially with opportunities to add a Quart to a Pint, or a CBXR / JWXR to an XR, this should be seen as a fun opportunity to beef up the Onewheel. This can also be a good time to add some waterproofing to your Onewheel. If you don't buy a full Badger Kit, some windshield glass sealant goes a very long way in increasing the water resistance of your Onewheel.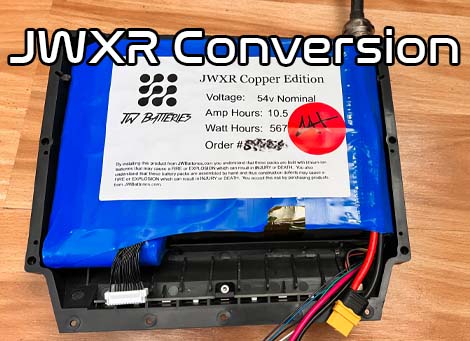 Life of a Onewheel Battery
To summarize, the life of your Onewheel battery is deeply connected to how well you maintain the battery. Proper storage, charging and use will easily provide 3-5 years of use without much degradation. The battery life is connected more so to the amount of power cycles its had than miles on the board, but you can expect 2000-3000 miles without much concern of the battery. After this time, warranty periods are over but you can seek replacements and have them installed or install them yourself. Most battery degradation for Onewheel riders is commonly due to storing the Onewheel at 100% charge for prolonged periods or overuse of a hyper-charger.
Tips For Onewheel Charging – Longer Onewheel Battery Life
Always use the Charge limiter option within the Onewheel app for the Onewheel GT. (GT Riders only)
For Pint, Pint X and XR models, there's no charge limiters however adding a plug timer can help with stopping the charge before 90%. The app does give a 90% warning however a timer can be useful if you are not near the board when charging.
Never leave your Onewheel charging if you are away from your house for more than a couple days. Balancing the batteries overnight is fine however to be safe, do not leave on a charger for more than a day and do not leave it charging unattended. Balancing once a month is fine but no need to do it more frequently.
Try not to overcharge or undercharge your battery. If you charge it, make sure it is more than 20% and ideally less than 90%.
For seasonal riders, its important to be mindful that the battery should be charged at least once every two months. Onewheel states that failure to do this may void your warranty.
Keep the board always stored in a climate controlled environment. Too cold or too hot of a storage location will damage the battery.
When not riding the Onewheel, always attempt to have it stored with a 50% battery level.
When It's Time for Battery Swap or Upgrade
Battery modifications in any way void the Onewheel warranty. A battery upgrade or swap should only be considered after the warranty period ends or completed by future motion within the warranty coverage. If the Onewheel's advertised range can no longer achieve about 70% of its reported range (under ideal conditions) and you are outside of the warranty window then consider changing the battery. Stock batteries should last far longer than a year.
Replacing For Another Stock Battery
Future Motion will not sell you a battery. They do actually something even better. They will replace the battery for you for $300-$600 USD ($300 for Pint models, $500 for XR and Pint X and $600 for the GT line). This includes shipping to the lower 48 states! This is why its really important to hold on to the original box when you purchase a Onewheel. Being able to use this box to ship it into Future Motion for service makes the process easy.
Upgrading Batteries with Aftermarket
Onewheel's are harder to modify with later versions. Older era XR's for example (4210 and prior XR) could have a battery upgraded without any sort of additional modifications. JW batteries used to perform and sell batteries with a chip (FFM chip) to upgrade your Onewheel XR to a JWXR (similar to a CBXR) or a JW Pint battery. They are no longer in this business so this process is harder to do. It still can be done with chips on the second market or use of an OWIE chip.
If you do go this route, you are essentially placing another piece of hardware between your Onewheel controller and the battery. Its just one more fail-point. My JWXR had issues and its the worst when it happens (error 16 is the prevalent issue with battery modifications). The install requires some minor battery housing modifications which is simple enough but soldering is required and should be completed by a professional service.
Chi Batteries still is in business and continues to make battery upgrades for Onewheel Pint and XR models. They are far superior to the stock battery. To read more about if your Onewheel is within the allowable specs, check their website out.
Final Thoughts
Its very important to maintain your battery. After having to personally deal with an error 16, I realized that it may not be worth the dangers and the troubles of extending your Onewheel battery if its your only ride. If you maintain your battery properly, it should last for many years. The fact that Future Motion offers a battery replacement service for their prices seems very reasonable. Especially knowing that its done by the company that made the product.
If you really are a range fiend then there are definitely ways to upgrade your Pint's or XR battery. I just would not personally bother with it unless you are willing to use the board as a project board. That's not to say these boards wont last. This will depend on factors like hardware, who installs the battery etc. Generally speaking however, sticking with a factory battery may not be as exciting, but their replacements are reasonable and reliable.
F.A.Q.'s
I have a Onewheel GT. Should I use the 90% charge limiter option?
Yes. Unless you plan on riding over 25 miles, you should always use the charge limiter. Fully charged lithium-ion batteries can severely lose lifespan when constantly fully charged or depleted.
Can you replace the Onewheel battery.
You cannot replace the battery without voiding the Onewheel warranty. If your Onewheel is still under warranty, open a service ticket with Future Motion to assess and rectify the issue. If your Onewheel is out of warranty. Onewheel batteries can be replaced however it is advisable to seek a repair shop such as Stoke Life Services.
Can you buy factory Onewheel batteries?
Future motion does offer replacement batteries however you cannot buy them as supplemental components. All factory batteries purchased out of warranty are typically used. Companies such as Chi Battery Systems, manufactures quality batteries that (depending on model) will work for the Onewheel.