The Onewheel battery can be replaced on any model Onewheel. Replacing a battery on a Onewheel can generally be completed within an hour. Modified boards such as a Pint Quart and CBXR may take more time as certain hardware versions of the Onewheel require additional parts.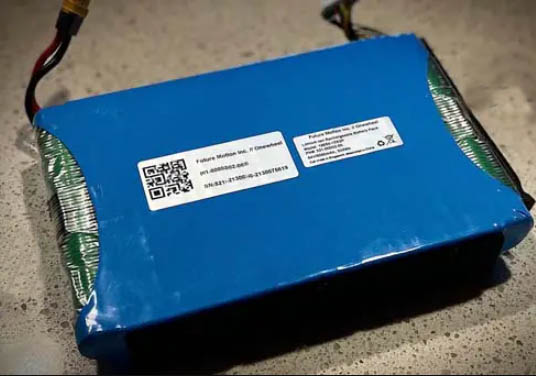 Is a Onewheel Battery Replacement Necessary?
A replacement battery for your Onewheel should only be considered if you are not getting the desired range of your onewheel battery, its time to get the Onewheel battery swapped out. Generally speaking, if your battery has decreased to less than 75% of the range the mileage you were experiencing when the board was new, it may be time to make that consideration.
You may never have got the advertised range from your Onewheel. The advertised ranges are based on ideal conditions and a 200 lb rider. This is why its important to compare your current mileage to the mileage you were getting when the board was new. If the board was used, then consider the advertised ranges for comparison (you should really be able to get close to those miles on flat, smooth conditions).
Is Replacing The Battery On Your Own Worth It?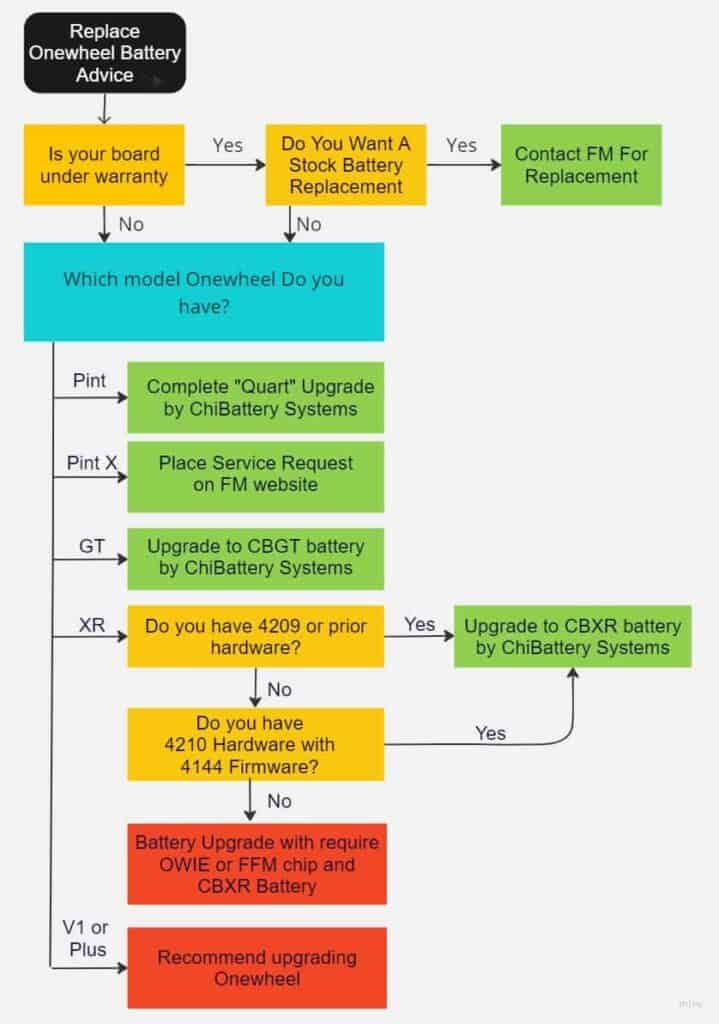 The flowchart above does not provide an option of the Pint X because as of now currently there is no aftermarket battery that improves the range over the stock battery.
I am going on a limb by saying this but if you have a Pint X or GT, I strongly recommend contacting Future Motion for the battery replacement service. From a Pint to GT, prices range from $300 to $600 which includes roundtrip shipping. Aftermarket batteries will be a little less however, you will have to complete the battery replacement yourself. Considering the time and labor and possibility of causing an issue with a board, the savings is just not there if you have either a Pint X or GT.
The reason I specify these models is because the aftermarket battery game for these models are nominal gains over the stock battery. Lets look at the CBGT battery. The CBGT is available for the GT model Onewheel and at $450, the savings is there however you will only see a 6.25% gain in battery range if you have an earlier model GT. Later versions of the Onewheel GT use the same P42A cells and ChiBatteries has stated the output to be the same.
So is the CBGT even worth it? My response is no. This goes the same for a Pint X. While the savings is there, unless you are familiar with the GT breakdown, the labor, cost and possibility of error does not make it worth the purchase. If you are going to send your Onewheel into Future Motion, make sure to remove aftermarket add-ons. Its been reported by several owners that some aftermarket parts are not returned.
How to Replace Your Onewheel Battery
You will need a Onewheel toolkit to complete the install. See which tools are needed for the Onewheel servicing. XR primarily utilizes a 1/8′ hex but you will need a TP25 Torx Plus bit for GT and T20 for Pint & Pint X)
GT Battery Video:
Pint Battery Video (by Chibatterysystems):
XR Battery Video:
Conclusion
XR battery replacements and will see the most gains from a battery swap as the aftermarket batteries are slightly larger than the GT stock battery. These battery upgrades are massive gains. They are completely extreme and make the replacement most worthwhile. While this is true for all XR's If you have a 4210 or later hardware version, the install will require an OWIE or FFM chip. These installs are more complicated as they require some soldering and cutting of the BMS battery leads. Because of the safety concerns of the power cutting out while you are riding, I would leave this to a professional servicing shop.
If you are not looking to add a larger battery but just replace a degraded stock battery, definitely contact Future Motion for the servicing and install.