As of 2022, the Onewheel GT has become Future Motion's flagship Onewheel replacing its predecessor, the Onewheel XR. While the Onewheel XR was the same form factor as the Onewheel Plus, the GT has a totally different look and feel. Much of the aesthetics take after the Pint.
The GT's major improvement over the XR regarding specs is the range. Future Motion has improved the range to its flagship board to 20 to 32 miles (30 to 52 km) from its prior 12 to 18 miles (19-29 km). This is due to the battery size being increased form their prior 324Wh battery to a 525Wh battery.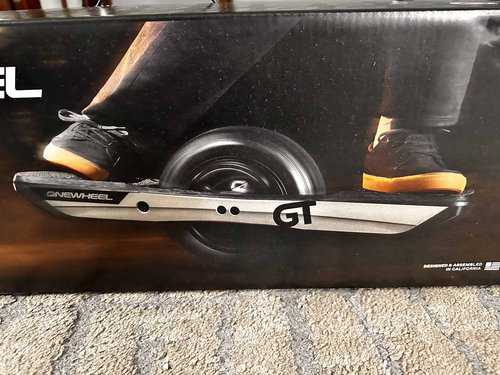 The board did receive a nominal improvement on speed. The Onewheel GT top speed hits 20 mph (32km/h) (before pushback). The XR (prior flagship) has a top speed of 19 mph (31 km/h). The board does improve on its footpads, lightbar indicator, brighter LED headlight and grippier grip tape. Here are the specs.
Onewheel GT Specs:
| | |
| --- | --- |
| Hub Motor | 750 watt Hypercore Motor |
| Tire Dimensions | 11.5″ x 6.5″ – 6.5″ Vega Slick |
| Board Dimensions | 9.5″ × 11.5″ × 29″ / 24cm x 29.21cm x 74cm |
| Weight | 35 lbs / 15.8 kg |
| Battery | 525Wh LiNiMnCoO2, NMC 63 Volts (nominal) [75V Max] |
| Top Speed (mph / km/h) | 20 mph / 32 km/h (advertised*) |
| Horsepower | 3 hp |
| Sensors | Solid State MEMS 6-DOF |
| Headlights | 500 lumens – Dimmable / Adjustable |
| Range (mi / km) | 20-32 miles / 30-52km |
| Recharge Time (mins) | 200 Mins *standard charger |
| Max Lean Angle | > 30° of Tilt |
| Digital Shaping Modes | (Digital Shaping 3.0) Bay, Roam, Flow, Highline, Elevated & Apex (Currently no custom shaping mode available) |
| Footpads | Concave and Flat Kick |
Onewheel GT Redesign
From the XR flagship model, the Onewheel dimensions were 9″ × 11.5″ × 30″ (23cm x 29.21cm x 72.6cm). The Onewheel GT dimensions are similar 9.5″ × 11.5″ × 29.5″ (24cm x 29.21cm x 75cm) essentially shaving a half inch off the total length. The rails are notably thicker however because they are painted they do have some issues with heat dissipation. Other than the rails, from a quick glance you will find that the GT has brighter LED lights, a more aggressive grip tape, and a proprietary tire (custom rubber carve ability).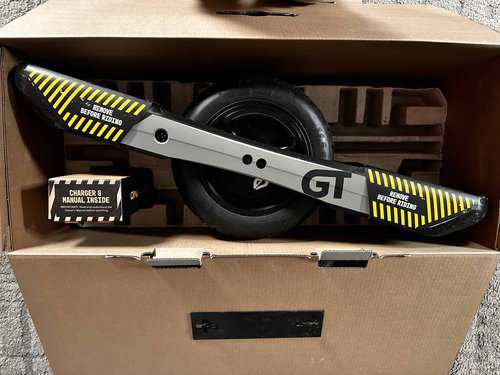 The XR model would often get reactions from people that it was something we riders built. This isn't so with the GT, this refined shredding machine takes many of its design elements from the Pint. There is no more wood on the board, the entire GT platform is composite and aluminum components. If the look isn't selling you, the battery will. The torque and dynamic performance outperforms the XR.
New Features on the Onewheel GT
The newest features are mostly safety and some concepts taken from the Pint. After all, the GT is essentially an overgrown Pint (design-wise). Here is the list of new features that come standard on the GT that were not available on the XR (prior flagship model):
Lightbar Features : Battery indicator, Simplestop indicator, Sensor engagement
Brighter and Dimmable LED Headlights
Audible Safety Beeping When Hitting Pushback
Battery Charge Limiter
Higher Top Speed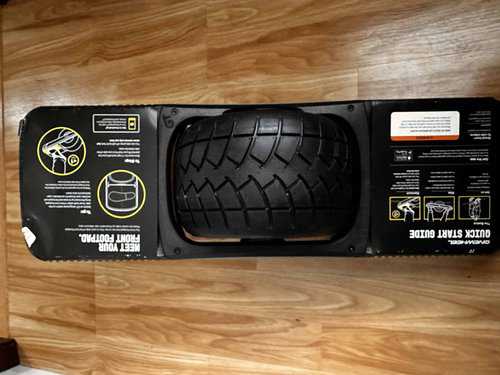 Other than the charger, there are a couple Onewheel GT stickers inside the packaging. There is a user manual and that's about it. Always hold on to the boxes and packaging for possible shipments to Future Motion for warranty coverage or general servicing.
Lightbar Features on the Onewheel GT
So the Lightbar is inspired from the Pint Onewheel (much of the GT is built like a Pint, with exception to size and battery). The lightbar on the Onewheel GT operates the same way it does on the GT. It allows the rider to quickly and visibly see battery levels, if Simplestop is enabled, and to see sensor engagement.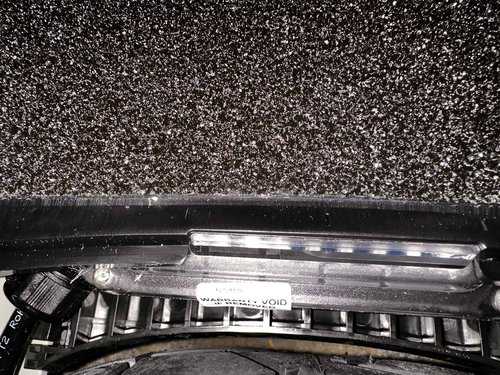 Battery levels are highly visible. A full bar indicates a full battery. A half-lit indicator means 50% and so on. The indicator will turn yellow when you are below 10% battery life. You should not ride with a battery below 10%. If you do, exercise caution. When the lightbar is red, it means the battery is depleted. Pushback sets in and if you're still riding, you will Captain Morganing until it dies.

When SimpleStop is enabled on the GT, you will not be able to go in reverse. This is easily disengaged by going into the app and clicking the hand (shaka symbol). You can tell when SimpleStop is enabled when the lightbar turns Purple.

The Lightbar also provides sensor engagement indication. When the left or the right portion of the sensor is pressed, the lightbar's respective side will light up indicating that the corresponding side has pressure on the sensor. When both are lit, this tells the rider that the motor is engaged.
(Note: Some riders find that the lightbar is too bright. A quick hack is to place a small strip of window car tint over the top of it. Its still visible but not distracting.)
Brighter and Dimmable LED Headlights
Onewheel GT is equipped with 500 lumens of LED headlights. This is a 300% improvement over the XR headlights. Not only are the headlights brighter but they are now dimmable within the Onewheel app. click on the light icon and adjust while on your ride. This is great for night riding or when trails have oncoming riders or pedestrians. Having the ability to dim the lights on a ride is an excellent feature implemented by Future Motion.
Audible Safety Beeping When Hitting Pushback
Future Motion has placed a safety measure for the rider to audibly hear when pushback is triggered. Pushback is when the board's nose elevates. One the GT, it is a notable feeling however if you are unaware of it, you can listen for the audible beep. This beep is harder to hear at faster speeds or if wearing headphones. Do not rely on the beep for safety. As you ride, you will learn what certain speeds feel like. Always ride below 20 mph.
For those who ride at 20mph or higher, the audible beep can be bothersome. Future Motion has considered this and does allow the rider to disable the audible beep. When doing so, the app will make you confirm that you acknowledge the risk of doing so however it is feasible to disable this feature within the app.
Battery Charge Limiter
A fully charged battery and fully depleted battery can potentially be bad for lithium-ion batteries therefore you should not ride your Onewheel GT to 0%. Future Motion has implemented a charge limiter. A fully charged battery can be harmful because when the battery is charged to its maximum capacity, the battery's electrolyte can break down over time and cause the battery to lose capacity more quickly. Therefore Future Motion allows the charging to cut out at 90%. This is an additional feature within the Onewheel app. Remember: a fully charged battery can be more susceptible to damage from overheating or overcharging, which can also lead to safety issues.
It's generally recommended to avoid fully depleting or fully charging lithium-ion batteries whenever possible. Instead, it's best to keep the battery's charge level within a safe operating range, typically between 20% and 80% of the battery's capacity. Please see battery maintenance for long lasting use of your Onewheel GT.
Higher Top Speed with Onewheel GT
Prior to the Onewheel Gt, the XR model had an advertised max speed of 19 mph (30.5 kph). Now with Onewheel GT, the top speed has been increased to 20 mph (32 kph). This is however the max speed before pushback. Future Motion advertises only the safe speeds to operate the Onewheel. Its important to adhere to these guidelines to avoid injury.
With a larger battery and increased voltage, the Onewheel GT feels more powerful because it is more powerful. It will obtain higher speeds more effortlessly than prior models. It is also possible to exceed the advertised top speeds by up to 15 mph (24 kph). There are riders that do excess of 30 mph on their Onewheel GT however this is ill-advised as the motor will likely hit its limit. The limit is all based on the weight on the board, riding conditions and battery levels. Please do not exceed advertised the advertised top speed.
Onewheel GT Digital Shaping 3.0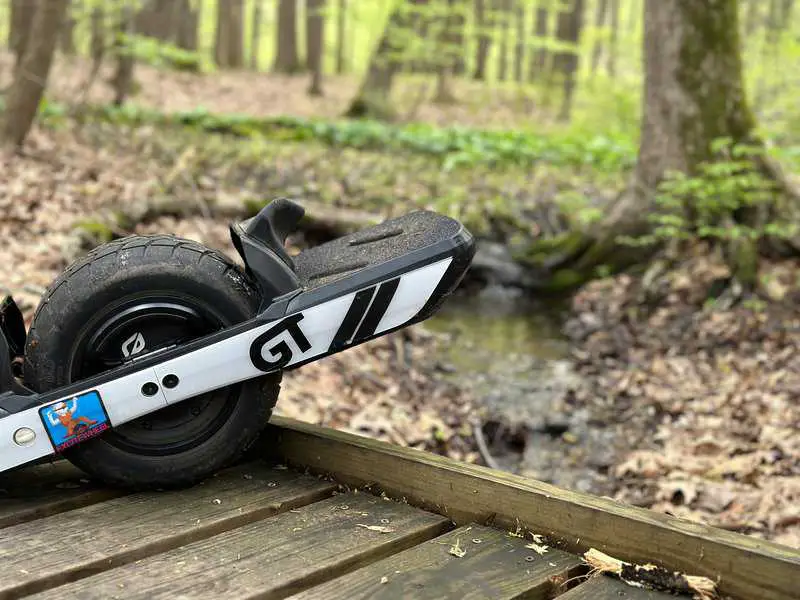 The new Onewheel GT also comes with Future Motion's 3rd version of their digital shaping platform for riding. I wouldn't say that this is a totally redesigned control system for the board but it certainly has been tweaked from version 2.0 which is seen on the Pint and other on previous models. Future Motion has tweaked their digital shaping profiles a bit so that its aggressiveness, max speed and nose positioning varies. It also comes with a dimmer for the headlights. All is still under the same Onewheel app as before.
What is Aggressiveness?
Aggressiveness is how responsive the Onewheel is to the leaning of the nose and tail. A low aggressive setting feels more smooth and "flowy" as the motor does not quickly attempt to balance the board. Instead the board may feel as though there's a little lag time before it attempts to balance the rider. Because the balancing is not as snappy, this feeling is often described as buttery and smooth. Nose slides are easier to achieve as quickly dropping the nose of the Onewheel before the motor can respond is more obtainable.
Max Speed Ranges
Digital Custom Shaping alters the potential max speed of the Onewheel GT from mph to 12 mph (19 kph) to 20 mph (32 kph). NOTE: Because many of the modes have lower max speeds, pushback occurs sooner. Exceeding pushback will likely result in a nose dive. It is important to understanding that Bay and Roam modes will not allow for faster speeds. Do not attempt the boards max speed within these two settings.
Nose Positioning
Within Digital Shaping (all versions), some settings do allow for a ride with the nose of the Onewheel being elevated. Notably is the 'Elevated" setting. Positioning the nose higher is ideal for hill climbing and for riders that feel secure with the added clearance.
Digital Shaping 3.0 Mode Chart
Bay
Roam
Flow
Highline
Elevated
Apex
Intended Rider
Beginner*
Intermediate*
Experienced
Experienced
Experienced
Experienced
Max Speed
12mph (19km/h)
18mph (24km/h)
20mph (32km/h)
20mph (32km/h)
20mph (32km/h)
20mph (32km/h)
Ride Feel
Sluggish
Smooth
Loose
Smooth
Smooth
Buttery
Buttery
"Carvy"
Angled
Tight
Tight
Responsive
Ideal Terrain
Street
Street
Street to Hard-pack trails
All Terrain
Hills
Trails
All Terrain
Aggressiveness
Low
Low
Moderate
Moderate-High
Moderate-High
High
Nose Angle
Standard
Standard
Standard
Standard
Pitched Upward
Standard
*Be aware that pushback occurs far sooner within these settings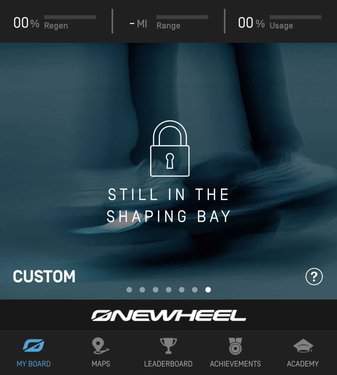 Custom shaping for the Onewheel GT is not currently available as of yet. Future Motion has hinted that this will be released yet no date has been confirmed. Within the app, if you swipe all the way to the right, the seventh bullet is designated for Custom Shaping. Hang on tight because Custom Shaping will be available shortly.
Bay Digital Shaping
Bay shaping is intended for new riders or trick riding. The aggressiveness of the balancing controller is low so it feels more loose when riding it. Looseness simply refers to how much play the nose has before balancing the rider. If the GT feels slower than anticipated, its important to check the shaping mode as Bay really is intended for new riders and not to perform to the board's capabilities.
Bay mode is really intended for pavement only. This mode generally is for learning to balance on the Onewheel and for beginner riders. Once balancing and general maneuvering is achieved, another mode is recommended for daily riding. Please use caution when accelerating. You may hear beeping while riding (about 10 mph). This is due to the lowered max speed. Do not exceed or you risk nosediving.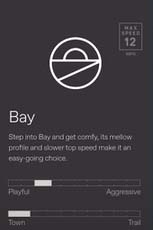 Roam Digital Shaping
Roam shaping mode is an intermediate setting. Future Motion describes this setting as a playful and mellow mode. They consider this the middle setting of the Onewheel GT. The Onewheel will not be as responsive as higher settings but will remain somewhat loose.
It is also important to be aware of the max speed of Roam. This setting only allows for a max speed of 18 mph which for many riders is adequate. If you do find yourself hearing the Onewheel GT beep, then its due to you approaching the governed speed. Likely its time to change to a higher mode setting.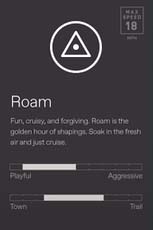 Flow Digital Shaping
Flow is a new digital shaping and is named after its feel. Future Motion describes this setting as a loose, fluid digital shaping setting. This setting does open the Onewheel to its max speed potential while keeping some play in the nose. Its not as loose as Bay or Roam however there is a moderate amount of slack or lag in the responsiveness of the controller giving that fluid feel.
Flow is great for getting into the carving. You can achieve tighter cutbacks and carving within this setting. This setting is still relatively mellow.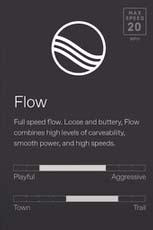 Highline Digital Shaping
Highline is the closest setting to the popular Mission digital shaping that is on the XR models. This setting allows for great carvability, as its more responsive with the balancing but not too aggressive. Highline provides a more "locked in", more tight and responsive feel than all prior settings.
This will likely be the most utilized setting by Onewheel GT riders. It is in my opinion the better trail setting as it softens a bumpy trail. Being less responsive than Apex, Highline does a good job finding a middle ground in balancing on rough terrain. Apex setting will tend to be very tight and tries too hard to balance causing some tire slipping whereas Highline smooths the riding experience on tougher trails.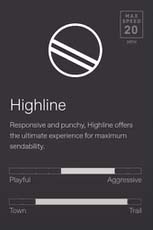 Elevated Digital Shaping
Elevated is essentially the same settings as Flow's digital shaping mode but with a full max speed potential and an elevated nose. Elevated noses are best suited for uphill climbing. This gives a little more added clearance of the front bumper.
Riders that daily ride elevated say they prefer this elevated feeling as when you accelerate, the nose doesn't really dip like most settings. Instead, this one accelerates when the nose is level. You will ride at a pitched angle however when cruising. Elevated is not recommended for downhill riding as you lose clearance on the tail side.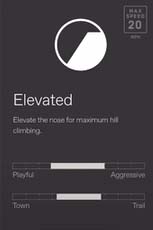 Apex Digital Shaping
Apex digital shaping is full aggressiveness in the Onewheel's balancing. It is extremely responsive providing for the tightest feeling when carving and maneuvering on the board. This setting does not have any play in the nose. In Apex mode, the Onewheel will be responsive in that you feel very "locked-in" to the ride.
Because of how tight the controller is set, this setting will spend a good deal attempting to balance. On chunky terrain, you may experience tire slipping warnings on the app more-so than any other setting. If the tire slip warning is reoccurring on trails, try Highline. Highline's controller setting is not as extreme and will soften a chunky terrain. This setting is great for more power on asphalt and light terrain.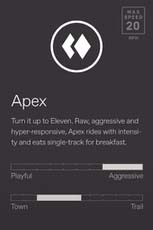 Board Redesign
The GT is a mash-up of a Onewheel Pint with an XR-like platform size and a beefier battery. The footpads now come concave which was a highly requested feature to the board. The Pint's status bar found its way to the GT offering the same sensor and battery indicator information to the rider. The LED headlights are vastly improved pushing 500 lumens of dimmable light.

Future Motion still only provides a charger and GT bumpers. The GT fender is a bundle add-on and so is a Hypercharger. When you look at the GT, it looks like an overgrown pint. No longer does it look like a DIY board that the XR and Plus models used to be confused with.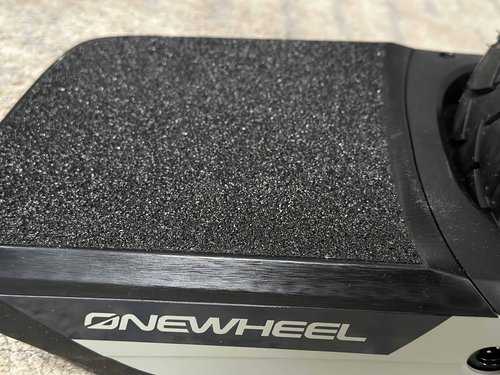 The footpads are wider and offer chunkier grip tape. Grip tape is notably thicker and stickier than the prior Onewheels.
One main drawback for riders is that Future Motion changed their tire size on the GT. Prior V1, Plus and XR tires will not fit the GT unless a GTR modification is completed.
Onewheel GT's Proprietary Tire Sizing Change to 6.5″ Hub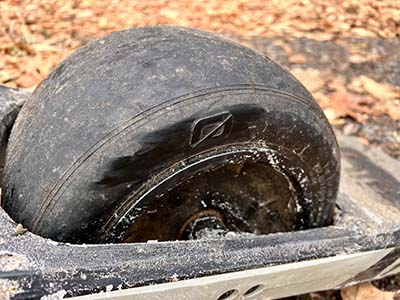 When the Onewheel GT was released, Future Motion made the change from standard go-kart tire sizing to a custom (proprietary) size of having a 6.5″ hub diameter size. This means no prior tire will fit the Onewheel GT unless it is converted to a GTR. This unfortunately is a custom tire profile combine with a revamped hub sizing.
The proprietary sizing isn't the only change. Future Motion previously outsourced tires to Vega. Vega slicks were standard on Onewheels since the V1. Other than the hub diameter, tire dimensions are relatively similar to the Onewheel XR.
Treaded Tire Option Availability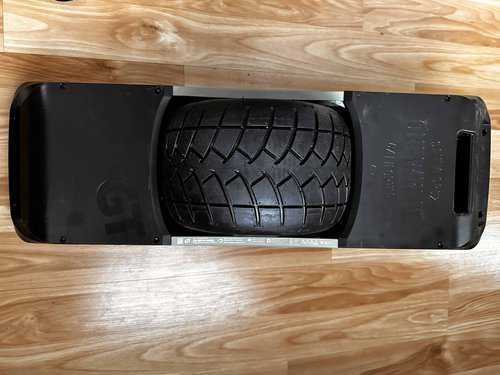 For an extra $50, Future Motion will ship you a Onewheel GT with a treaded tire. This tire has the exact same round profile as the slick however has sipes and treading that run about 1/8″ deep.. Will it be as good as aftermarket tires, likely not however this is a better option for riders who anticipate hitting trails and do not want to bother with a tire swap right away.
The material is a harder compound so it is intended to last awhile. Both slick and treaded have a rounder profile than the prior Vega slick that came standard on the Onewheel XR. I personally feel that it has a gnarly, nimbleness to it that you just didn't get with the Vega. While the treaded tire has a smooth patch along the center, expect the treaded tire to run a little louder on pavement. Personally, I think its a small price to pay for the upgrade.
How does the Onewheel GT Have 3 Horsepower?
With the GT having the exact same motor as the Onewheel XR, you probably are wondering exactly how Future Motion calculates the GT having 3 horsepower. With the new and improved battery, it has a higher max voltage output (75V). Horsepower is equal to approximately 746 watts and Power = Voltage x Current.
Power (in watts) = Voltage (in volts) x Current (in amps)
The Onewheel GT has 30 amps of discharge with a max voltage of 75V so Watts equals (75V x 30 amps) which is 2,250 watts. With the 2,250 watts that equates to about 3 hp (2250 / 746). Because the XR has a smaller battery and lower amps, the GT can output more power with the same 750 watt Hypercore motor.
Advertised Max Speed is Not the Max Speed
Onewheels are advertised with a max speed where pushback begins. For the Onewheel GT, pushback will kick in at 20mph. Please be aware that riding past pushback is extremely dangerous. Future motion sets pushback within a safe zone for the motor. It is possible to ride the pushback and exceed speeds of 30 mph (48 kph).
For the daredevils that hit 30 mph or higher, they give themselves the unofficial "Over 30" moniker when their app records a speed of 30mph or higher. This is again extremely unsafe and is not recommended. Some custom rails do make for riding pushback more comfortable however it remains extremely risky to ride beyond the pushback (riding beyond pushback simply means, pushing the board harder after the pushback indicator is felt).
Onewheel GT Firmware and Hardware
Onewheel GT hardware versions currently are 6400, 6404 and 6407. Firmware versions are 6064, 6069, 6070, 6071, 6100 and 6109. Here are the pairings.
| | Firmware 6064 | Firmware 6069 | Firmware 6070 | Firmware 6071 | Firmware 6100 | Firmware 6109 |
| --- | --- | --- | --- | --- | --- | --- |
| Hardware 6400 | Confirmed | N/A | N/A | N/A | Confirmed | N/A |
| Hardware 6404 | Confirmed | Private | Private | Private | Confirmed | Confirmed |
| Hardware 6407 | N/A | N/A | N/A | N/A | Confirmed | Confirmed |
Future Motion had issued a Firmware update in April of 2022 tweaking some of the choppiness of the board's riding on rougher terrain. At this time, they revised the Flow digital shaping to achieve its max speed. Future Motion does intend to roll out several updates to the firmware in the future.
As experienced on the XR, over the evolution of the firmware and hardware updates, Future Motion has locked down the diagnostic and modification abilities that can be completed by the consumer. Where once a battery modification and ability to review battery cell data was achievable, none of this data is made viewable to the consumer. The Onewheel GT's hardware (controller and BMS) are paired. There is no ability to swap these components out. Any sort of servicing to these parts require Future Motion support. Attempting to service these components may result in bricking the Onewheel.
Wider and Concave Footpads on the GT

Many XR riders often modified their XR with custom concave footpads (such as Kush pads) for added comfort on longer rides and to combat foot fatigue. Future Motion reacted to this by issuing a double concave footpad for the GT. These are also slightly wider than the XR's foot pads.
Future Motion also released a "love hump" and Flat Kick footpad set for the GT as other options for riders. The 'Flat Kick' option was not released until later 2022. The grip tape on the GT is more pronounced and thicker than the finer grain on the XR and Plus platforms. Future Motion also decided to remove the metal and wood theme by swapping out the older wooden pads for composite components. The status bar from the Pint does find its way on the GT as well as Simplestop and sensor engagement.
GT Recall and Issues
With the front sensor being concave for the first time ever, it is suspected that this was the culprit in the Ghosting issues that were experienced by riders who purchased on the initial release. Future Motion did make the sensor more sensitive as many riders requested however it was too sensitive. The concavity of the footpad may have been some of the issue however in August of 2022, Future Motion did a recall on the front sensor pad. They did not do a full board recall. This did appear to alleviate the issues with ghosting on the GT.
Other issues that currently are ongoing is that the GT is known to have out of range temperature issues. The Onewheel GT is very picky with temperatures and will either not turn on if its been in the cold or it can overheat if too hot. Future Motion does not provide operating temperature ranges but I can say that I have left both my XR and my GT in the trunk of my car on a winter day and the GT would be out of range whereas the XR would not.
A more concerning issue is the GT overheating problem. The design of the GT is so that the rail is the heatsink for the hub motor. While the engineering of the motor and rail assembly are similar to the XR, the rails on the GT are painted (powdercoated) on the exterior. This is trapping heat within the inner rail and motor causing it to overheat. Heavier riders 200lb+ (90kg+) that ride on hotter days appear to be most impacted.
Summary
Retiring the XR, the GT is now the Flagship Onewheel. While it has the same motor, it does offer slightly more power due to its voltage. While the initial launch was rough, Future Motion has released firmware updates, newer footpads and continue to improve the product line since its release date. The CPSC has issued a warning on Onewheels. While this was the most problematic Onewheel, the notice is not model specific nor part specific.
Future Motion made some bold changes. With the added battery range, and the updated firmware options, it rides better than during the initial launch.
F.A.Q.'s
Does the GT come with a fast charger?
The GT home charger is only a standard charger. The fast charger (Hypercharger) is an add-on.
What is the one wheel GT top speed?
Top speed is 20mph (recommended). Pushback sets in on this speed. Exceeding this speed can result in a nosedive.
Does the Onewheel GT board come with charger port covers (plugs)?
These plugs are add-ons or part of a bundle.