Aftermarket foot pads improve control and ride comfort. When it comes to customizing your Onewheel, changing out the foot pads can do the trick. Its a simple modification that can be completed within a 1/2 hour's time.
The right foot pad can improve your grip, enhance your control, and even add a touch of style to your board. Footpads for the Pint are typically composite or wood based with either standard or low-grit grip tape. Lower grit grip tape is usually preferred for trail riding.
With so many options to choose from, it can be hard to know where to start. That's why we've compiled a list of the available foot pads for Pint riders. Whether you're looking for maximum grip, extreme comfort, or a combination of both, we've got you covered. Foot pads are classified under three classifications: Concave, Flat and Extended.
Concave Foot pads for Onewheel Pint and Pint X (PX)
Go with a concave foot pad if you want to have more control of the Onewheel or if you are seeking more comfort. Concave pads give more control when carving as you feel more "locked-in". Some buy them to alleviate some straining and/or foot fatigue as the concavity allows the foot to be supported better. Here's the available concave foot pads for Pint and Pint X.
Kush Nug (Hi and Lo) for Pint – TheFloatLife
Halo Foot pads – TechRails
Air Pad Concave Foot Pad with Gel-Tech for Onewheel – Craft and Ride
Onetail Extreme Foot Pad – Craft and Ride
Kush Nug (Hi and Lo) for Pint
The Kush Nug Foot pads are made from urethane with a hi and lo option which provides for a secured ride. Hi model has a deeper concavity whereas the Lo is more mellow. These foot pads come with TFL (The Float Life) grip tape installed. They keep the OEM Pint look to the board as the Kush side urethane blends well with the rest of the board.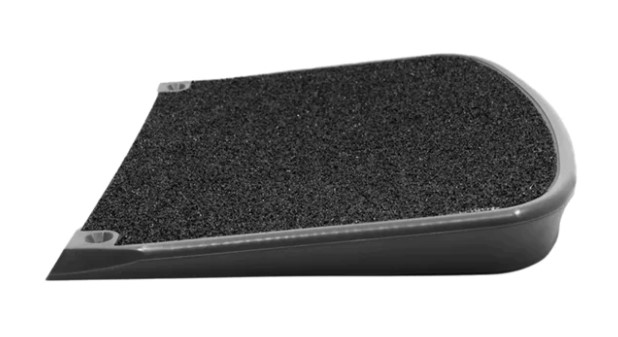 | Pros | Cons |
| --- | --- |
| Popular foot pad as it is similar to the prior XR pad | Only rear pad availability. |
| Different colors available | Would require modifying the Kush pad and sensor transplant if installed in front foot pad |
| Rugged TFL grip tape installed | |
| FlightFins and Fender Compatible | |
This is a solid option for the rear foot pad. Kush Nug pads dominated the XR platform. Some riders utilized the Kush in the front. This however takes some modification and a sensor donor. Affordable and backed by thousands of riders.
TheFloatLife – Kush Nug Low – $99 / Kush Nug Hi – $105
---
Halo Foot Pads for Pint by Tech Rails
These are the largest available foot pads for the Pint and PX. This polycarbonate foot pad extends the width of the foot pad to an incredible 10″. It has an aggressive concavity and really has a distinguishable look to them. Its easy to spot halo riders (they also have lighting abilities to really make for a Tron-like looking Onewheel).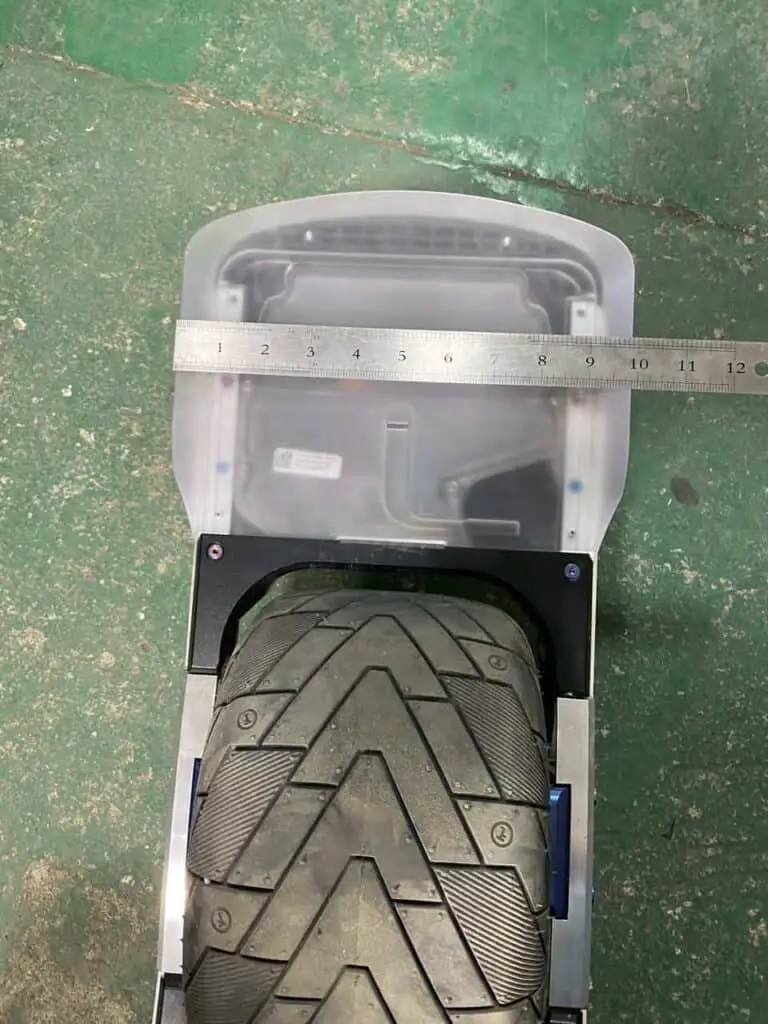 You buy these if you want to extend the foot pad as well as provide for concavity. Ever ride the Pint and thought "these foot pads are too small and hurt my feet after riding a few miles"? The Halo foot pads attempt to solve this strain. Be mindful that Tech Rails only sells the foot pads. They do no come with a sensor or grip tape. Installation of the foot pad may also need an extension to the sensor too if you want the sensor to be placed in the center of the pad.
| Pros | Cons |
| --- | --- |
| Aesthetical revamp to your Onewheel | No sensor is included. Requires sensor installation / modification or a sensor transplant |
| Widens foot pad width to 10″ | No grip tape is included |
| Completely changes the feel of the Pint | |
If you are truly seeking a custom Pint, the Halo foot pads will morph the board notably. While the not coming with grip tape is a negative. Riders who buy this have the opportunity to customize the grip tape to their preference.
Tech Rails Halo Foot Pads for Pint – $155 – (Recommended – Price is for both pads)
(These are my personal favorite and I am most excited about. For the price of both pads is reasonable. Yes you have to have a sensor, but its an opportunity to really customize your grip tape and stand out with a set of these foot pads.)
---
Air Pad Concave Foot Pad with Gel-Tech for Onewheel – Craft and Ride
Need some more comfort on that foot pad? Gel-tech is essentially gellin' your foot pad with a happy medium material that has a little give to it. Don't worry about the gel tearing up. These are aluminum reinforced within the pads. These have a slightly more aggressive concavity than the Kush Nug Pint Pads.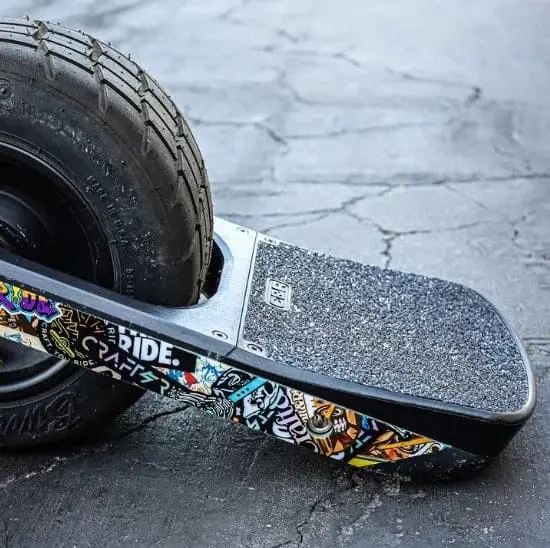 | Pros | Cons |
| --- | --- |
| Customizable grip tape | Not as OEM looking as Kush Nug |
| Comfortable pad | Priced higher than competitive pads |
| Color options | |
| Flightfins & Fender Compatible | |
Craft&Ride is going with a premium price. The Air Pad Gel is like the "gel" inserts made for shoes by Dr Scholls. You can be 'gellin' on your ride. Just like the gel insert's, you pay a little more for the comfort. If you have issues with comfort on your Pint, this concave pad may be the way to go.
Craft&Ride Air Pad for Onewheel Pint – $129 per pad
---
Onetail Extreme Foot Pad – Craft and Ride
Each OneTail Extreme is hand-beveled and made for either goofy or regular riding riding stances. These are asymmetrical foot pads. This pad focuses on the toes of your foot to activate the turning and responsiveness of your board. The toe side is elevated. Also, with the use of a higher kick, this supports the side of your foot to keep you locked in on and off-road. These are wooden foot pads. Concavity is medium.
| Pros | Cons |
| --- | --- |
| Brings back an XR nostalgia (natural wooden foot pad) | Not as OEM looking as Kush Nug |
| Chunky grit grip tape | Not ideal for freestyle (due to asymmetrical design) |
| Comes in black (Mahogany) to keep a seamless color of the Pint. | Not FlightFins Compatible |
This foot pad is ideal for the cruiser who needs support where it matters. It is not ideal for a board that gets shared between people or for freestyle riders due to its asymmetrical design. You purchase this pad either for a goofy or regular rider and it will feel awkward if the opposite rider tries the board out.
Craft&Ride Air Pad for Onewheel Pint – $124 per pad
---
Flat Foot Pads for Onewheel Pint
If concavity is bothersome, the flat foot pad option is available but the Pint comes with flat pads. If you are just seeking to change things up the only real alternative to the stock flat pad are two from Future Motion:
Surestance foot pad
High Kick
Surestance for Pint (X) – Future Motion
These essentially are for someone who likes the OEM look and perhaps wants to freshen up their ride. The benefit with Surestance for Pint is that it comes with both a sensor and rear footpad for the price. It also offers the throwback wooden deck look to the board that the XR's had.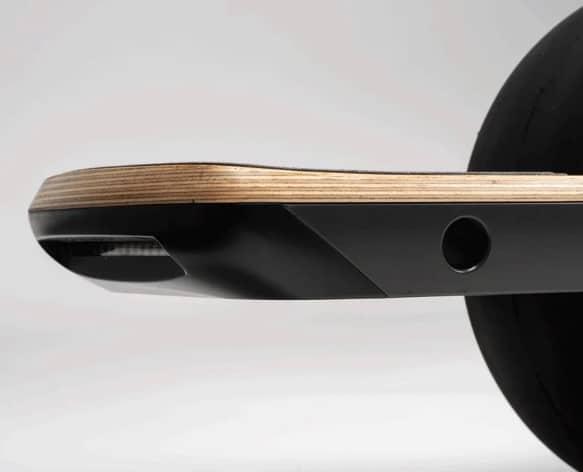 | Pros | Cons |
| --- | --- |
| Brings back an XR / nostalgia skateboard look (natural wooden foot pad) | No composite or mahogany wood color option |
| Comes with front sensor | Cannot separate the purchase (Purchase is for both front and rear pads) |
| Durable and affordable | |
| FlightFins compatible | |
Future Motion Surestance – $140 (for both pads)
---
High Kick for Pint (X) – Future Motion
While technically this bad isn't truly flat, its relatively flat. It has an added kick. A 'kick' is when a foot pad is raised in the rear. These are really helpful for keeping the foot within the end of the board and help the rider feel where that end is without having to look for it.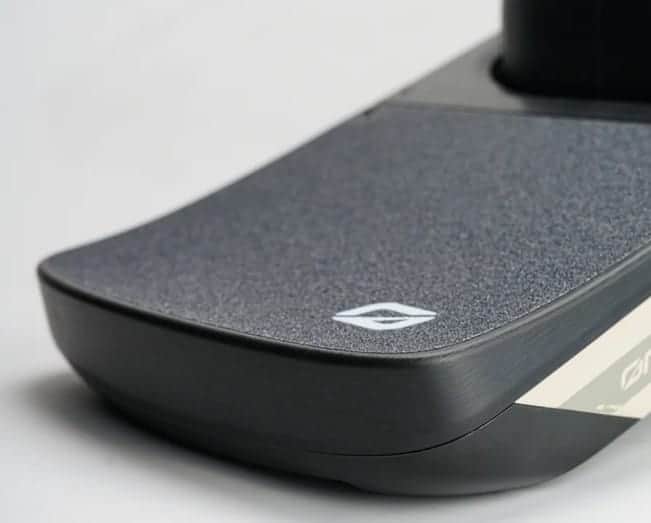 | Pros | Cons |
| --- | --- |
| OEM composite look | No other color or material option |
| FlightFins compatible | Costly (price is for one pad) |
| Durable | |
Future Motion High Kick – $90 (for rear pad only)
Extended Foot Pads For Pint (X)
Whether you're a rider who has larger feet or you just want more foot pad real estate, when it comes to extending your Pint's foot pads, you are limited in choice. The rational for foot pad manufacturers I assume is that if the rider needs more foot pad space, they can always purchase a GT or a used XR. But if you love your Pint and just want a little more space here are the only two options in this category currently:
Halo Foot Pads by Tech Rails
Craft&Ride – OneTail+ Extended Concave Foot Pad
Halo Foot Pads for Pint by Tech Rails
These are covered above within the concave section. While these foot pads are concave, they are also extend the foot pads significantly (10″ in total width!). These pads extend width and length-wise and Tech Rails offers two pads for the price.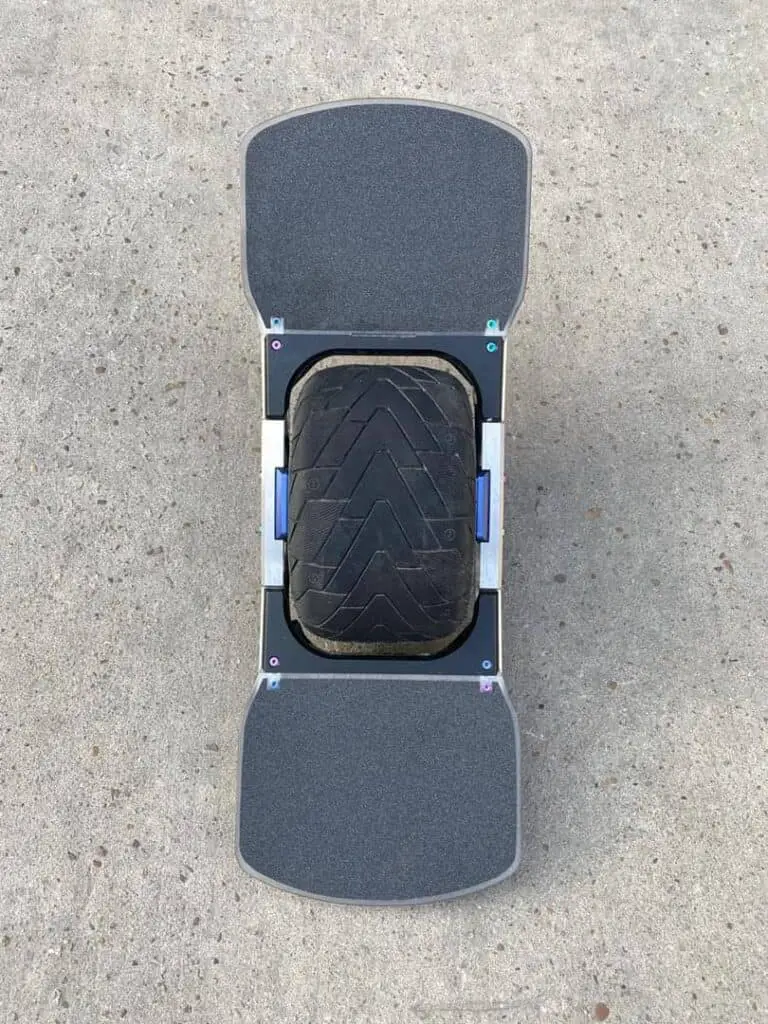 In a board roll-over, because these footpads are so wide, they will take quite a beating. The rails will actually be protected because most of the side impact will be on the footpads. This is an unavoidable consequence of having a wider footpad but if your goal is to get some more foot space on your Pint or Pint X, this is it.
---
Craft&Ride – OneTail+ Extended Concave Foot Pad
Its literally in the name so you have no excuse for expecting two foot pads. The OneTail + is the extended footpad option for Pint and Pint X. While it seems like the hanging piece would snap off on a tail drag, Craft&Ride has made it the right length so that the board's bumper takes all the impact.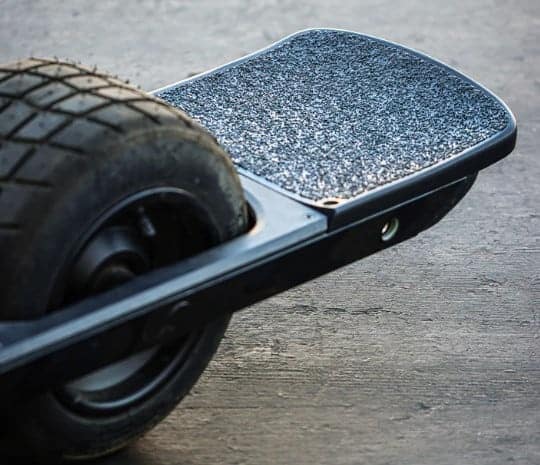 These do have a mellow concavity to them so technically these are also concave footpads. The OneTail+ however is focused on extending that rear foot pad. With a larger rear footpad, you can place your rear foot almost completely on the foot pad diagonally and have more toe control when carving.
| Pros | Cons |
| --- | --- |
| More carving control | No other color or material option |
| Black painted maple wood that matches the Pint's bezel | Not FlightFins compatible |
| Mild concavity | Costly |
Craft&Ride Onetail + Extended – $125 (for rear pad only)
Conclusion
Because of the Pint X, Pint models are becoming more and more popular which is attracting more companies to focus on the platform. Pints are really intended to be a smaller board so the main focus with these companies is to provide comfort within the parameters of the Pint's rail system.
Currently, Tech Rails is the only company that offers a foot pad that extends width-wise. Concave foot pads on a Onewheel can help with comfort. The concave shape of the foot pads is designed to provide better support and grip when riding. These do help to reduce fatigue and discomfort – especially during longer rides.
The concave shape of the foot pads creates a natural arch for your feet, which can help to distribute your weight evenly across the board. This can also help to improve your balance and control when riding, as you'll have better contact with the board.
This is why we are seeing most companies focus on concave foot pads. Its no wonder why the GT comes standard with them! If you are looking to add comfort to your Pint, consider a foot pad with concavity. Don't worry if you have custom rails. Even angled rails such as WTF's allow for custom foot pads and fenders.
Disclaimer: When you modify the sensor foot pad (leading foot pad), you run the risk of altering the sensor engagement. There are tricks for improving sensor engagement, but it is important to be aware that sensors may react differently to front foot pads (especially one that is improperly installed).