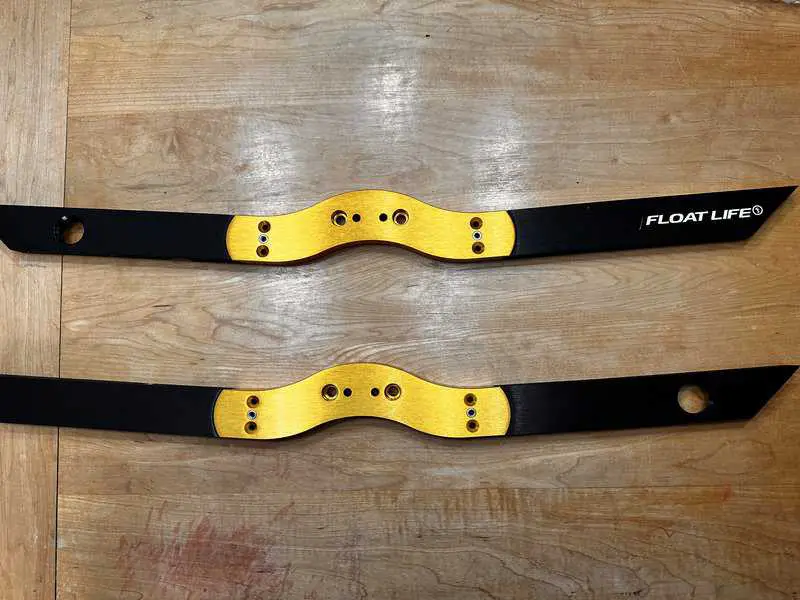 As any Onewheel rider will tell you, one of the best things about this electric skateboard (technically a self-balancing board) is its customizability. With a wide range of accessories and upgrades available, you can easily customize your board to suit your riding style and preferences. But with so many options out there, it can be tough to know where to start. In this blog post, I rank the top upgrades you should complete to your Onewheel. These are ranked in order of importance.
Ranking for the Top Upgrades for the Onewheel:
Tire
Rails
Foot pads (including grip tape)
Fins and Fenders
Bumpers
Accessory Candy (Guards, Lights, etc).
#1 – Onewheel Tire Upgrade
The first and most important upgrade you should consider for your Onewheel is the tire. It doesnt matter if you are riding a Pint, Pint X, XR or GT, The stock tire that comes with your board is made to be a decent to good all-around tire, but it's not necessarily the best for your specific riding style. If you mostly ride on pavement, you might want to consider a softer slick tire that provides better grip and maneuverability. If you're more of a trail rider, a treaded tire with deeper grooves will give you better traction on uneven terrain.
Best Onewheel GT Tire for your Onewheel – Slick and Treaded
Best Onewheel Pint & Pint X Tire Guide – Slick and Treaded
Best XR Tire Options
| Treaded | Slick |
| --- | --- |
| Burris Trail Pro | Craft and Ride Cloud |
| TFL Enduro Tire for the XR | Burris Slick |
| Burris 11″ x 6″ – 6 | Hooiser Slick |
| Hoosier Treaded 11″ x 5.5″ – 6 | Vega OEM Replacement by Future Motion |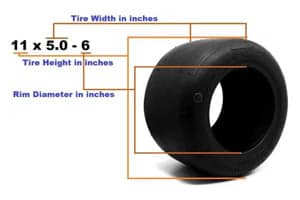 When choosing your tire, pay attention to the shoulder. If you are coming from an XR Vega, that has a very defined shoulder and many tires will feel completely different. Most aftermarket tires are more rounded allowing for ease of carving. The rubber is another consideration. You may not want to go too soft if you are in warmer climates and ride streets often. These can wear out prematurely.
#2 – Onewheel Aftermarket Rail Upgrades
Rails really are the best value upgrade. By that I mean that they actually have a resale value and they totally transform the feel of the Onewheel. Don't get me wrong. The tire will also change the feeling of your Onewheel. Rails however are on a whole other level. These are more expensive but you can usually sell them for 75% or more depending on model and condition.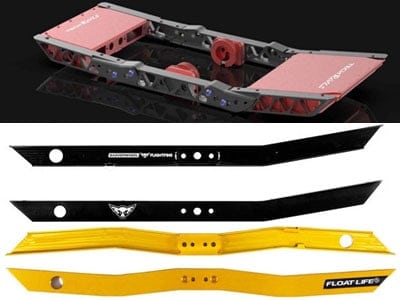 Check out the list of Onewheel aftermarket rails to help you decide what is your style and what's in your budget. This list is constantly growing as more and more rails become available for Onewheel Pint, Pint X and GT.
XR rails aren't being produced really however there are still some incredible rails you can purchase new.
Aftermarket rails are often made stronger and often lighter. They can also be customized with different anodized colors to give your board a unique look.
#3 – Foot Pad Upgrades For Onewheels
The third upgrade on our list are the foot pads. Tire and rails make for a locked in and tight ride however the foot pads can really get you locked in and add a whole other level of comfort to your ride. If you have foot fatigue, consider upgrading the foot pads.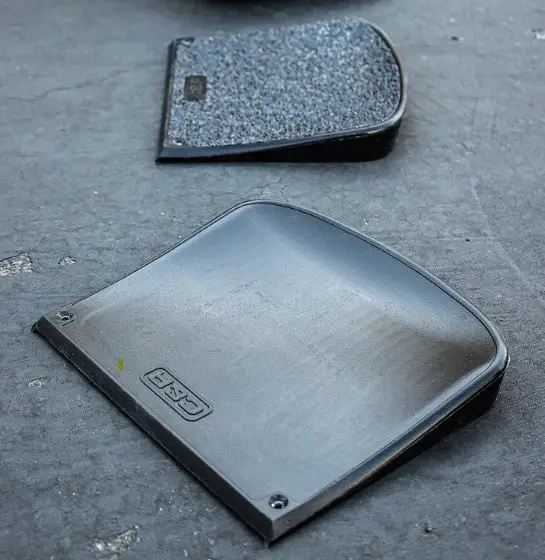 Aftermarket foot pads often have a more ergonomic shape that really make for a natural support for your feet and just feel better on long rides. They can also be made from different materials, such as soft foam or hard plastic or even gel (Craft&Ride Airpads), to provide different levels of cushioning and grip.
Most either expand the width, add a kick to the lip or add concavity. All those options provide for a more locked-in feel.'
For Pint and Pint X riders, please see my post on all foot pad options for the Pint platform. Onewheel XR riders really have 3 top pads that most riders use
Onewheel XR Foot Pad Recommendations
PlatyPus with Platysense 4.0 – Wider and comes with both pads
Kush Lo – Requires modifications for Front sensor
Kush Hi – Requires modifications for Front sensor
Flight Fins- Flight Deck for XR- Its foam (softer and more comfortable but more wearable) – Requires modifications for Front sensor
Onewheel Gt Foot Pad Recommendations
Platypus with Platysense 4.0 – Wider and comes with both pads
Tech Rails Halo Pads – Comes with Two Pads (Very Wide)
FlightFins Flight Deck for GT- Easy Install. Its foam (softer and more comfortable but more wearable) – Requires modifications for Front sensor
TFL Kush Wide for GT – Only rear pad
#4 – Fins and Fenders Upgrades
This is going to be a subjective category because many definitely do not feel that Flight Fins (or over landers) improve the ride. Similarly many riders (including myself) do not like riding with a fender. Both of these however do serve a purpose and improve the ride.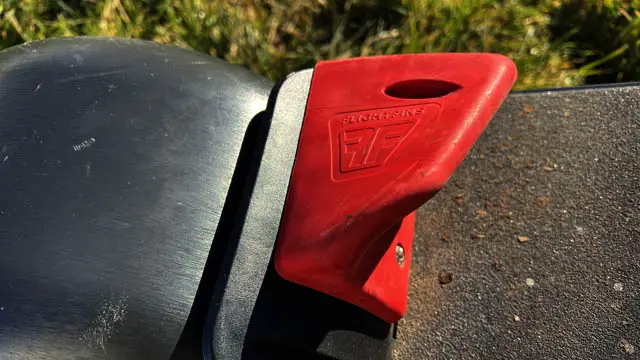 Flight Fins are made from an awesome rubber. It's incredibly thick. They are perfect for trail riding in my opinion. Sometimes you need to help nudge your board over a root, stump, or rock. Having a rear fin or wedge can help push your board forward as you unweight the board.
Check out my review on Flight Fins. I love them. The real only down side is that they are directional (can always get minis) and they make it hard to complete some tricks (like body varials).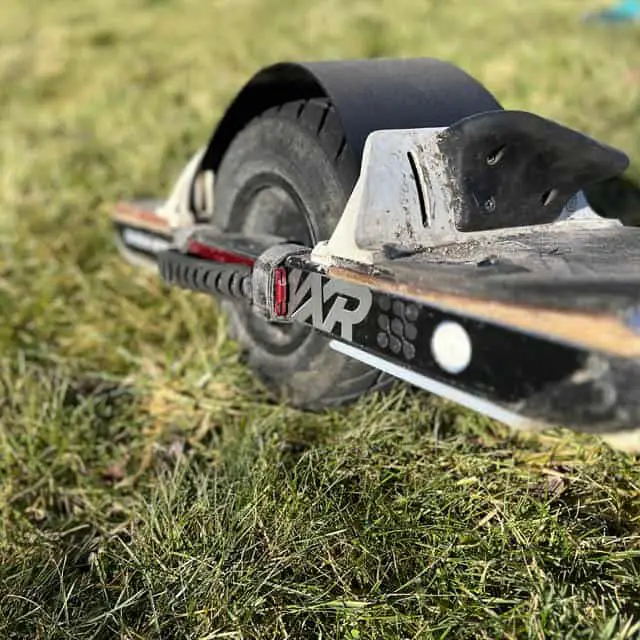 Fenders serve as a purpose too. They definitely can improve the ride as you wont be covered in mud if you ride on a rainy day. I just personally do not use a fender unless its the Flight Fins shield. It's easy to remove and quick enough to add back on. I personally do not recommend spending big money on a fender. The exposed wheel look is where its at!
#5 – Best Bumper Upgrades For Your Onewheel
Bumpers are largely dominated by B.A.N.G.'s however they have yet to be available for the Pint line or GT. If you have an XR, BANGs are your go to bumper as they are super strong, super slippery and they let you just bash the crap out of your board.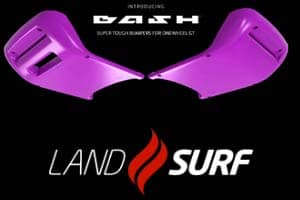 Speaking of "Bash", Land-Surf has made their response to the BANG's for the GT line. These bumpers are still new however they are pretty comparable to the Bangs. Bash bumpers are a little more rounded on the tips but they are still super thick and slippery.
It would be nice to see BANGs be made for the Pint line-up. I am sure that the Float Life is in the works for making these for the GT. With such a loyalty behind this bumper, I am genuinely surprised that they are not out yet. That being said, everything these days is delayed.

The last bumper to really cover is Fangs. These are really more for an anti-nosedive solution however they are fairly popular. I loved my fangs until I realized that BANGs are so smooth that they almost slide as good as Fangs can roll!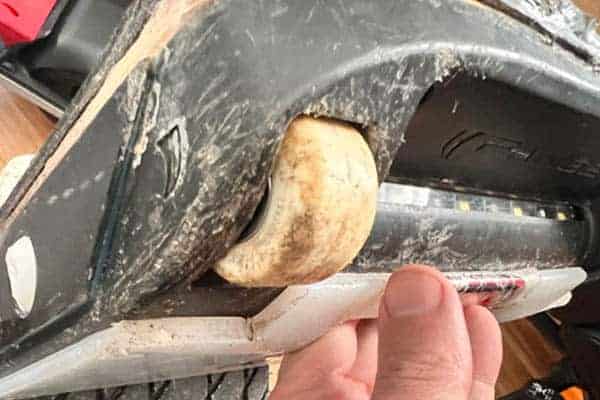 Fangs are a direct bumper replacement that add skateboard sized wheels to the front. They do also offer them for the GT and Pint models. If you have concerns of nosediving, this is an excellent product. They just don't work that well on loose or thicker trails.
If you have a Pint, you are really limited on bumpers. Factory replacements are not that fun however you can get a Fang front bumper. You can also get float plates. I cover if float plates are really necessary. In my opinion, you really don't need these unless you are excessively grinding the nose or tail.
#6 – Accessory Candy For Your Onewheel
It may be a lame name to call it but its really just that – candy. These accessories are really for personalization and to offer slight improvements here and there. You can rationalize the purchase but I personally don't think it will make the ride feel better – just a more personalized one. Sure, added lighting helps. Guard rails protect your investment but the ride doesn't really get better, but it may look way better!
I am totally into personalization. That's the beauty of the Onewheel community. The personalization is endless. Its the little things that make your Onewheel awesome. If you ever plan on selling your Onewheel as a used board, plan on receiving $0 for the personalization touches to your board. Rails, have resale value. Tires may add to the marketability. Bumpers, fins and foot pads can be sold separately. Personalization items however is a money pit. A money pit we all love and can't stop contributing to! Make that Onewheel yours!
Summary
Upgrades and accessories are fun to buy and can definitely improve the ride however it can be taxing on the wallet. If you have yet to purchase a Onewheel, I recommend that you check out a comparison between the Pint X and GT. This way you know you have the right board and don't end up having to part ways with one to upgrade again later on.
On my XR, I did all six upgrade's and would recommend it. For my GT however, I like the stock concave foot pads and how OEM they look so I have yet to do that upgrade. The rails are going to be the biggest game changer. If you are mindful on your spending and plan on getting rails at some point but do not have (or are unwilling) to upgrade the board in other areas, a rail upgrade is a solid performance game changer. If you can only do one mod, the rails or tires is what I would focus on. They will cost you the same in time (tire wears to a $0 resale, whereas aftermarket rails can be sold for about $100-$150 less if they are in good shape).
F.A.Q.'s
Do you recommend replacing the front foot pad grip tape?
You need to be extremely careful because when you modify the grip tape. The sensor can be damaged in the process. It is recommended if you do this, that you heat the grip tape up so that the sensor is less likely to be damaged. You may experience sensor warnings more often or an unresponsive sensor if it is damaged. I recommend replacing the entire foot pad with a pre built sensor or going over it with a new pad.