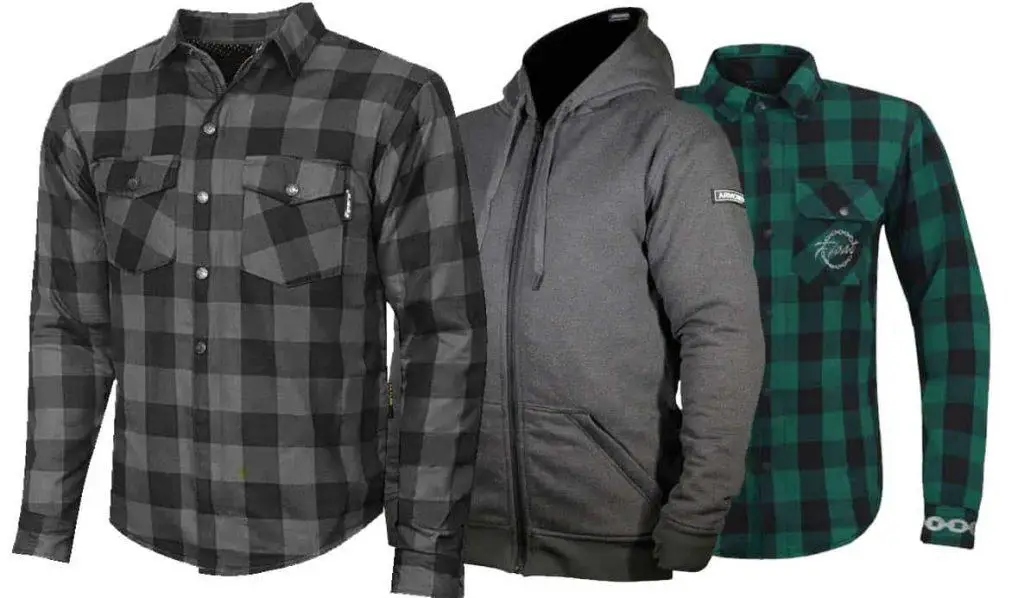 Riding a Onewheel with a hoodie or Flannel just feels right. Even if its not armored, you feel a little protected. Armored gear however is on a whole other level that really can save you from some damage. There's T.A.C. (Tough as Chains) by Floatlife, Armored hoodies by Lazyrolling and a swath of motorcycle flannels (yes motorcycle flannels) that fit the bill when it comes to Onewheel trail riding.
Onewheel flannels come in a variety of colors. The key in getting the color and deal you want is to search eBay and Amazon for 'motorcycle flannels' or 'armored motorcycle shirts'. Doing this trick will open a variety of different colors that individualizes you and your Onewheel.
Kevlar Lined and Padded Gear for Onewheel Safety
The recommended flannels and hoodies are typically both Kevlar lined and have some padding inserts for the back, elbow and shoulder pads. Whether you've experience a nosedive or you heard from other riders, you know that clavicle fractures, shoulder impact and road rash are typical injuries sustained when exceeding pushback.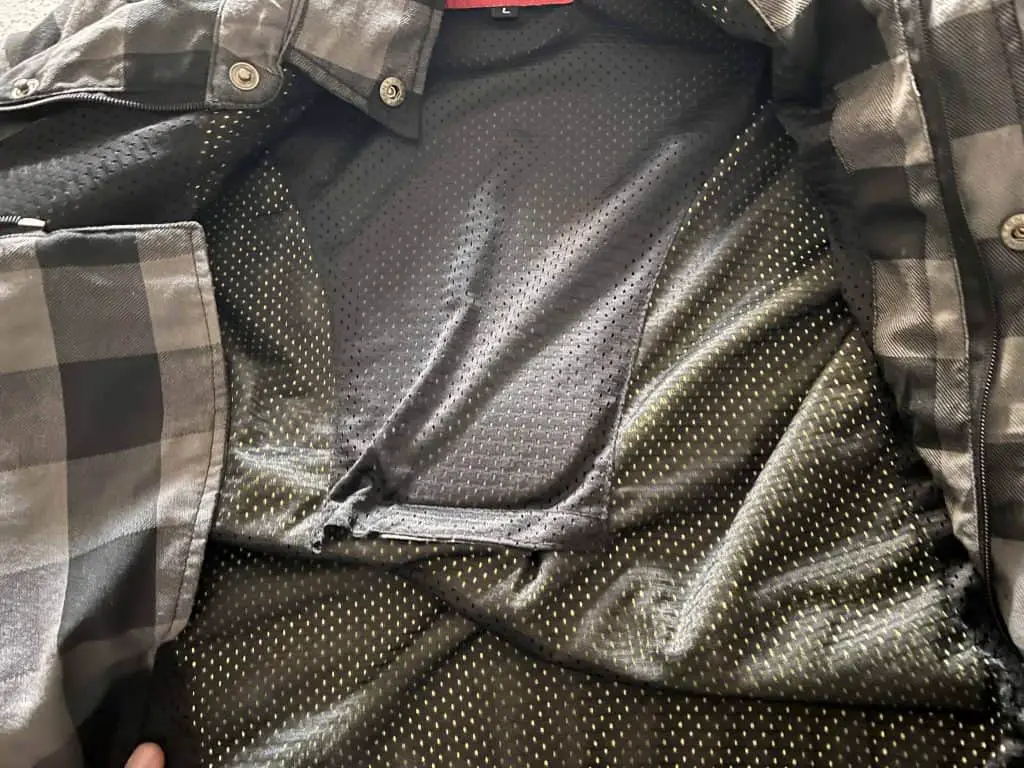 CE Padding Ratings and Level of Protection
Most of the armored gear you will come across for Onewheel riding will often be stamped with a 'CE' approval. CE stands for "Conformité Européene," which means "European Conformity." It's basically a certification mark that indicates that a product meets the safety, health, and environmental protection standards of the European Union and they rate pads on two levels.
Level 1 CE Pad: Level 1 CE pads offer a lower level of impact protection than Level 2 pads. They must transmit less than 35 kN (or 7,868 pounds-force (lbf)) of force in a standardized impact test. Level 1 pads are generally thinner, lighter, and more flexible than Level 2 pads, and they may be more comfortable to wear for longer periods.
Level 2 CE Pad: Level 2 CE pads offer a higher level of impact protection than Level 1 pads. They must transmit less than 20 kN of force (about 4,496 pounds-force (lbf)) in a standardized impact test. Level 2 pads are generally thicker, heavier, and less flexible than Level 1 pads, and they may be more suitable for high-speed riding or racing where the risk of impact is greater.
Most gear is designed for motorcycle riding which is far faster than you can achieve on a Onewheel. Level 1 in my opinion is more than adequate and allows for the movement needed to traverse and carve without feeling overwhelmed on a ride.
Best Flannels, Hoodies and Jackets for Onewheel Riding
In the end, you are going to find the style you like. This list is providing the options available for Onewheel riders and to open your considerations to products that are focused towards motorcycle and dirtbike riders. Many flannels, hoodies, and jackets intended for bikers are ideal for Onewheel riding. Because we don't have the concern of hitting 100mph, some of the higher end leathers are clearly over the top but nonetheless, its worth a visit to some of their lighter wear for your considerations. Here are the best armored jackets, flannels and hoodies for Onewheel riding:
The T.A.C. by The Float Life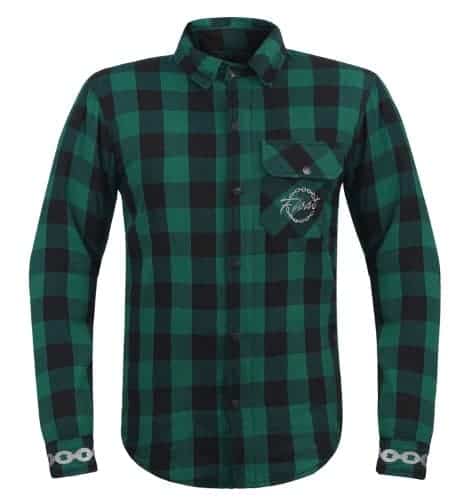 By far the most popular armored Flannel is the T.A.C. (Tough As Chains) by The Float Life. They offer:
Easy access front zip with buttons
Removable elbow, shoulder, and back pads
DuPont™ Kevlar® fabric inner lining
Inner pockets
CE certified pads
Float life sells these for $129.00 which is a fair price for this type of product. This is a very common style of flannel (tapered, form fitting) however they've added chains around the wrist and their logo with chains on the front pocket. If you are one that doesn't like to wear so much branding and wants to skip on the chains design then a good alternative is most motorcycle flannels online.
Motorcycle Flannels on Amazon and eBay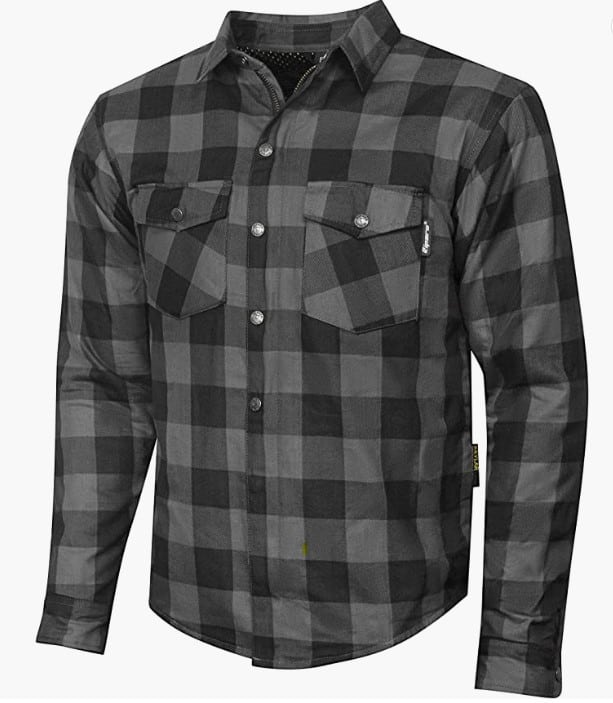 I purchased a motorcycle flannel from amazon with the same specs:
Easy access front zip with buttons
Removable elbow, shoulder, and back pads
DuPont™ Kevlar® fabric inner lining
Inner pockets
CE certified pads
My wife actually really likes the way this flannel looks on me. They have a nice natural tapered look. I tend to wear it after a ride if I'm doing yard work because they just look great. These flannels range on Amazon or eBay anywhere from $89 to $150. eBay may have slightly better deals but you need to really review the specs and shipping country (you don't want to wait forever).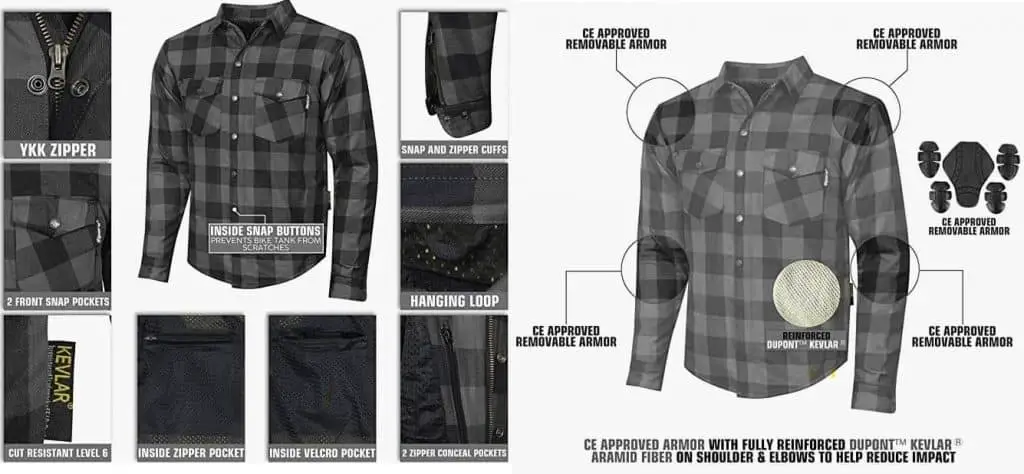 The flannels online that are Kevlar lined are a better choice in my opinion for anyone who is looking for a more subdued look (no branding). They have CE approved removable armor just the same. These jackets likely are all made from the same factory so shop around for the deals, color and style YOU want.
Armored Jacket by Lazyrolling
Lazyrolling armored jackets are a pricier buy. This jacket starts at $239 and depending on the add-ons (level 1, level 2 pads, triple flex pads, heavy duty pads or crash replacements) the price can exceed $300. These jackets are bulkier however offer more protection. These jackets have RECCO technology which can be found by their technology with use of their radar system.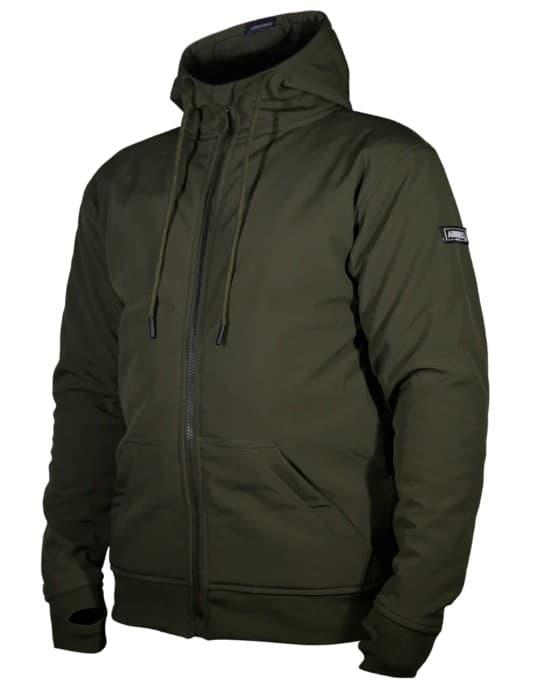 Armored Hoodie by Lazyrolling
Picking up Lazyrolling's hoodie over their jacket will save you around $50 to start (depending on add-ons). These also come equipped with RECCO technology (which is a little over the top for Onewheel riding) but do offer CE certified pads similar to the Flannels above.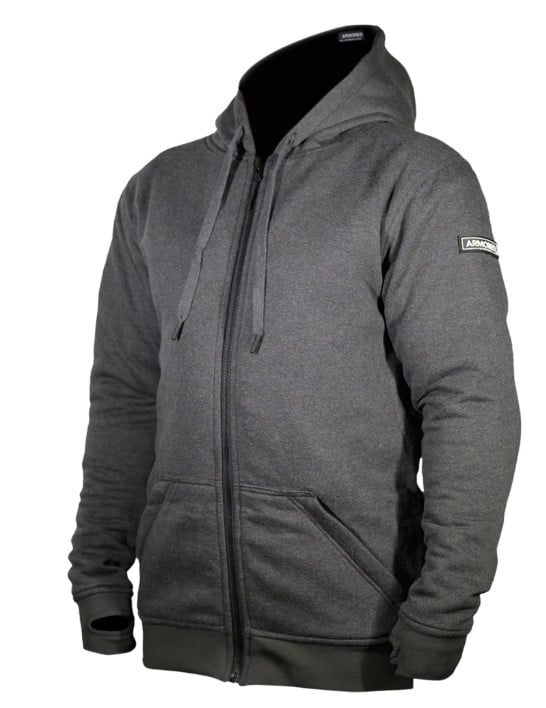 Lazyrolling Armored Hoodie specs:
Equipped with RECCO® technology
DuPont™ Kevlar® fabric inner lining
CE-Certified motorcycle protection
Adjustable pockets for elbow & shoulder pads
Airflow system
Perfect for riding a motorcycle. It is more than adequate coverage for onewheel riding. This hoodie has a similar thickness to a Carhartt workman hoodie. Its rugged and heavy. Ideal for riding in 30°F to 60°F.
Dirt biking chest and shoulder protector for Onewheel?
Most of the solutions above are ideal for fall or winter riding when the weather is a little cooler. If you don't want to sweat like crazy in hotter climates, a good alternative is crash pads for dirt biking. You will often see onewheel riders use dirt biking knee guards. Chest and shoulder protectors are as common,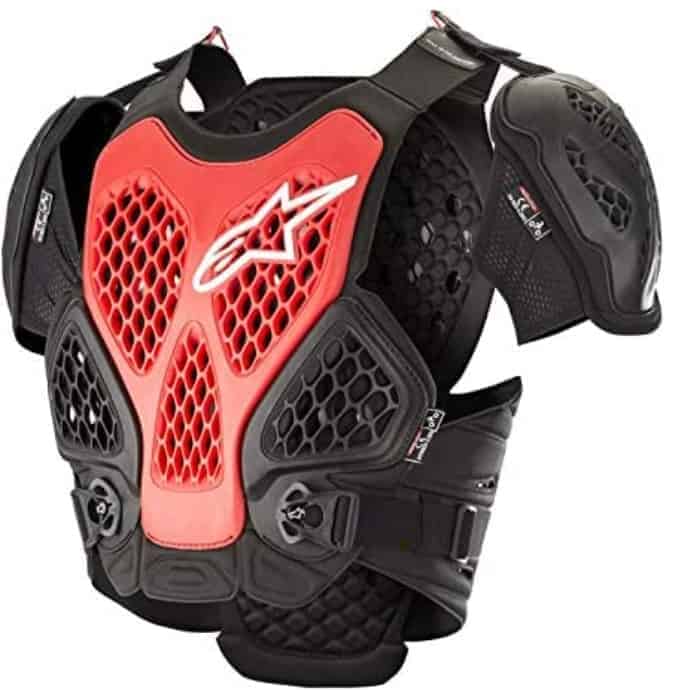 Alpinestars makes a very breathable chest and shoulder protector that is ideal for warmer trail rides. They have a Level 1 CE certified protection on the back, chest and shoulders.
With hard shell protector plates and soft bio foam interior padding, the Bionic Chest Protector is super comfy and has plenty of airflow.
Conclusion
When I was a newer rider, I never wore an armored flannel or hoodie. I had interest in the Tough as Chains (TAC) flannel however at the time there was supply issues (most companies were facing at this time) so I picked up one from Amazon. The armored flannel grew on me. Its lightweight. The pads can be removed. It's a stylish piece of clothing and it protects you on a fall. You feel a little more comfortable pushing your riding abilities a little further. While its not a full protection solution, it does wonders.
Check out crash pads for your hips and knee and shin guards for Onewheel riding. The more secure you feel, the more enjoyable the sport will be.