Onewheels are customizable and often personalized for a rider. Trail riding is an amazing experience on any model onewheel. Choosing the best onewheel for trail riding and off-road use will come down to a few rider-specific factors.
All Onewheels have a 750W Hypercore motor however only the Onewheel GT, XR and Pint X are ideal for off-road trail riding. The baseline Pint model is not recommended due to its limited battery range (2.4Ah) and pushback speeds. Depending on ride style and budget will dictate the best Onewheel for trail use.

Best Battery Range For Riding Trails on a Onewheel
Currently the Onewheel with the best range would be a modified XR. Several riders add a 10.5 amp hour battery into their XR. These batteries can be purchased from Chi Battery Systems and JW Batteries. These modified Onewheels can get over 38 miles of range in ideal conditions. They will likely not achieve that range on trails however this battery is essentially double the stock battery (5.2 amp hour). Both of these boards are known as CBXR and JWXR Onewheels. Specs and comparison below:
| | | | | |
| --- | --- | --- | --- | --- |
| Onewheel | Watt Hours (Wh) | Amp Hours (Ah) | Volts (V) Nominal | Range (mi) |
| Pint | 148 | 2.4 | 61.5 | 6-8 |
| Pint (Quart) | 230 | 4.2 | 54 | 12-15 |
| Pint X | 324 | 6.0 | 54 | 12-18 |
| XR | 324 | 6.0 | 54 | 12-18 |
| GT | 525 | 8.3 | 63 | 20-32 |
| CBXR/JWXR | 567 | 10.5 | 54 | 32-40 |
Ranges based on ideal conditions and 200lb rider
Choose Pint X Onewheel Over the Pint & Pint Quart
Regarding extended battery options for the Pint, a "Quart" (see chart above) is an extended battery option for the standard Pint. This does increase the range which allows for a real trail ride however the main drawback with the pint is the max speed. While you can add a Quart or VNR (external battery) to the Pint, the max speed is not something that can be modified. With only a max speed of 16mph, you may often find yourself hitting pushback on trails. This especially occurs if the motor has to produce more effort for the terrain (leaves, loose sand, heavier dirt). While the torque is there, constantly hitting pushback and the low range makes the Pint a bad option for a trail riding board.

The GT as a Trail Riding Onewheel Board
The GT can certainly handle the trail and has more torque than a stock XR Onewheel. Certainly a good option as the range and power can handle all possible terrains a one wheel can cover. The greater torque allows for more 'push' through rougher terrain (leaves, loose sand, damp, wet / heavier dirt) due to the battery.
Power on a onewheel does slightly decline throughout the battery level. Because of this, the GT will have good power for longer portions of a ride. That's not to say the XR doesn't have power. It certainly is a contender and arguably and outperformer when modified with a CBXR/JWXR battery.
You may see discussions online of riders converting their GT to a "GTR" or GTXR" which is essentially taking the GT's hub 6.5″ and converting it to an XR hub 6.0″. The reason for this is for the best of both worlds. The XR has an extra 0.5″ of tire sidewall which is a lot when you think about how small these tires are. That extra 0.5″ gives more suspension for the body while offering great torque.
After-market Products for Trail Riding Onewheels
Full disclosure: Fangs, flight fins & float plates, as seen on this board are not necessary for trail riding. These add weight to the board but in my opinion, they make for a great versatile onewheel but I would not recommend all of them if the board is just on trails. I consider the added 1.4 pound difference a nominal concession to have a good all-around board.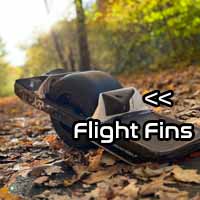 Float plates are more for protecting the bumpers (which area already protection in itself) from wearing which would expose the controller and/or battery. Again, if the board is only on trails, its not a necessity.
Flight Fins are a mixed bag. I enjoy my GT without fins. Flight fins give a locked in feel which some riders cannot stand. I do think at least one fin in the rear or at least a wedge is good to have to help nudge over roots and stones on trails. Nudging up against the fin makes a world of difference in conquering some tough terrain.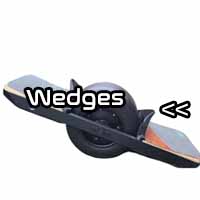 Pint and Rewheel
While the original Pint is not a recommended trail board. Riders are "rewheeling"
their Pints to allow for other firmware that is seen on different model boards such as the XR. The main reasons why the Pint does not make for a good trail board is due to its range and push back. Pushback sets in sooner than any other board (around 14.5 mph on asphalt). This can be bothersome if 15 miles is a speed you tend to ride at.
Rewheel has been pushed out of the light however some riders have been utilizing the rewheel repository to install firmware that allows for the Pint to act similar to an XR. Remember that all boards have the same hub motor. The main difference is the battery power, range, profile and tire size. If you do have the ability to rewheel a pint well then a Rewheeled Pint with a Quart battery pack can compete with the best of them! Generally though a stock Pint is not an ideal choice.
Recommendation
If you intend to get into trail riding with onewheels and you are relatively new to the sport, pick up a used XR. Its more affordable and gives you a feel of the sport. Once you become addicted, you can upgrade the battery (easier with certain hardware versions) which will perform just as well if not better than a GT.
Onewheel GT is a great option with maximum range if you cant be bothered with modifications however the XR remains the better recommended entry board due to cost. The best onewheel for trail riding is a modified XR. The GT is a great solution if you do not intend on modifying the onewheel. It provides for amazing range and power. The XR does very well however, without a larger battery, the GT makes for more enjoyable trail rides.
A modified XR gives amazing torque and further range than the GT. Being able to keep the 6.0″ hub from an XR is also huge as this is a common Go-Kart tire. The GT was made with a proprietary sizing which means Future Motion currently has the market on that size.
F.A.Q.'s
Which Onewheel hoverboard can go off-road?
Its important to understand that their is a difference in hoverboards and onewheels. While they are both self-balancing, they are not the same type of board or experience. Hoverboards are not recommended off road. Hoverboards are more of a toy, Onewheels are not hoverboards.
What tire is best for trail riding?
Currently treaded tires such as the Float Life Enduro, Flight Fins GOAT, or a Burris Trail Master Pro are perfectly good tires for both trail riding and street riding. You definitely want to opt for treaded tires. I had used the stock Vega tire for about 1000 miles. Most of that was trails and it does well. The treading however is going to give that slight advantage.
Are Onewheels waterproof?
From the manufacturer they are not waterproof, but are water resistant. Many riders do a waterproofing to their board. The most popular waterproofing is a Badger kit.
Between a Pint X and Onewheel GT, which is better for trail riding.
Personally I believe the GT is far superior. I lay out a comparison between the GT and Pint X to show the pros and cons of each.