One of the major bummers when it comes to the Onewheel GT is that its tire size is proprietary. With a 11.5″ x 6.5″ – 6.5″ tire dimension, there are limited options. FlightFins have entered the GT tire game with their new tire, the Flight Fins GOAT.
Calling the tire the 'Greatest Of All Time' (GOAT) means FlightFins has a name to live up to. Currently, the Enduro Tire by The Float Life is a top aftermarket tire beloved by Onewheel enthusiasts. Few tires are in the Onwheel GT space and as a result, Flight Fins is coming into the GT tire space hoping to take some of that market share. The Enduro needs some competition.
FlightFin's GOAT Tire For the Win?
This tire has a genius tread pattern. It essentially advertises FlightFins wherever you go. Imagine a hard packed trail and taking this tire down the trail. You will be representing FlightFins for miles and miles by leaving the iconic "FF" trail behind you. Is this genius or a huge turn off?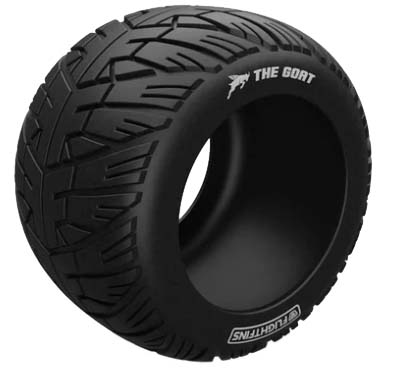 Tire specs have yet to be released but it does appear to be as round as the stock GT tire. This tread pattern does appear to provide ample water channeling. It offers ample sipes that extend well into the shoulder of the tire. Treading does not appear to be too aggressive. One bummer is that it is a directional tire. Perhaps with the success of the Enduro tire, directional tires may be the way Onewheel riders tend to gravitate towards. The Hoosier and Burris tires provided for a symmetric design which is perfect for those switch riders.
Let me honest though, how often do most riders ride switch? I personally feel that symmetrical tires are more aesthetically pleasing but as a result of the Enduro's tire success, it appears that looks come second to performance. The Onewheel community is keeping an eye out on this GOAT tire. Who knows, it has potential in being the best Onewheel tire.
Terrain Capabilities of the Flight Fins GOAT Tire
As already mentioned, the treading on this tire is not too aggressive, This tire appears to be most similar to the Enduro regarding tread intensity, its a sleeker pattern that doesn't appear to be a nuisance when riding on pavement. This tire in comparison the the Enduro does seem to have more tread which possibly will give it the upper hand on trails and rougher terrain. This is an all-terrain tire with the complete capability of carving on streets.
The aesthetics of tire indicate that it is extremely rounded off giving it an invitation for some intense carving. The tread has some bite and you'll be stamping your Onewheel riding territory with the "FF" moniker. Whether you liked a smooth slick like the Hoosier Whisper or a meatier treaded tire like a Burris Trail Pro, it's exciting to see a tire in the middle that has entered the 6.5″ GT tire market.