Choosing to buy a Onewheel or are you looking for which one is right for you? In this post I cover my years experience on the Onewheel and which one you should buy for yourself. There is no other electric skateboard / PEV to own other than a Onewheel. Yes, you should purchase a Onewheel.
If you are a bit apprehensive of the one wheel riding you through the woods, there are alternative e-skateboards that do go offroad. There is no other electric skateboard however that can go over as wide of a range of terrain like the Onewheel. From the beach to asphalt and everything in between, the one wheel takes the crown.

Onewheels Are Easy to Ride
This question gets asked too often and let me say that Onewheels are very unassumingly easy to ride. As a bystander, they look both difficult to ride and impressive in how a rider can balance and just go anywhere. Well the Onewheel is doing 90% of the balancing work. Within an hour you can learn to ride so do not let the one wheel intimidate you.
There are some tips and tricks we cover for beginner riders. You will have an advantage if you are a snowboarder or skateboarder. If you are either, you'll be proficient in no time. If you haven't done either, do not let the single wheel intimidate you, they are as easy as a hoverboard. Remember that Onewheels are not hoverboards. The Onewheel will give you a float feeling that we riders cherish and it cannot be replicated it with a hoverboard or traditional four wheeled e-skateboard. One hour's time of your efforts. Its all you need and you'll be floating.
Should You Rent a Onewheel?

Renting is a totally a sensible option to take especially given the price points for a Onewheel. I personally would skip renting because I find that most riders keep their Onewheel. If you rent and then buy, you have added to the cost of ownership however it is a little insurance to affirm you made the right choice. If you're just the person that needs the assurance beforehand there are some great places online that will ship you a Onewheel when you rent. You can also arrange a meetup with a local to rent a Onewheel.
Suprents.com is actually one of the better places to rent a board. I personally have purchased a board from them. They allow customers to demo a board (try before you buy) which is really great to get the feel of a brand new board and make a decision after a couple days of riding it.
Should you buy a used Onewheel?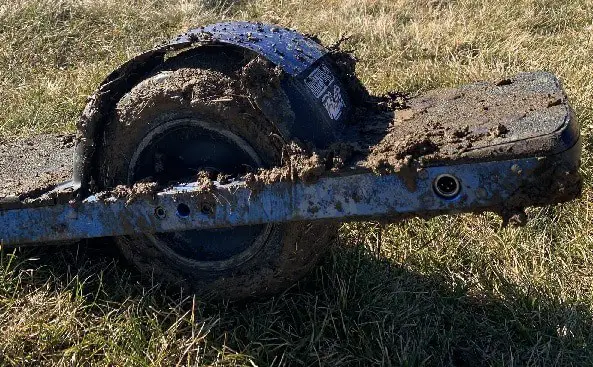 Should you buy a used Onewheel? Well, it depends on where and who you are buying from and for how much. You are going to be riding on one wheel. One! All of your body is going to be balanced by this one-wheeled marvel. To buy a sketchy board from marketplace or craigslist could be risky. To buy used, you need to know what to look for in each model. Check out our Guide on how to buy a used Onewheel to avoid being scammed.
Used Onewheels and their potential issues
Used Onewheels may or may not have any issues however getting into a new hobby (especially an expensive hobby), you do not want to start off with a bad experience. Plenty of boards are out there for sale. You really first need to ride a couple to find out which board is for you. If you want to get a used Onewheel then a low mileage board (one with less than 50 miles) is what you are looking for.
Onewheels with these few of miles generally don't have any issues so long as the seller has maintained the onewheel. You do want to be apprehensive on a purchase if its a heavily modified board with few miles on it in our used buyers guide, we cover what to look for to spot Onewheels that may be of concern. Used Onewheels can have some hidden issues such as a battery error, worn bearings, water damage, sensor engagement issues and more.
Buying a used V1 or Plus Onewheel
For these versions, I personally would not buy them unless you are using them as donor parts to a Onewheel you already own. Because of the improvements of Future Motion, the stats on these are inferior in comparison to later models. Yes, they do have the ability to be modified however I do not think its worth it to purchase and attempt to modify them due to their age. If you are looking to convert to a VESC board, then the Plus may be a viable option because the Plus model uses the 750 watt Hypercore motor that is still used in the GT models. The V1 has a lower powered 500 watt hub motor. So unless you plan on swapping this or holding on to it for nostalgia-sake, pass on it.
I would not spend more than 25% of the price of a GT model (roughly $400-$600). If the rails are in good shape, no screws are stripped, there's less than 500 miles on it and it rides smooth, I'd pick one up for a project board. Otherwise, I'd save my money. Personally I just feel these boards are too old and can not compete with the newer models.
Scammers Selling Onewheels. Avoid the Scam
The old adage that "if it seems too good to be true, it probably is" is absolutely true with scammer selling Onewheels. You will most commonly find scammers selling the used Onewheels on marketplace or craigslist. Scams can even occur on eBay. Check our guide on how to buy a used Onewheel and avoid scammers. Scammers are on the rise due to the growing interest in these boards so please always trust your instincts.
Buying a hoverboard believing they are similar to Onewheels
Some parents colloquially call Onewheels hoverboards however they are different. Onewheels are not technically hoverboards. Its important if you are buying as a gift or for a child that you understand the differences between both products. Hoverboards have a far more limiting use. They are also often specifically used by children whereas Onewheels are used by adult-children!
When you potentially buy a Onewheel, if you are new to the Onewheel world just know that Onewheels are not hoverboards. If you go looking for a Onewheel hoverboard, you may not get what you were supposed to get.
Pint Platforms vs XR and GT Platforms
Whether you go for a new or used Onewheel, you need to know the differences between the Platforms. There is a weight limit difference between both boards of about 25lbs but also the board sizes are completely different. Pint and Pint X are the smaller platform boards. They are perfect for riders that want something easy to carry as well as a nimble ride that is easier to bring into a store after hopping off the subway.
Here are the Pint and Pint X specs. Essentially, the main take away here is that these boards are about 8.5″ × 27″ (22cm x 69cm) in size. Opposed to the GT that is 9.5″ x 29.5″ (24cm x 75cm). This is about 50 sq.in difference in surface area! I have both platforms and my size 11.5 sneaker will go over the edge of the Pint in both directions but not on a GT. This isn't a big deal however some riders like their foot completely on the footpads. If you have a larger foot, Pints are not off the table just yet. They do have wider footpads you an install on them.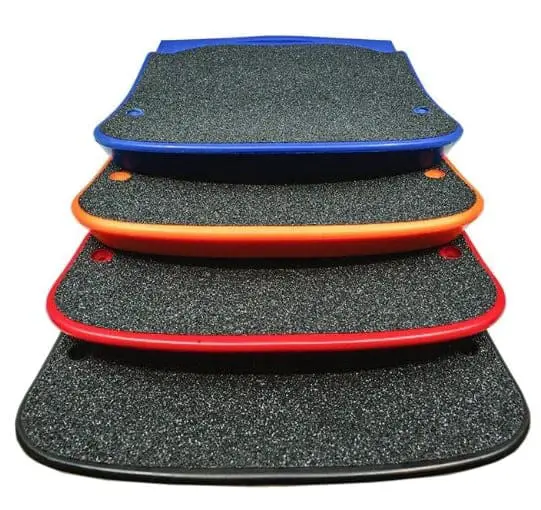 The LED footpad is called a Halo pad for the Onewheel GT. Even the GT has products for widening the footpads. Unless your over a size 12, widening is not really necessary. It does come down to preference however most riders do not widen their footpads.
Top Speed Variations Between Pint, Pint X, XR and GT
Top speed matters. Keep in mind, while you may see some riders exceed these values, these are the recommended top speeds from the manufacturer. Going faster may result in a nosedive.
| Model | Top Speed |
| --- | --- |
| Pint | 16 mph / 26 km/h |
| Pint X | 18 mph / 29 km/h |
| XR | 19 mph / 30 km/h |
| GT | 20 mph / 32 km/h |
Newer riders may think that 16mph is fast enough which for some people it is but I find that you will quickly grow out of that. I started on a Pint and I quickly enjoyed cruising at 15mph or so. On a Pint you will constantly hit pushback at that speed and it gets annoying. You will have to lower your speed if you want to enjoy that ride. My recommendation here is Pint X, XR or GT.
Range Variations Between Pint, Pint X, XR and GT
| Model | Max Range |
| --- | --- |
| Pint | 6-8 mi / 10-12.8 km |
| Pint X | 12-18 mi / 19-29 km |
| XR | 12-18 mi / 19-29 km |
| GT | 20-32 miles / 30-52km |
| JWXR / CBXR | 32-40 miles / 51.5-64km |
Range is a huge commodity in the Onewheel community. For this reason, I would not recommend a Pint. The Pint X is a great improvement from the old Pint that honestly between the speed and range improvements, I don't feel there is a need to purchase a Pint unless its a stunt board, a Onewheel for a child or just an amazing deal. Stick with an XR or GT. You can always convert an XR to a JWXR on your own. Firmware pre 4210 models do not even need a chip, but even if they did it can be done.
I personally purchased an XR to upgrade it myself with a fresh JW battery. This way, on a used XR, you know the battery is brand new and can rival a Onewheel GT. Its important to consider the cost of the battery upgrade, with a Chi or JW battery mod and a potential need for an FFM chip, the upgrade can run about $800-$900 depending on who installs it. Consider this price on your used XR, if your cutting it close to a GT, you may be better off getting a GT. Here's a list of the battery sizes and their specs.
Cost to get on a new Onewheel
New Onewheels range from $1,050 to $2,200. This will depend on the platform you buy. Check out our price guide on new Onewheels to understand the price range and find a Onewheel that fits you and your budget. You don't have to go brand new. In fact I would not recommend a new board unless you have been able to ride a Onewheeel previously. They do hold a decent amount of resale value. If you ever get out of the sport and if the board is in great shape with low miles, you could expect to sell your used board for about 70 to 80% of its original cost.
Conclusion
If you have the money to go with a new Onewheel, this is the way to go for a hassle-free way to get into this new hobby. Boards from Future Motion come with a one year warranty so you can sleep better at night knowing the $1050 to $2200 you invested in the board will be reliable. New to the market is the Floatwheel ADV and ADV Pro. These are not Future Motion boards but worth checking out.
Buying used however is also another way to get into Onewheel trail riding or just into Onewheel riding in general. However there needs to be a savings in buying used. The above are just guidelines. Feel out the seller. If they strike you as someone that maintained the one wheel properly, then negotiate a good price for the board. Warranties can transfer to the next owner however the warranties only last 12 months and it has limited coverage. If you get a board out of warranty, that is totally fine. Just make sure the value is there and the board functions safely. Float on!
F.A.Q.'s
Can a Onewheel with a slow leak be patched?
Onewheels are not patched but commonly plugged with a tire plug kit. The repair takes roughly 30 minutes and can get a board back on the road in no time. The repair / plug isn't noticeable after 50 miles or so.
The bumpers are worn on the Onewheel. Should I still buy it?
Bumpers are made as a wearable part. These are very easy to swap out and very affordable. Do not be alarmed by a board with a worn bumper unless the bumper is worn through exposing the battery box. Pass on the board if the battery box has a hole or notable wear
The Onewheel has a stripped screw hole. Should I still buy it?
The rails on a Onewheel have delicate screw holes as they are made of aluminum. One stripped screw in the rail isn't the end of the world but I personally would not purchase the board unless I planned on replacing the rails or it is a board for a great deal. The rails are essentially the frame for the Onewheel. One less screw will compromise the water resistance at the very least if not the integrity of the board. Do not purchase a board with multiply stripped screws unless you have replacement rails.
What is a used Onewheel stand worth?
Future Motion sells premium stands for a premium price. Some can cost near $100. These are incredibly overpriced however they have a well polished look to them. Several videos online show hacks on how to make or find cheap stands. If you insist on a Future Motion stand, a used one would not be worth more than 50% of the value.
I found a Onewheel for an amazing price. Is something wrong with it?
If the Onewheel does not come with a standard charger, likely it is stolen. If the price is too good, then the deal is too good to be true. The safest used purchase is a used Onewheel that includes original packaging. Most riders keep their boxes in case it needs to be shipped to Future Motion for warranty coverage or maintenance.
Does a Onewheel need a fender?
No, Onewheels do not need a fender for them to function. Many riders do not like the look of the fender and commonly ride without a fender. A new fender is a relatively inexpensive add-on and can be purchased if need be however it is not needed unless you want to be protected from rain water or debris that may spit up from the tire.
Can a warranty for a Onewheel transfer?
Yes they can. Future Motion will ask for  the board's 10-digit serial number (found on the underside of the rails) as well as Proof of Purchase (either Onewheel.com order number or receipt from a certified retailer). Make sure to get the proof of purchase if you intend on relying on the warranty.