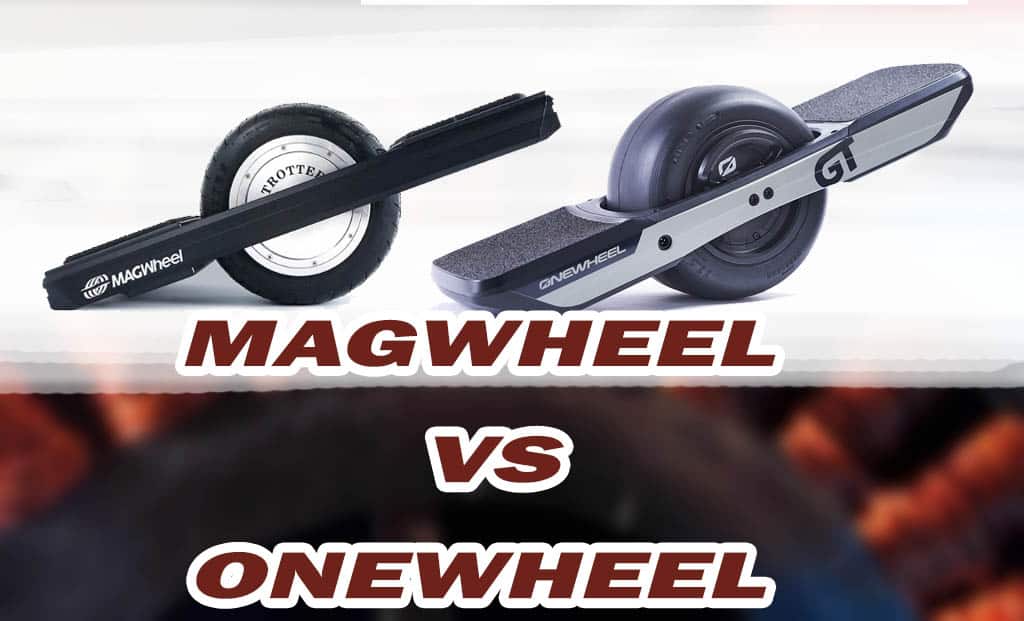 This post is intended for new and curious potential riders entering the sport who are considering buying one of these e-boards / one wheel hoverboards for themselves or a family member.
If you want to learn more about the "One wheel e-board," you need to know that there are several brands of self-balancing electric boards. 'Onewheel' is a trademarked term and the leading product in the market, followed by the lesser-known Magwheel by Trotter and the Floatwheel. Due to limitations on purchasing a Floatwheel in the United States (due to copyright), this post only covers the Onewheel models and pairs them up with their comparable Trotter Magwheel scooter model.
The Trotter is a Onewheel alternative that essentially is cheaper but shares some similar performance features. It is not necessarily considered a generic model however it is not a premium brand like Onewheel. Onewheel is a trademark term for an 'electric one wheel skateboard'. Lets compare the two:
Onewheel GT vs Trotter T3
The Onewheel GT is the Flagship self balancing electric board sold by Future Motion. The leading model comparable to the GT is the Trotter T3 (Trotter 1500). The specs are below. Many are similar with some notable improvements over each other. On paper, it does indicate that the Trotter T3 is superior in many categories (water resistance rating, top speed, motor power) however the range and battery size are notably smaller. The main differences however are in the stats that aren't shown (the feel).
| | Onewheel GT | Trotter Magwheel T3 |
| --- | --- | --- |
| Max Speed | 20 mph (32 km/h) | 21.5mph (35km/h) |
| Range | 20-32 miles / 30-52km | 19-21mi (29-35km) |
| Battery | 525Wh | 420Wh |
| Max Weight Capacity | 275 lbs. (125 kg) | 275 lbs. (125 kg) |
| Charge Time | 200 mins *standard charger | 240 mins |
| Max Lean Angle | 30° | More than 30° |
| Max Incline Angle | 15% grade | 58% grade |
| Motor | 63V 750 watt Hypercore | 60V 1500 watt brushless |
| Board Weight | 35 lbs / 15.8 kg | 37 lbs. (16.8 kg) |
| Rails (Frame) | Hollow powder coated aluminum | Solid aluminum |
| Waterproof Rating | No rating | IP65 |
| MSRP | Starting at $2,200 | $1,249 |
Onewheel Pint, Pint X vs Trotter T1 and T2
| | Onewheel Pint | Onewheel Pint X | Trotter T1 | Trotter T2 |
| --- | --- | --- | --- | --- |
| Max Speed | 16 mph / 26 km/h | 18 mph / 29 km/h | 14mph / 23km/h | 18 mph / 30km/h |
| Range | 6-8 mi / 10-12.8 km | 12-18 mi / 19-29 km | 11-15 mi / 18-25km | 18 to 25 mi / 30-40km |
| Battery | 148Wh LiNiMnCoO2 | 324Wh LiNiMnCoO2 | 250Wh | 420 Wh |
| Max Weight Capacity | 250 lbs. (113 kg) | 250 lbs. (113 kg) | 220 lbs (100kg) | 265 (120 kg) |
| Charge Time | 120 mins *standard charger | 225 mins *standard charger | 120 mins | 240 mins |
| Max Lean Angle | 30° | 30° | More than 30° | More than 30° |
| Max Incline Angle | 15% | 15% | 36% | 46% |
| Motor | 54V 750 watt Hypercore | 54V 750 watt Hypercore | 700 watt | 1000 watt |
| Board Weight | 23 lbs / 10.4 kg | 27 lbs / 12.2 kg | 30.6lbs / 13.9kg | 32 lbs / 14.5kg |
| Rails (Frame) | Hollow powder coated aluminum | Hollow powder coated aluminum | Solid aluminum | Solid aluminum |
| Waterproof Rating | No rating | No rating | IP65 | IP65 |
| MSRP | Starting at $1,050 | Starting at $1,400 | Starting at $699 | Starting at $899 |
On paper, the Trotter dominates in power and has superior max angle incline angles however they are just heavier and clunkier in my opinion. The engagement on these boards is not even close to what Onewheel has up its sleeve and that is the sensor.
The Onewheel sensor is a two-zoned pad that for the most part, seamlessly engages the rider into float mode. There are ways to improve the sensor however it remains as a far superior mechanism over the Trotter'ss
Trotter Magwheel Is Not a Refined Product
Have you ever purchase a generic product online and kicked yourself for not buying the real deal? While there are times you make the cost concession on a purchase and rationalize the lesser features, the self-balancing PEV space is not a place you'd want to test that in my opinion. While the Trotter looks like a Onewheel it's not even close. You're thinking it's Brie when it's clearly Gorganzola!
Just watch how the Trotter does not have a fluid feel or as polished of a design. Their sensor is a silicone pad that snaps the motor on too quickly which often puts the rider off balance. Not to mention its silicone! The aesthetics are just not as nostalgic to a skateboard. Not only does the Onewheel brand have a superior aesthetically appealing sensor footpad, it is reported to engage and disengage more intuitively. The grip tape feel of a Onewheel is a comforting skateboard-like feel when riding.

Anatomy of Both the GT and Magwheel Are Similar
Both the Trotter Magwheel and the Onewheel have similar functional components (fender, sensor, footpads, rails, wheel and hub assembly). This sounds biased however in my opinion the Trotter looks more like a child's toy. It certainly does not feel that way as it is heavier and has a solid frame (rails). This is better for heat dissipation for the motor but in general, I feel that it looks clunky and not as polished.
The trotter does take advantage of a more popular 6″ tire hub size. Onewheel had utilized this size for all prior models with exception to the Onewheel GT. This is a preferential sizing due to the large availability of aftermarket tires within the go-kart market. The standard tire that comes with the Magwheel is a harder rubber than the GT but there's plenty of other tires to swap to as more and more aftermarket is being made for the GT.
GT and T3 Price Comparison
Lets be honest, the main draw to the Trotter T3 is the price. Standing at almost half the price and coming standard with a treaded tire, its no wonder why many prospective riders seek a Magwheel. While the savings is large, the experience on the Trotter is not the same to a Onewheel. The controller algorithm, battery size and the sensor in the Onewheel is what makes that price leap justified. $2200 from $1249 is almost $1000 dollars and if this is the main draw back, then I advise to buy a used GT or older XR over a Trotter.
You can always "Badger" a Onewheel (waterproofing process) and you can always push the board a little faster beyond the pushback. If you go with a Magwheel, you will miss out on the fluid feel of the Onewheel which makes all the difference in the ride. Also is the large cult following within the Onewheel space.
Aftermarket brands for Onewheel continue to grow. Customizing and personalizing your Onewheel is also a lot of fun. You will not have anywhere near the amount of aftermarket components and customization with a Trotter.
Trotter's Controller Can't Keep Up on Trails
The Magwheel (1500) T3 tends to behave more robotically. Engaging the sensor and initially leveling the board is just not the same. If you watch videos online that show off the Magwheel, often you wont see them engage the motor. I suspect its because its a huge pain to do. Its not as fluid as a Onewheel. Also when trail riding a trotter, the chunky trails plays too much on the controller calibration and there's times where it just doesn't feel like the board is properly staying level during off-road riding. Perhaps with Firmware updates this will improve however it has a ways to go to feel as seamless as a Onewheel.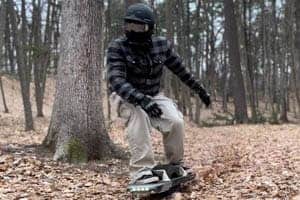 Riding either a Trotter or a Onewheel are both controllerless devices however many within the Onewheel community applaud how intuitive the Onewheel is. "When riding a Onewheel, it feels like an extension of your body."
Onewheels motor engagement and acceleration has been refined and feels very smooth especially on the GT.
Magwheels are Outside of the Onewheel Cult-ure
Stated above, what makes the Onewheel awesome is their fan base and their ever growing list of aftermarket companies. There's just so many additional products for Onewheels that allow riders so much customization. When you get a Onewheel and start to build it, there's a connection among riders in that customization process. Discussing what's been done to the board, riders talk about their love and hate for certain products. On a trotter, the product's consumer base is likely less than 5% to the Onewheel community. They are able to share some components however it is a far cry in the availability of aftermarket components.

You don't want to get a Trotter to stand out. You can stand out plenty on a Onewheel. With customization, VESC'ing the board, or just Frankensteining parts from different Onewheels, your unique build is built on a better controller and sensor sensor. The Magwheel feels and looks like a Onewheel knockoff. It mounts like a knock off and it rides like a knock off.
If you are still not convinced that the Onewheel is superior and the savings is not worth it. Before you go trotter, consider a Floatwheel. This is a lesser known brand that does compete and frankly dominates!