The Cape Cod Rail Trail is a popular multi-use path located on the Cape. Its a scenic trail that follows the the Old Colony Railroad. The rail trail stretches for approximately 25 miles (40 kilometers) from Dennis to Wellfleet, passing through several Cape Cod towns along the way. I rode about 20 miles of it and it was total smooth floating.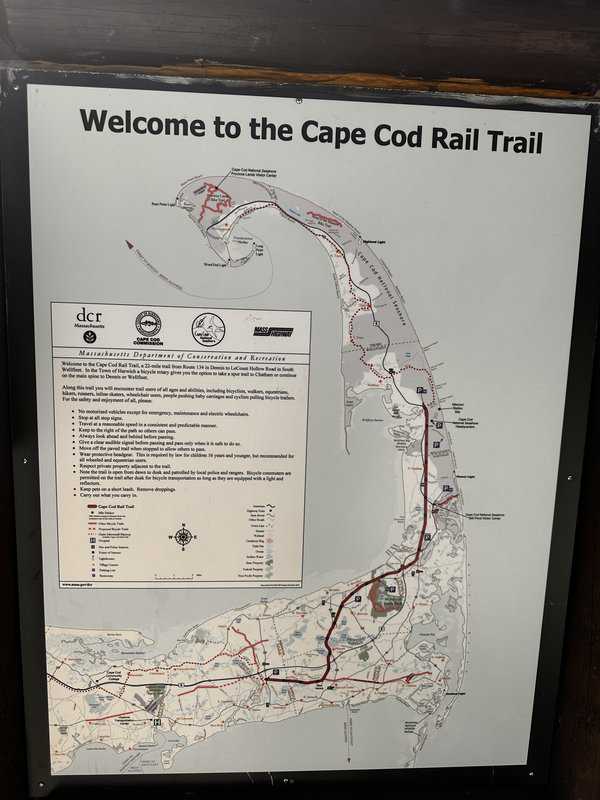 The Cape Cod Rail Trail is paved but I noticed some trail offshoots that provide for a little trail action along the way. Most of the people on the trail are walkers and bikers. The paving is in excellent condition and recommended for any Cape visitor.
Along the trail, you'll come across mostly woodlands, salt marshes, cranberry bogs, and some scenic vistas. There are also various points of interest and amenities available, such as restrooms, picnic areas, parking lots, and trailside businesses where you can stop for refreshments or rent bicycles and charge up the Onewheel!
The Cape Cod Rail Trail passes through several towns, including South Yarmouth, Dennis, Harwich, Brewster, Orleans, Eastham, and Wellfleet. The Cape Rail Trail is a good place to safely travel from town to town on a Onewheel. I went during the fourth of July weekend and it was moderately congested only in a few areas. Most of it is open for cruising.
No Motorized Vehicles are Allowed on the Cape Cod Rail Trail
It is true that the Onewheel has a motor but what is a motor vehicle? Is the Onewheel a motorized vehicle? Well according to Massachusetts General Laws (Chapter 90, Section 1) a motor vehicle is defined as:
"A vehicle constructed and designed for propulsion by power other than muscular power, or a vehicle manufactured or assembled by a manufacturer for off-road use only or for both on and off-road use that is sold as a complete unit by a manufacturer or distributor, except that the term 'motor vehicle' shall not include vehicles moved solely by human power, motorized wheelchairs, electric personal assistive mobility devices, vehicles moved by animal power, agricultural machinery and equipment, devices used exclusively on stationary rails or tracks or motorized bicycles."
Being particular with the language, in Massachusetts, the term "motorized vehicle" is not specifically defined under state law. However, the term is often used in the context of off-road recreational vehicles and is generally understood to refer to vehicles that are powered by engines or motors and used for recreational purposes off public roads.
Motorized vehicles commonly referred to in this context include all-terrain vehicles (ATVs), dirt bikes, snowmobiles, and similar off-road vehicles. These vehicles are typically designed for off-road use and are not intended for operation on public streets and highways. So technically Onewheels are not included in my opinion (which is not legal advice).
The law even goes so far as to delineate Electric Personal Assistive Mobility Devices (EPAMD's). An Electric Personal Assistive Mobility Device (EPAMD) is a type of electric-powered device that is designed to transport one person and is primarily used for personal mobility
EPAMDs are often characterized by their self-balancing capabilities and small size. The specific definition and classification of EPAMDs may vary by jurisdiction, including Massachusetts. In some places, EPAMDs may be subject to specific regulations regarding their use on public roads, sidewalks, or other designated areas. Again, I'm no lawyer but in my opinion children's hoverboards and Onewheels are allowed.
Onewheels are EPAMD's
EPAMDs typically feature a platform for the user to stand on, two or more wheels, and an electric motor that propels the device. They are usually controlled by shifting body weight or using handlebars, and they can achieve varying speeds depending on the model. This is essentially a one wheel.
It's important to note that regulations surrounding EPAMDs, such as where they can be used and any age restrictions, can vary by jurisdiction. In Massachusetts, local ordinances and regulations, as well as guidelines from state agencies, may provide further information on the specific classification and regulations related to EPAMDs. Consulting these sources would provide the most accurate and up-to-date information regarding the use of EPAMDs in Massachusetts.
So is the Onewheel a Motorized Vehicle or Not?
By the way I interpret the law, the fact that electric personal assistive mobility devices are excluded from being considered a motor vehicle, you should have no issues riding on the rail trails. Again, each rail trail is subject to change and may actually specify PEV's or even Onewheels out right. If you are taking a chance on an unknown rail trail, just be a good ride ambassador for the Onewheel community and always give right of way to bicyclists and slow down for pedestrians.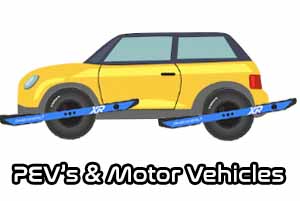 I know many are going to argue that "the Onewheel has a motor therefore it's a motorized vehicle" however you can't register the Onewheel. You can't get it formally inspected and you can reference the general law that allows for EPAMDs (Electric Personal Assistive Mobility Devices).
Get on in South Yarmouth and Head to Wellfleet
With a GT, you should be able to make it the entire distance however it would be a good idea to pack your charger. There's plenty of stops along the way. The great thing about the rail trail is that the paving is still relatively new and offers an extremely smooth ride the entire way. It also cuts right through the hearts of these towns so its actually quite safe to travel in comparison to riding along the sidewalks.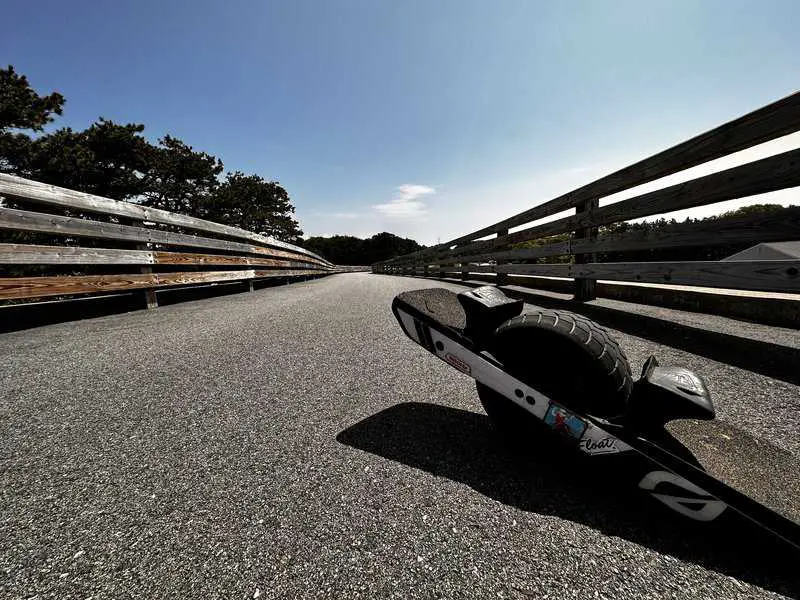 There's several overpasses, bridges, and high points to get a good view of harbors, views over Routes 132 and Route 6. Honestly, its a great place to just pass by happy people and explore the cape from the trail side.
I got on just north of Forest Road in South Yarmouth. Forest Rd has amazing sidewalks which make getting to the Rail Trail a breeze. There is parking along the trail but I thought riding to the trail would be more adventurous.
Don't Miss Out and Make Sure to Ride the Rail Trail
Whether you have a Pint X, XR, CBXR or GT, so long as you keep a charger with you, exploring the grand trail is something you cannot miss out on. Most vacationers hit these trails on their mountain bikes. As a Onewheel rider, it is your stoke-duty to hit the trail and float through the best of what Massachusetts has to offer.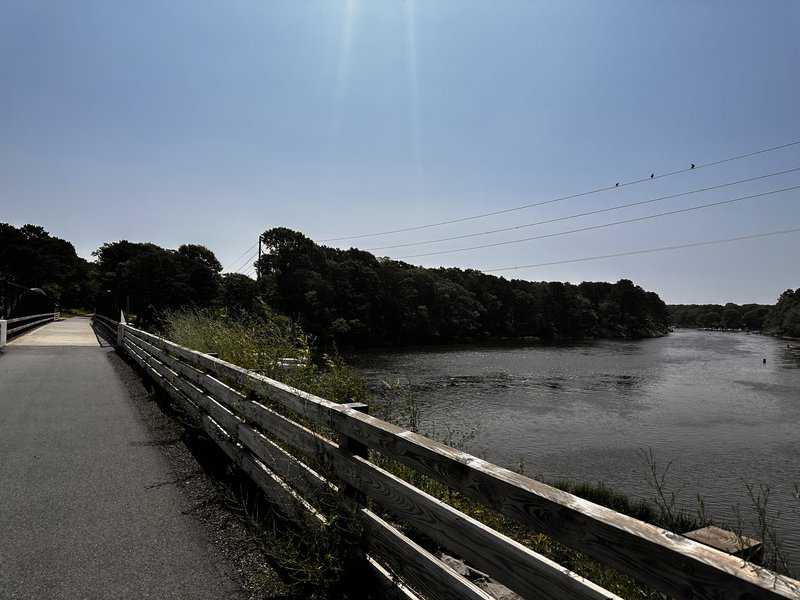 While I am biased in that this is a Onewheel website, I do truly believe riding a Onewheel across the Cape Cod rail trail is the best form of travel. You can cover so much distance and enjoy it. There's several picnic benches along the path so pack a lunch and a charger and make this a unique experience for your Cape Cod vacation get-away.