If you're a fellow Onewheel aficionado, you know that this board isn't just a mode of transportation—it's a lifestyle statement. In fact, it's a whole vibe! So why not give your cherished board the pedestal it deserves? Leaving it on the floor isn't just untidy; it's a tripping accident waiting to happen. While some stands on the market can make your wallet wince, worry not! This is your go-to guide for understanding the different types of Onewheel stands and their respective price tags."
Why Get A Onewheel Stand?
Onewheel stands aren't just a stylish way to showcase your board; they're also a practical solution for storing it. From Future Motion's lineup to a variety of third-party options as well as DIY builds, you'll find stands crafted from diverse materials like wood, metal, and even plastic. They tend to come in either a wall mount or floor stand option.
The aim for a Onewheel Stand or mount is to make sure your board is stowed properly, has good access to charging, looks like an art piece (optional) and primarily keeps your board off the floor avoiding it being damaged or tripped over. You've likely seen the Future Motion stands so we can save those for last.
Cheapest is the DIY Onewheel Stand Route
With building your own Onewheel stand, you will save money. There's countless 3D Print options online that make really cool stands. I have a D.I.Y. on how to make a Onewheel stand out of P.V.C. which hasn't failed and works very well.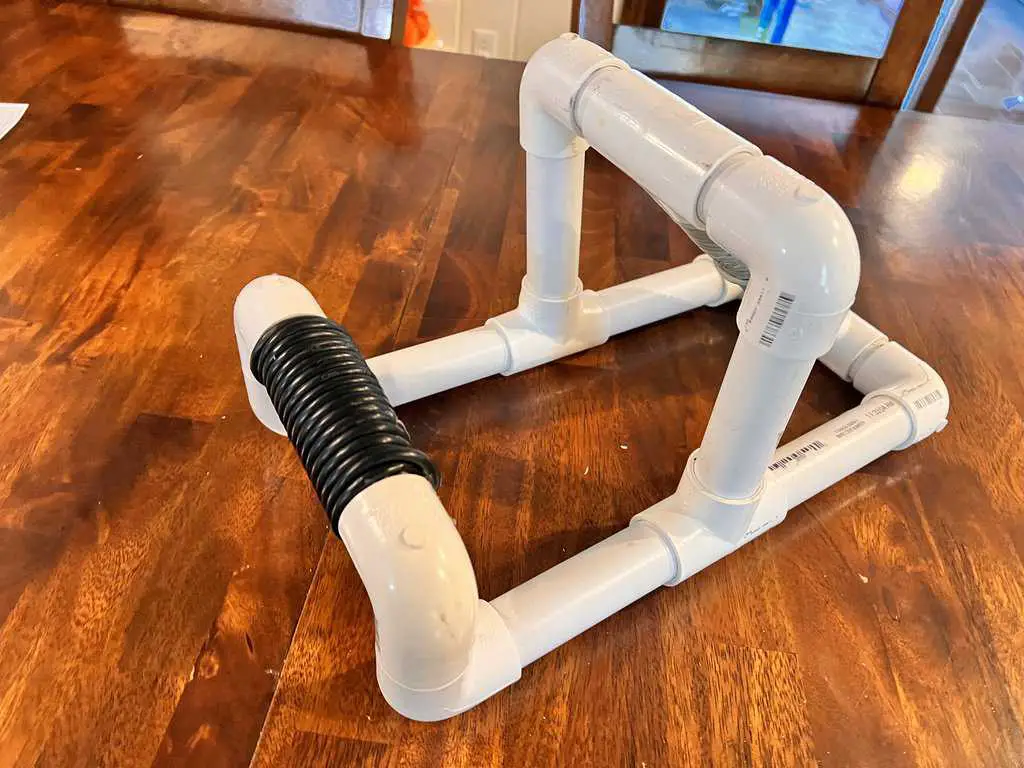 These PVC stands can be painted and styled with some wiring. 3D printed Onewheel stands also can be printed in any color. For less than $20.00 you can have a real sturdy stand made of plastic.
Stands fashioned from scrap wood work too. Getting creative and riffing off another style is always great.
Simple how-to's can be done with scraps around the house. Anything is better than leaving your board on the floor.
DIY route should be less than $30.00 and compatible with all model Onewheels.
The Artisan Stand – Dead Sleds and More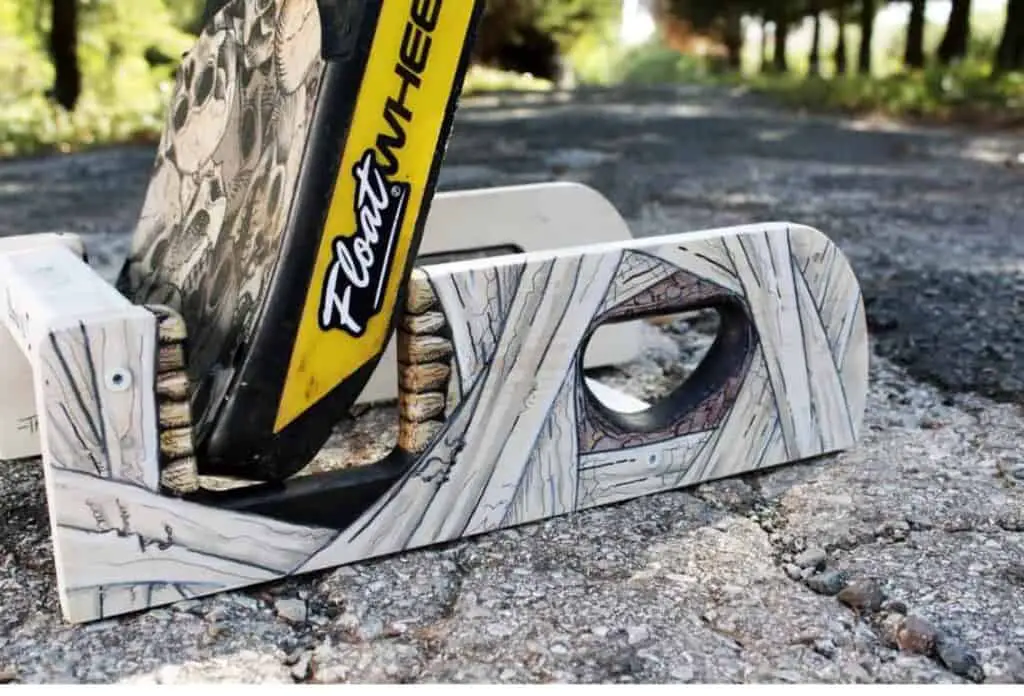 Looking for a Shred Sled or Dead Sled? These stands completely add functionality and character to your Onewheel piece. Artisan Onewheel Stands tend to cost a little more however, the quality and detail makes it all worth it. Look at the detail in the twine wrap and the artwork. In comparison to a PVC Onewheel stand, this is giving your board the respect and love it deserves. After all, it keeps you floating on Onewheel for thousands of miles!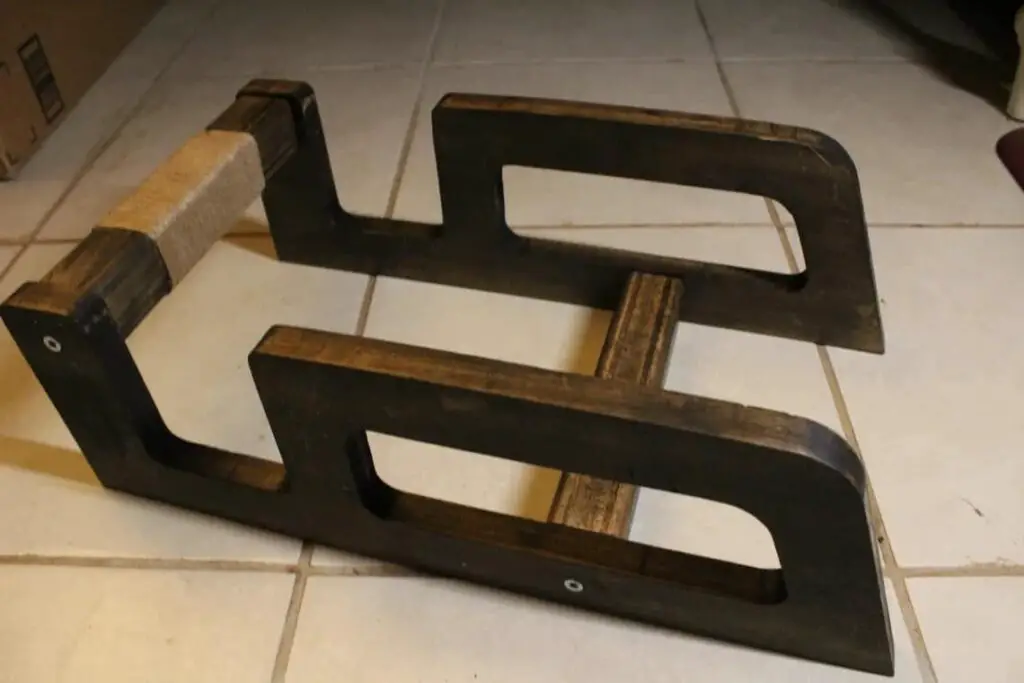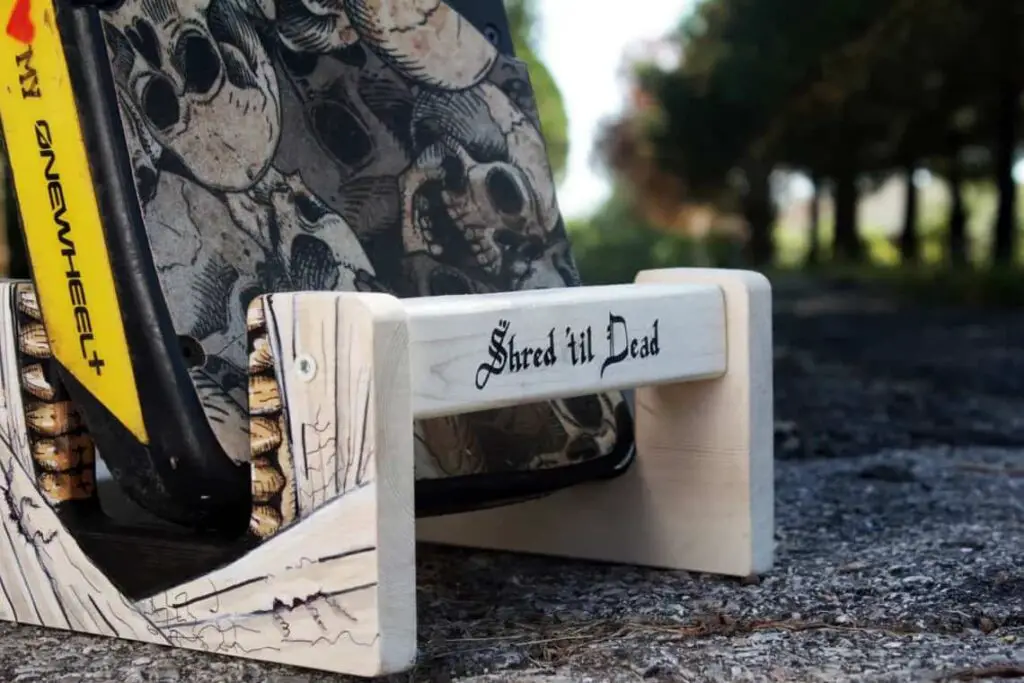 For premium stands made with the details and quality as a Dead Sled, you can expect to pay $100+ but you get amazing quality that your board deserves.

Compatible with All Model Onewheels.
The Sideways Stand – Horizontal Onewheel Love
Imagine showing off your Ninja sword. These sideways stands tend to do the same with One wheels.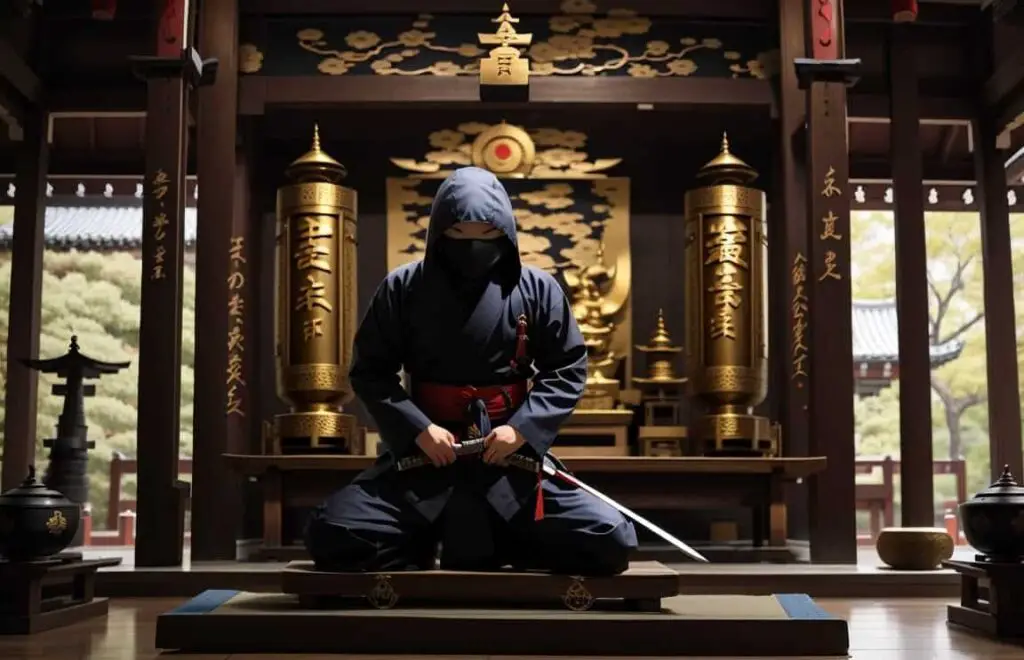 Future Motion sells these "Side Stands" for $95. They only however are compatible with Pint X and prior models (Pint, XR, Plus, V1). If you are feeling like theming out a Onewheel shrine, this could be for you.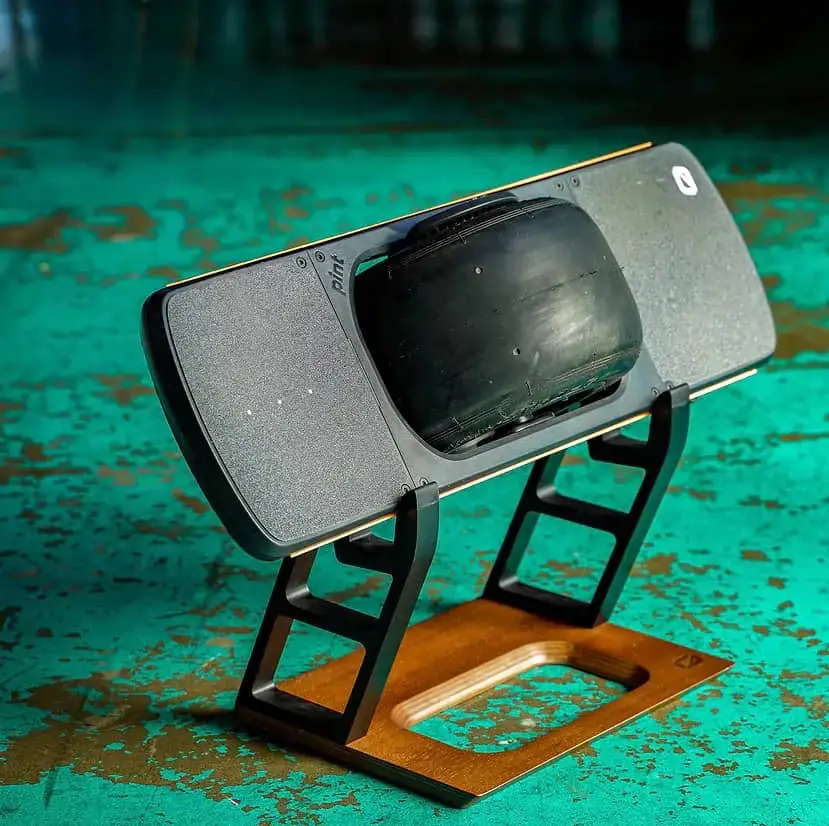 It is advisable if you get this stand to ensure you have either a silver handle or mag handle on your Onewheel. These stands are made so you can pick it up from the top. You will really want to have that side handle to showcase your ride like this.
Wall Mounts For Onewheels
I love the concept of Wall mounted stands. They are great because it saves floor space however I recommend if you purchase a wall mount that you use wire cover (wire mold). When our boards our on the stand, we need to charge them. Stands also function as a charging bay. Having wires hang from the walls can look unsightly. Shroud them with some clean wire mold.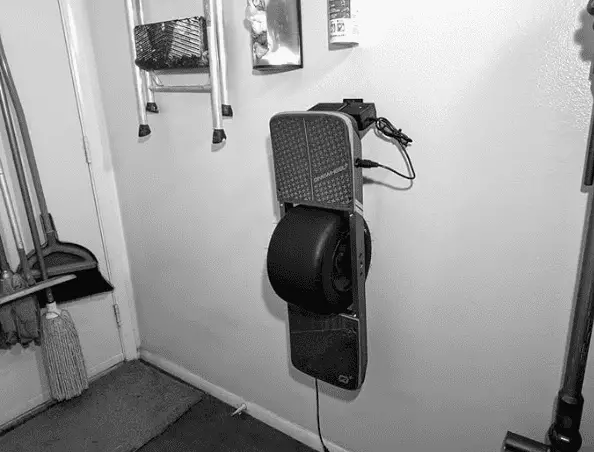 The wall mounts for Onewheel do offer carriers for the charter so that its all kept together. However, the wire situation will always remain. The tip here is to use wire cover and mount this on a stud near an outlet.
Compatible with All Model Onewheels (depended on style) – Price is $25 to $50 USD
Future Motion – Onewheel Branded Stands
We ride Onewheel. Why not rep' Onewheel while our boards are tucked in for the night?
Future Motion offers a slew of stands. All of which look great in my opinion however they do tend to run as high as an artisan stand. They make stands compatible with all models (the GT-Stand, Deep Shack Rack, Wave Stand, and Side Stand) however they area all priced at $95.
While they might be on the pricier side, they're designed with the Onewheel lifestyle in mind. For instance, the Deep Shack Rack and Wave Stand are inspired by the very essence of Onewheel riding—the flow and shape of a wave. They're perfect additions to any living space, allowing you to dock your board vertically and keep your area neat. If you've got the room, the Side Stand offers a unique way to flaunt your board, making it a standout choice from Future Motion's offerings.
Compatible with all model Onewheels.
Conclusion
Stands or mounts are needed. You don't want your Onewheel to be a house obstruction. Make it look money! This isn't on the Onewheel Essentials list but you should have some place to store the board when you don't ride it. I have even considered the car mount however I have resorted to a milkcrate because no one sees it in my car. I do want it from moving about in the trunk though. With a stand where guest may walk by your Onewheel art work, get a piece that displays it right.