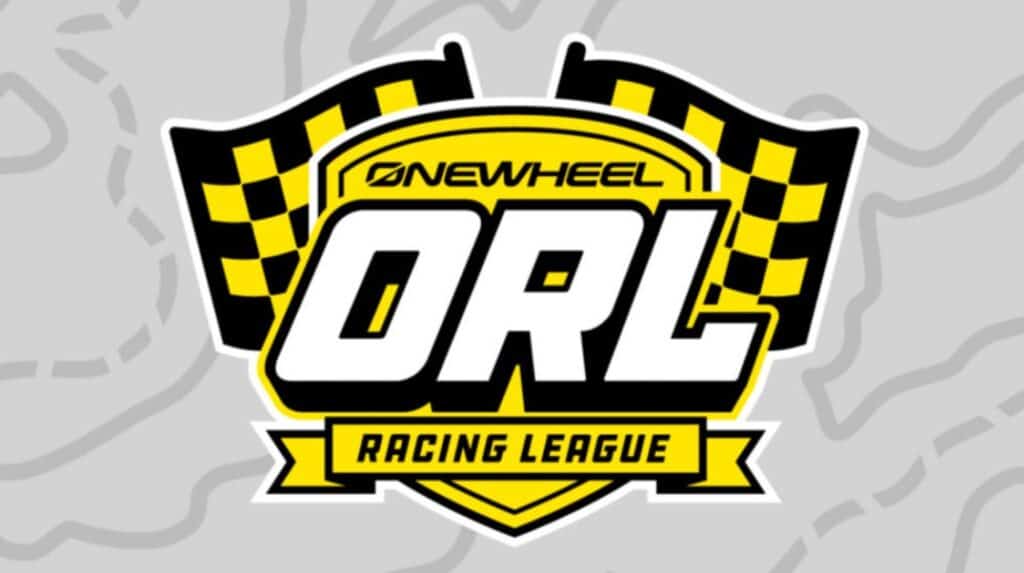 Future Motion's "Race for the Rail" competition is the ultimate showdown for Onewheel enthusiasts. Essentially its the "Onewheel-cross" event (similar to boardercross) for Onewheels. Future Motion brings it back to Sky Tavern Resort for their 8th event. The course has some new elements which even has returning riders staying on their game.
Setting: Back at Sky Tavern Ski Area
2023 Race for the Rail is set once again at the Sky Tavern Ski Area just outside of Reno, Nevada. Ski Tavern is a non-profit driven by volunteers. Its a ski area that really opens the sport up to everyone. With their love for ski and snow, offering their course to the Onewheel community has been great for everyone involved. Its a community sponsored location and I think its a true privilege that Onewheel can take part of history at Sky Tavern.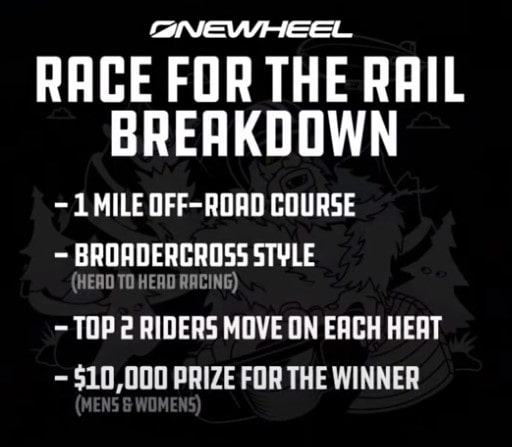 The heart of any race is its course, and the 2023 Race for the Rail was no exception. With the love for the course last year, the track has been meticulously crafted with passion and determination, posed a formidable challenge to the riders. It featured everything from hidden rocks to kicker rocks, b-line options and rock gardens The course was designed to be slightly less than 1 mile that test the racers' skills and push them to their limits.
Obstacles on Race for the Rail 2023: Wooden berm, boardwalk, log jam (log garden), dirt berms, rock garden, bridge, snake run, Ford Ranger.
Meet the Riders Behind the Wheel
Mens and Women's bracket is comprised of 12 riders each. The first round is three initial heats of four riders. The top two make it to the second round where only three riders face off for the top two positions for the semi-finals. The third (finals) round is with four riders. The winner takes the rail!
Women's Division – Race for the Rail – 2023
In the 2023 Women's Division, we see five new racers to the competition (Sarah Meeker, Alicia Hemmings, Heather Graehl, Brenda Bonnell and Joanna Lang). Many are returning riders that compete in other national competitions as well. Here are the 12 riders for the 2023 Women's Division:
#1 – Mercedes Silva – returning rider
#6 – Kay Love – returning rider
#9 – Sarah Meeker
#12 –

Racheal Cecil

– returning champion
#3 – Raequel McCosker – returning rider
#4 – Rachel Payne – returning rider
#7 – Alicia Hemmings
#10 – Heather Graehl
#2 – Allison (Allie) Stanley – returning rider
#5 – Gabi Soto – returning rider
#8 – Brenda Bonnell
#11 – Joanna Lang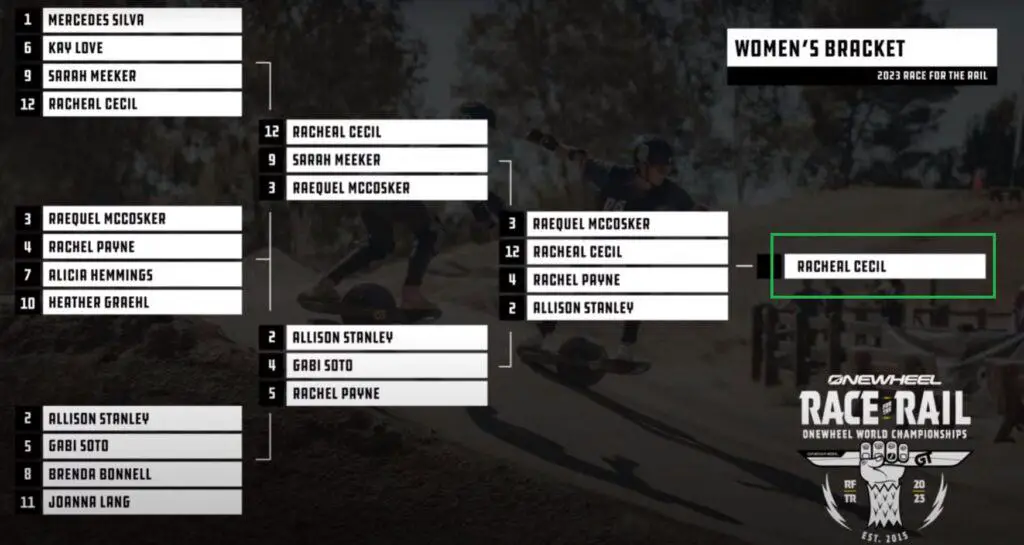 Semi-Finals Women's 2023 Race For the Rail
Its a tongue-twister! All four women in the semi-finals were returning riders. Raequel, Racheal, Rachel and Allison battled it out for the championship in the final round.
Finalist in Women's RFTR 2023:
#12 – Racheal Cecil – (2:17:16)
#4 Rachel Payne
#3 – Raequel McCosker.
Allie Stanley (the float goddess) gets serious respect as she is always out there contributing to the Onewheel community. We've all learned how to better our curb nudging from her awesome tutorials. Rachael Cecil, Rachel Payne and Raequel McCosker are obviously no strangers to the community and to competition. Good work to all and especially to Racheal Cecil who is the first ever to win back-to-back Race For the Rail competitions.
Women's 2023 Race for the Rail Champ – Rachael Cecil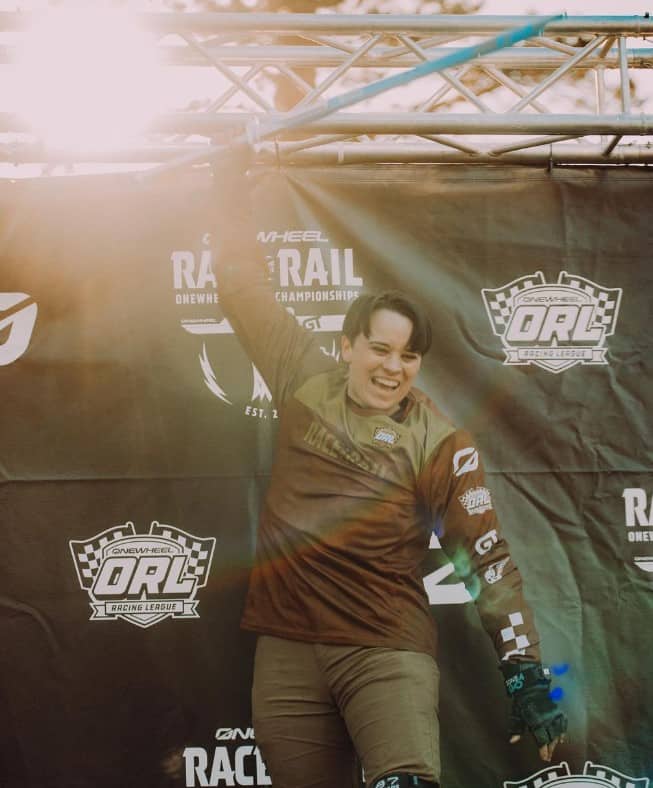 Racheal "Diesel" Cecil, also known as the Float Queen, is a name that resonates throughout the Onewheel community as one of the foremost riders in the world. At just 23 years old, her journey from the Houston-Texas area to becoming a top-tier Onewheel rider is nothing short of inspiring.
Racheal's story takes an exciting turn as she recently graduated from Flagler College in St. Augustine, Florida, and has now set her sights on a career as a recruiter in Atlanta, Georgia. But her life isn't just about the corporate world; it's about conquering the Onewheel scene.
What truly sets Racheal apart is her incredible success in the Onewheel community. Not only did she secure victory at FloatLife Fest 2, where she clinched the street comp championship, but she also demonstrated her dominance by claiming back-to-back championships in the Race For the Rail competition in 2022 and 2023. These achievements solidify her status as an undisputed champion in the sport.
Racheal's journey into the world of Onewheel began in 2018, and she quickly made waves by not only mastering the board but also by winning hearts within the community. However, her ambitions extend beyond the thrill of competition. While she is determined to improve her riding technique and achieve even greater heights in the sport, she also carries a passionate desire to inspire others. Her goal is to empower women, young ladies, and people from all walks of life to embrace the joy of Onewheel riding, showcasing not only her skills on the board but her dedication to being a role model both on and off it. The Float Queen is a symbol of determination, skill, and the power of setting one's sights on new horizons while staying grounded in a community that shares her passion.
Men's Division – Race for the Rail – 2023
In the 2023 Men's Division, we see six new competitors to the race (Jajfari Silsley, Les Carroll, Gerard Rincon, Jonathan Ortiz, Finn Holcomb and Neil Hanson). Many are also riders that compete in other national competitions as well. Here are the 12 riders for the 2023 Men's Division:
#1 – Jahfari Silsley
#8 – Luke Austin – returning rider
#9 – Dave Stewart – returning rider
#16 – Les Carroll
#4 – Austen Silva – returning rider
#5 – Noah Mead – returning rider
#12 – Gerard Rincon
#13 – Thor Callaghan – returning rider
#2 – Brenden Schurmeier (Floaty McFly) – returning rider 2020
#7 – Tyler James – returning rider
#10 – Samuel Lara – returning rider
#15 – Jonathan Ortiz
#3 – Jeff Adair – returning rider
#6 – Finn Holcomb
#11 – Neil Hanson
#19 – Kyle Hanson – returning rider champ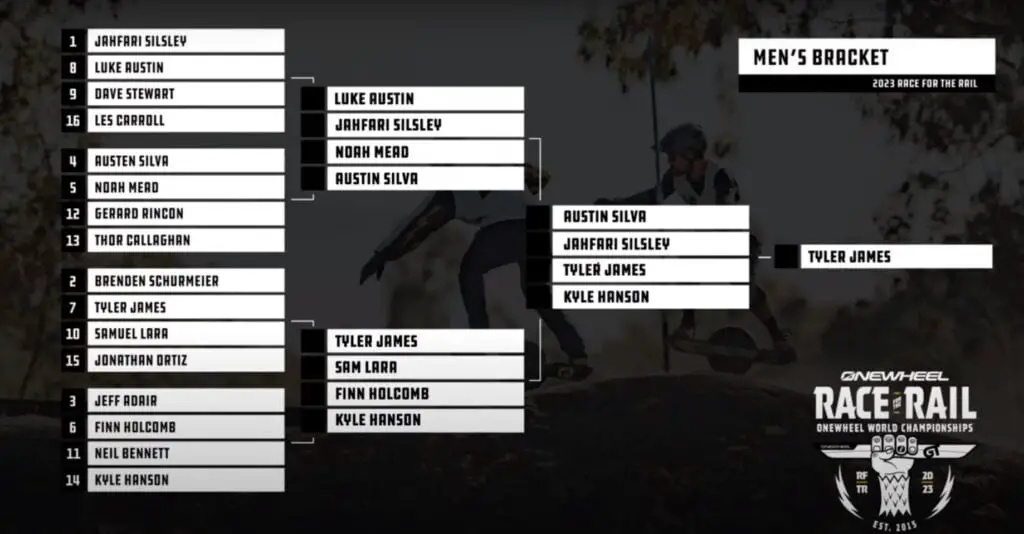 Semi-Finals Men's 2023 Race For the Rail
The semi-finals was taken in by Austin Silva, Jahfari Silsley, Tyler James and Kyle Hanson. New comer to RFTR 2023 Jahfari comes all the way from Hawaii to make it all the way to the Semi-finals. Pro-riders Austin Silva, Tyler James and Kyle Hanson battle it out. Towards the end of the course, Tyler and Austen go down but they get back up. Tyler, Kyle and Austen make it however to the top three positions.
Finalist in Men's riders for 2023:
Tyler James
Kyle Hanson
Jahfari Silsley
Men's 2023 Race for the Rail Champ – Tyler James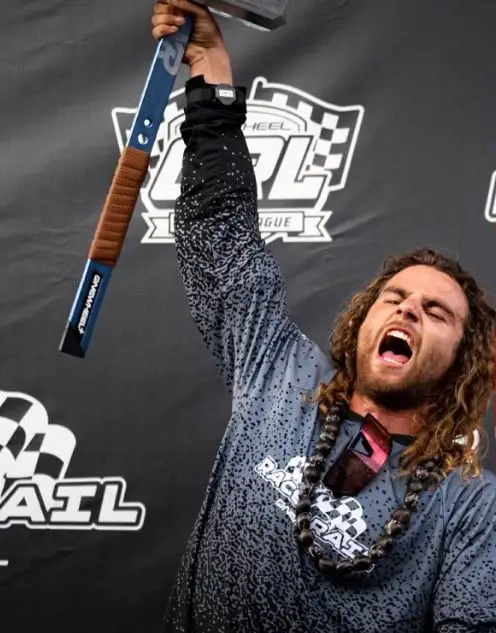 Tyler James, a 25-year-old Del Mar resident, found his passion for one-wheel electric board riding during a late-night ride on the beach a years ago. Hooked from that moment, he acquired his own board and dedicated himself to training and competing in One-wheel board races. His dedication paid off on July 31 at Snowbasin Resort in Utah, where Tyler emerged victorious in the 2021 (RFTR) Race for the Rail. He had some ACL concerns in 2021 and returned victorious in 2023 becoming a two-time winner at RFTR 2023.
Tyler can be seen in many Onewheel promo videos, interviews and national races. Congrats to the 2023 Champ. The RFTR 2023 event brings two two-time winners!