There is a good debate as to whether Onewheel riders should wear headphones or not. Some bystanders may not know we can still hear them. There is also good debate as to whether riding with a speaker is epic or epically annoying. This post doesn't address either because under different scenarios, one option is better than the other.
For riding solo or for group rides. The JBL Flip portable bluetooth speaker is the best portable speaker as it can link up to 100 riders at once via Connect Plus (Connect+), or PartyBoost. The differences between JBL Connect Plus and Party Boost is a 30ft range difference.
Which JBL speakers can be chained or paired together?
There are two different pairing protocols that JBL currently offers. JBL speakers with 'Connect' can only pair up to two speakers maximum. JBL 'Connect Plus' can pair up to 100 speakers with a 30 ft range. Similarly, JBL 'PartyBoost' speakers can pair up to 100 speakers but have an added range of 60 ft.
There's a speaker in almost any budget range. The speakers range from about $80 (Flips) to about $450. JBL's are IP67 waterproof. So it makes for the perfect speaker to clip to your Onewheel. Some riders choose to carry it or affix it to a back pack.
How to add a JBL speaker to your Onewheel

The JBL Flip (check amazon price) is the smallest speaker you can affix to the Onewheel and still use the group ride connectivity. JBL does make a smaller and more compact speaker (The Clip) which is more compact and more affordable however you just wont get that stereo vibe when riding with other riders.
The Flip has a 20 watt output and can sit right on top or along side the fender (dimensions are 7.12″ x 2.91″ x 2.71″). They are incredibly rugged and waterproof. For those who do not want to affix it to their board, make a flight fin fender out of tupperware and affix it to that or go with a JBL Xtreme.
Carrying a wireless speaker for a Onewheel group ride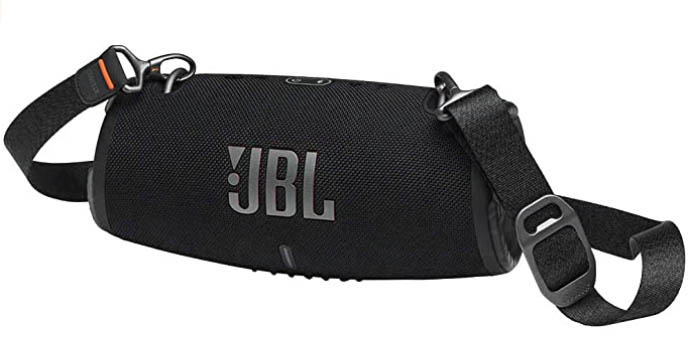 The JBL Xtreme line has a handy shoulder sling so carrying it around your body is an option. I do personally feel that these speakers are too large for an involved trail ride however for lounging on a cruise this speaker will bump! This is a 100 watt speaker with 15 hours of battery life.
Dimensions are 11.8 in. Depth. 5.3 in. Height. 5.4 in. however it weights 2.1lbs! Not a bad carry but for me its Flip all day.
Why go with the JBL Flip Bluetooth speaker for trail rides
The JBL flip has a battery life of up to 12 hours which is plenty long for several rides. If its affixed to the fender of your board, when it comes to juicing the Onewheel, just have an extra USB plug for the JBL. The JBL Flip is lightweight. It comes in at 1.1 lbs but has a decent output. Being that the  Flip 5 is IPX7 waterproof, its going to be able to take being dropped in a puddle on a trail. IPX7 can handle up to 3 ft.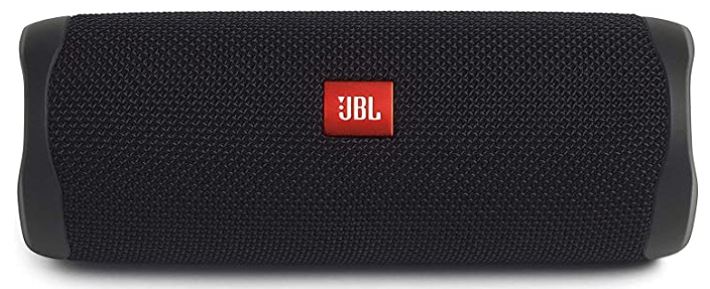 Imagine riding with 10+ fellow Onewheel riders all paired up with PartyBoost. PartyBoost is going to give you that 60 ft of connectivity between riders which is plenty between riders. You are all listing to the same track in an epic stereo sound! Everyone is vibing to the same tunes on the float ride of their life. Add music to your next group ride – go with JBL!
Should you wear headphones while riding a Onewheel?
I was in love (and secretly still really love them) the AirPod Pros. They are reliable wireless headphones that have crazy good noise cancellation. You can have those in and literally hear nothing other than the music. You're riding and only feeling the float and the music. This is actually pretty dangerous as bystanders may be alerting you of something or worse there could be a car or a pedestrian.
I no longer use noise cancellation and have since switched to corded headphones where I leave one out. Visually, bystanders can see that I have the ability to hear. Whether they notice or not isn't so much of a concern as me being able to hear what they may be saying. Even if its a simple hello, you don't want to miss that. Remember its always our interest to be good ride ambassadors so that the community is receptive to Onewheels. You really should always be aware of your surroundings and if headphones limits that ability, then perhaps they should be avoided.
Does a single headphone sound good? Do headphones without noise cancellation sound good when you're flying down a trail? Neither is ideal and that be the consideration in getting a portable bluetooth speaker. If you have an apple watch, you can control the volume right from your wrist. Its easy!